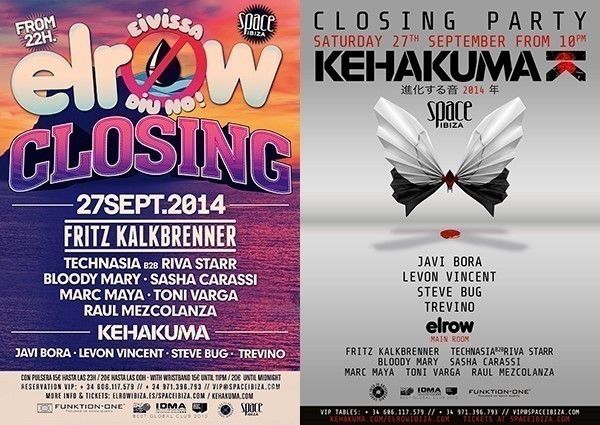 'Eivissa diu no' on the elrow's closing
elrow Ibiza closes its first and successful season at Space Ibiza next Saturday, September 27th with its distinctive madness, good music and meticulous production that audiences have enjoyed throughout its summer dates. This time, the nightly fun will join the social consciousness with the unconditional support by 'Eivissa diu no', the movement backed by Ibiza locals this past year.
This group fighting against oil exploration in the Mediterranean Sea will receive a tribute at the closing of elrow becoming the conceptual core of this amazing farewell.
The show, decoration and entertainment of the party will draw on the preservation of nature and marine wildlife of the Pityusic Islands with campaigns to prevent the construction of the controversial oil fields. Boats, tar, fishnets, nude protestersŠ all referring to the last event of the year in elrow Ibiza having to do with 'Eivissa diu no'. In addition, attendees can collaborate with the organization Aliança Mar Blava and join forces against exploratory drilling. There will be a box at the entrance of the club where anyone can leave donations which 100% will go to the association to help finance the legal procedure being carried out.
In the musical field, Fritz Kalkbrenner, creator of the famous soundtrack, Berlin Calling, will be one of the headliners of the night with the latest additions of the Frenchman Technasia b2b Riva Starr, Bloody Mary, the artist behind the hit 'Spinning Around', and the Techno groove of Sasha Carassi complete the new lineup. The closing of elrow would not be complete without the recognizable sound represented by resident DJs Marc Maya, Raúl Mezcolanza and Toni Varga.
On the other hand, Kehakuma, the underground party that shares the club with elrow,will host New Yorker Levon Vincent, a Trevino, DJ who has released tracks on the famous label Dolly, runned by Steffi, and the latest addition to the lineup, the lord and master of Poker Flat, Steve Bug. Alongside them, resident Javi Bora.
Open from 10 o'clock at night, it will be one of the most unpredictable 10-hour party of recent times and ideal for the finale of an elrow mythical season at Space Ibiza.