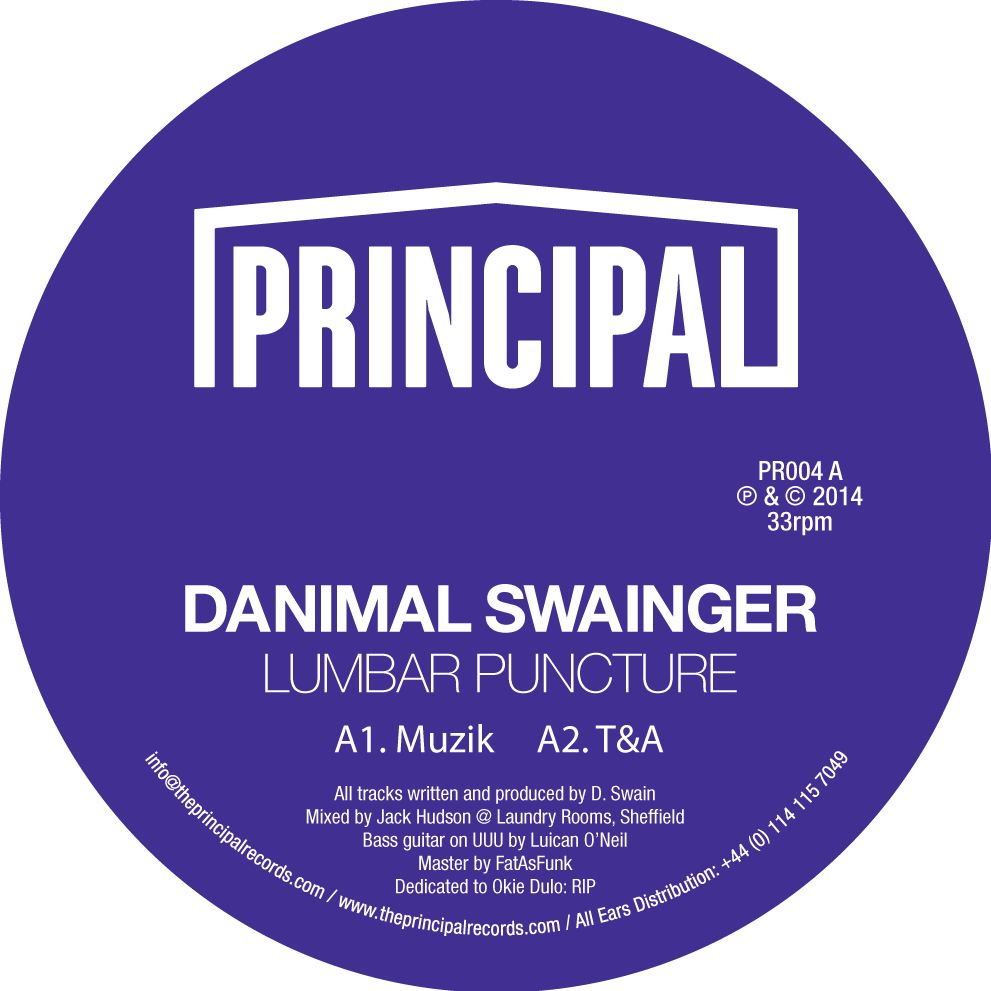 Danimal Swainger – The Lumbar Puncture EP
With its first three releases, Brit label Principal Records has set out its stall with a quality house and disco sound, and that continues here with a fantastic new EP from emergent talent Danimal Swainger.
Swainger is a Wigan pure breed with a love of Northern Soul and Warp Records. He has released a number of edits that found plenty of favour with selectors everywhere, has appeared on the Kandinsky Grey label and was a resident DJ at Sheffield's Dulo for four years. His relationship with this label started with an excellent EP as one half of S&M (with thatmanmonkz) and in solo mode Swainger is just as essential.
Opening his account here is 'Muzik', the laid back and deeply entrenched house groove that is awash with golden chords and sensual vocal ad-libs. Bobbling drums prop things up and the vibes remain warm, organic and inviting throughout, even when a lively bassline and whip snapping percussive flourish joins the fray.
Next up, 'T&A' is a beautifully louche and jazzy house number with real, live and organic sounding drums, a humid ambiance and long tailed pads that wistfully linger in the air. Raw, dusty hi hats and finger clicks pepper the lazy, melody strewn groove and place you right at the heart of some smoky basement club. It's a fine place to be.
Last but not least, the loose sounding drums of 'UUU" stop and start, building atmosphere as they go. Lazy Rhodes chords, clipped one word vocal snippets and tumbling drum fills all sound like they were recorded live and are stuffed with human feeling as a result.
This is a terrific EP of vibe laden house music that very much announces the arrival of a hot new talent in Daminal Swainger.
Tracklist
1. Danimal Swainger – Muzik
2. Danimal Swainger – T&A
3. Danimal Swainger – UUU