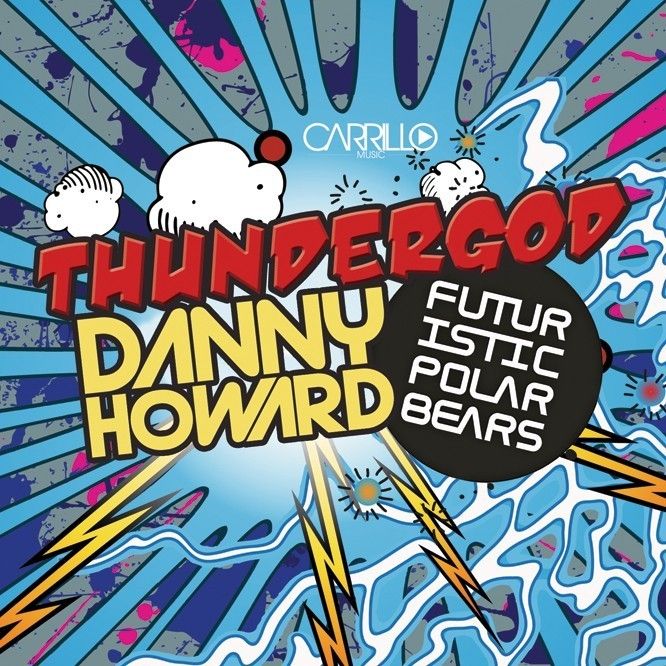 Danny Howard and the Futuristic Polar Bears have summoned a Thundergod
How's your Norse Mythology? We wouldn't blame you if it wasn't all that, but thankfully we've got four chaps who seem to have a bit of experience in this area. Out on Carrillo Music, 'Thundergod' has been tried and tested all summer-long in sets by both Danny Howard and the Futuristic Polar Bears, and now that it's been released into the wild, we felt it was time to catch up with the four of them and find out just how the track came to be…
First off, it's been a busy year for all of you – fill us in on the best bits…
FPB: It's been an incredible year for us so far, the highlight has to be touring all over the world and we've been to some great places including India, Singapore, Russia and South Korea. Our radio show has been going from strength to strength as well with our show now in over 30 different countries every week. Finally, we've been having some great fun in the studio, it's been a pleasure to have worked with Danny on this and we've also got some really exciting projects lined up with Kim Fai and DOD too.
DH: It's been amazing for both of us, I've had the pleasure of playing everywhere from Miami to Dubai with an Ibiza residency at Pacha in between which was just dream world stuff for me! We also did a few shows together in the UK recently which was fun… A Polar-Bear and Danny takeover!!
Thundergod has been getting some amazing reactions from DJs and crowds – which ones stick out the most?
FPB; We played it at Ministry Of Sound in the Box back in August and it blew the roof off, it was about 5am in the morning when we dropped it, the dancefloor was packed and going crazy!!
DH: Funnily enough it was the same venue for me! I launched my own night called 'Nothing Else Matters' at Ministry Of Sound last week and it destroyed the dancefloor. Weirdly, I was on the same set time as when the Polar bears played theirs… Thundergod must be the ultimate 5am banger!
How did the collaboration come about?
FPB: We've known Danny for a good few years now and we've got similar ideas when it comes to production, we'd talked about doing something for a while and it was great to finally sit down all together to make it. Early next year we'll also be starting on our follow up Thundergod which is very exciting!!
DH: They were nagging me for ages – phone calls, e-mails, texts, love letters, ransom notes… The lot! So finally I agreed to do it – just to shut them up more than anything! It's worked out quite well actually as my iPhone battery can last a full day now. J
And how about the name? – What would you do if you accidentally summoned a Thundergod?!
FPB: I actually can't remember, we were sitting in the studio and Rhys came out with it I think. We were joking about how energetic and powerful the drop was and Thundergod was one of the names that got blurted out!!
DH: Rhys from the Polar Bears comes from a place you might not have heard of… It's called 'Swansea' and there are some interesting characters that live there. I think it's something to do with the weather so maybe that's where it came from.
Thundergod is out on Carrillo Music – how has it been working with the guys over in the US? Is the US a market that tempts you at all?
FPB: It's great to be working with Carrillo. The US is a market we are looking to build our profile in and we've had great reactions from a lot of the US DJs and stations who are supporting the track.
DH: I think as far as America goes, we both have the same goals which is why it made sense for us to do this collaboration and release it on a US label. The support and love they have shown the track has been first class so we're really excited to see how it develops.
The loudest thunder was recorded at 712 db – what do you think would happen to the world if we played Thundergod that loud?
FPB: I think it'd probably burst most people's eardrums and the kick would probably be dictating everybody's heartbeat!! It would be one hell of a party though!!
DH: I think my Nan would hate me.
What's the standard snack itinerary for a studio session? Is there anyone who you have to keep an eye on so they don't finish all the best bits?!
FPB: I remember that when we made this track, Fran was making us eat healthily so we were eating a lot of chopped up cucumber with hummus and drinking shedloads of herbal tea!! ROCK N ROLL!!!
DH: If there's one thing other than music that I can thank the Futuristic Polar Bears for, its my lean, chic figure due to the amount of cucumber they force down me. That and as Luke said, herbal tea. It's not just a studio, it's like a car wash style retreat for your inner body and mind!
What other plans have you all got in the pipeline? Any more collabs?
FPB: We've got some HUGE plans in the pipeline unfortunately we cant unveil them just yet but you'll all know pretty soon, we're literally bursting at the seams with excitement!!!
DH: Same really, a lot of exciting projects coming up in the new year which I can't announce yet. What I can tell you though, is to look out for some exciting radio news and that I've just finished a collaboration with some Dutch friends of mine called GLOWINTHEDARK. They're part of Chuckie's 'Dirty Dutch' camp and just had a big club hit with David Guetta ,so it's been a pleasure to work with these guys.
Buy it:
http://www.beatport.com/release/thundergod/1161989
https://itunes.apple.com/us/album/thundergod-ep/id706121972
For more Danny Howard:
www.djdannyhoward.com
https://www.facebook.com/dannyhowarddj
https://twitter.com/djdannyhoward
For more Futuristic Polar Bears:
www.twitter.com/polarbearmusic1
www.facebook.com/futuristicpolarbears
https://www.facebook.com/dancemusiclabel