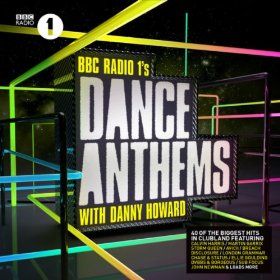 Danny Howard's BBC Radio 1 Dance Anthems Compilation
While the rest of the population glumly shuffles into 2014 carrying the weight of an indulgent holiday period, Danny Howard hits the ground running in the only way he knows how: with a brand new album that cements his position as the number one provider of the biggest Dance Anthems that the world has to offer.
If you've ever heard his BBC Radio 1 Dance Anthems show then you'll know what audio treats are in store for you. With 40 of the biggest tracks from the likes of Martin Garrix, Fatboy Slim, Avicii and Breach spanning across two CDs and all mixed by the hands of Danny Howard himself, you can guarantee that this is a bona fide party-starting essential! Alongside the biggest hits of 2013, Danny has dipped into the underground to deliver exclusive future hits from the likes of DVBBS & Borgeous, London Grammar and Monkey Safari. The result? The biggest mix to be put to disc this side of 2013 and one which bangs louder than any NYE fireworks!
An unstoppable force in the dance music scene and with his Saturday night show on the nation's biggest radio station reaching millions every week, 2013 was more than just a good year for Danny Howard, it was his year. Judging by the standard of this first release within 6 days of the year starting, it looks like 2014 will be even better. Don't say we didn't warn you.