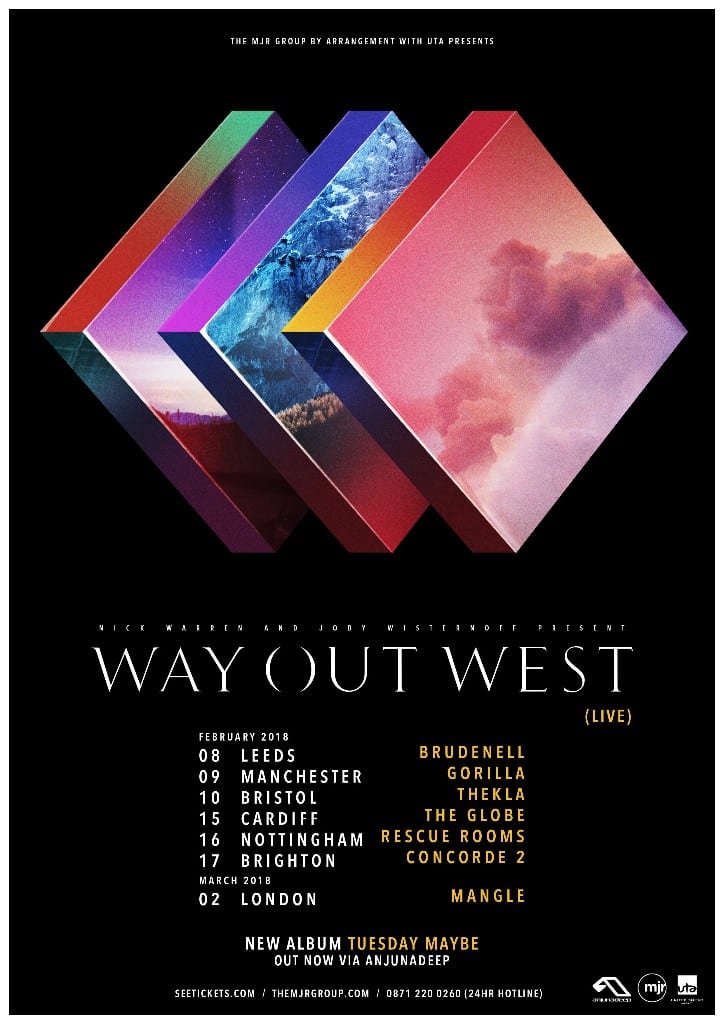 Way Out West Announce Seven-Date Live UK Tour
Electronic music pioneers Way Out West (AKA Nick Warren & Jody Wisternoff) are back – not only with a brand-new album recently released on Ajunadeep; a label renowned as a hotbed of talent, but now also with a much-demanded fresh UK Tour.

The internationally acclaimed duo crafted a formidable reputation over the course of the astounding 25 years that they have worked together: from peaking at #15 in the UK Singles Chart to touring live globally and remixing the likes of Orbital, Unkle, James Holden, St.Etiene and Ian Brown.

Having spent a period of time apart, the pair never let up on the hard work both in and out of the studio…
"We've had an amazing time working on this new record together. Our solo careers have continued to take us around the globe" – Way Out West
This unique seven date tour of the UK's most authentic underground venues is a welcome return to the limelight for the pair and is set to have more than a few surprises in store.
"The new LP continues to feature both of our eclectic influences and we were able to tour the music live on the road whilst we wrote it. We can't wait to get back and tour UK venues with the full show." – Way Out West
Way Out West's flaring creative output seemingly never ceases – a style demonstrated by their recently released album "Tuesday Maybe". Praised by Billboard for it's "majestic and soothing" vibe, the album marks the end of an eight-year release hiatus that has done nothing but render the pair's return as emphatic and as welcome as it could possibly be. Support for the new music has come thick and fast across the board from the likes of Pete Tong, Lee Burridge and John Digweed.
Way Out West's 2018 UK tour is a chance to catch the duo's ever growing and eclectic sound and is a live electronic performance not to be missed.