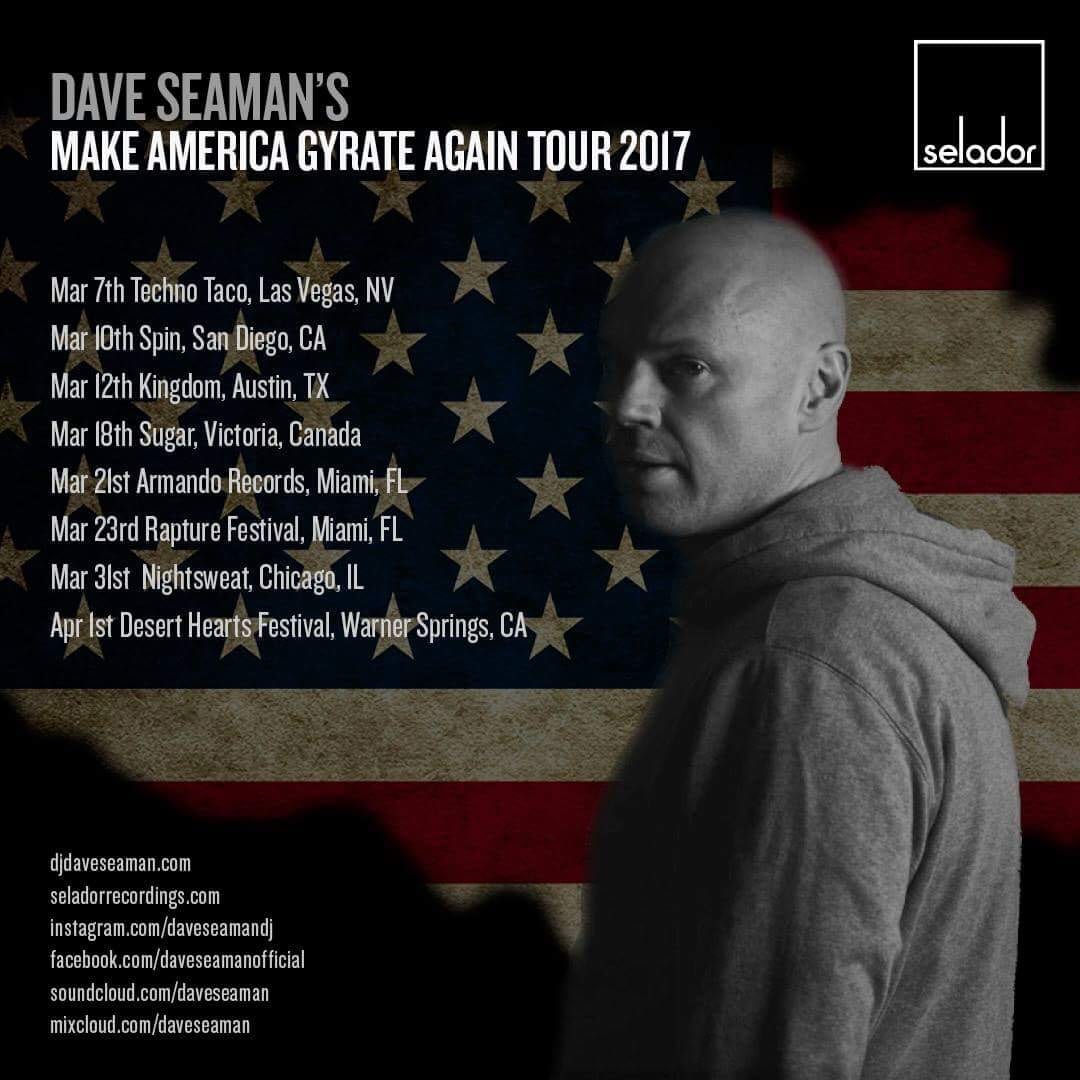 Dave Seaman's 'Make America Gyrate Again' 2017 Tour
Renowned UK DJ Dave Seaman embarks on a month long tour of North America this month taking in 8 dates across seven cities including a couple of high profile festivals along the way.
Dave: "I've not done too many dates in America over the last few years mainly because of EDM's dominance making really good underground parties something of a scarcity but there's definitely a change in the air right now. It feels like the underground is on the rise again".
"Now also seems like a good time to remember the unifying power of dance music. In times when so many people and places are divided by political beliefs and social ideologies, the dance floor has always been a place of escapism and spiritual wellbeing. The whole rave scene in the UK was born out of such political discontent. So I see no reason why it shouldn't play a similar role today. It's time to make America gyrate again! Haha!"
The former MixMag Editor, who first toured the US in the early '90s, will be bringing the sounds of his new Selador label to the Rapture Electronic Music Festival in Miami during Miami Music Week and also Desert Hearts Festival on the Los Coyote Indian Reservation in California as well as Kingdom, Austin & Spin San Diego both of which were recently voted amongst the Top 30 Clubs in America.
Tour dates:
Mar 7th Techno Taco Tuesdays, Las Vegas, NV
Mar 10th Spin, San Diego, CA
Mar 12th Kingdom, Austin, TX
Mar 18th Sugar, Victoria, Canada
Mar 21st Armando Records, Miami, FL
Mar 23rd Rapture Festival, Maimi, FL
Mar 31st Nightsweat, Chicago, IL
Apr 1st Desert Hearts Festival, Warner Springs, CA