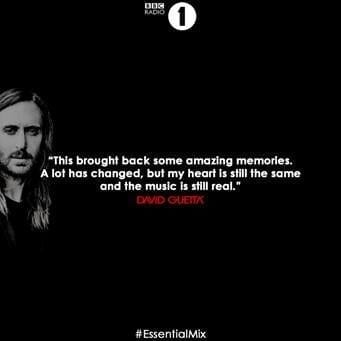 David Guetta delivers must hear 'Influences' Essential Mix
Surrounding the excitement of his new video for 'Hey Mama' ft. Nicki Minaj, Bebe Rexha, and Afrojack – a track that has already held the #1 spot on the Billboard Electronic Chart for an incredible five weeks – David Guetta has now recorded a new BBC Radio 1 Essential Mix for Pete Tong, which aired yesterday, May 23rd.
Themed as a very fitting 'Special Influences' mix, David navigates his way through two hours of exclusive music in a nod to the sounds that have helped establish himself as one of the world's biggest and most influential electronic artists. As a pioneer of the electronic music genre with a career that spans decades, David has included tracks from a selection of legendary contemporaries such as Lil' Louis, Danny Tenaglia, Carl Craig and Laurent Garnier.
One of the hardest working DJs in the industry with a non-stop touring schedule, and having recently performed new single 'Hey Mama' alongside Nicki Minaj at the Billboard Music Awards, David is jetting over to the UK just for the weekend for Radio 1's Big Weekend on May 23rd, then going straight back to Las Vegas to finish his residency. The following week, David will then be kicking off his infamous 'F**K Me I'm Famous' residency at Pacha on May 28th and his second Ibiza residency at Ushuaia on June 29th.
Listen to the Essential Mix here: http://bbc.in/1F3GxzF
Full 'Special Influences' Tracklist:
01. Marshall Jefferson – Move Your Body (Original Mix) (Trax Records)
02. Black Riot – A Day In The Life (Club Mix) (Fourth Floor Records)
03. Adonis – No Way Back (Vocal) (Trax Records)
04. LNR – Work It To The Bone (Vocal) (House Jam Records)
05. Funky Green Dogs – Fired Up (Murks Original Groove) (Twisted America Records)
06. X-Press 2 – Muzik X-Press (Original Mix) (Junior Boys Own)
07. Lil' Louis – French Kiss (Extended Mix) (Diamond Records)
08. Masters – In Da House (Cong-A-Pella) (Shibuya Records)
09. Kenlou – The Bounce (Original Mix) (MAW Records)
10. Ultra Nate – Free (Mood II Swing Vocal Mix) (Strictly Rhythm)
11. Ralphi Rosario ft Xavier Gold – You Used To Hold Me (Original Mix) (Hot Mix 5 Records)
12. Danny Tenaglia – Elements (The DTour) (Twisted America Records)
13. Murk pres Liberty City – If You Really Love Someone (Original Mix) (Tribal America)
14. Aly-Us – Follow Me (Club Mix) (Strictly Rhythm)
15. George Morel – Lets Groove (Original Mix) (Strictly Rhythm)
16. Hardrive – Deep Inside (Original Mix) (Strictly Rhythm)
17. Masters At Work – I Can't Get No Sleep (Ken/Lou 12 Mix) (Cutting Records)
18. Joe Smooth Inc ft Anthony Thomas – Promised Land (Club Mix) (DJ International Records)
19. Alcatraz – Give Me Luv (Original Mix) (Yoshitoshi Recordings)
20. Lil Mo Yin Yang – Reach (Yin Yang Dub) (Strictly Rhythm)
21. DJ Sneak – Git Da Ho (Original Mix) (Housequest Music)
22. Cevin Fisher – The Way We Used To (Original Hard Mix) (Subversive)
23. Carl Craig pres Paperclip People – Throw (Original Mix) (Open)
24. Laurent Garnier – The Man With The Red Face (Original Mix) (F Communications)