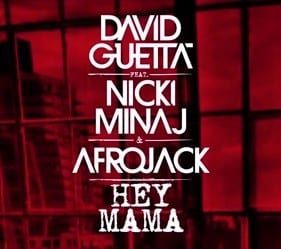 David Guetta unveils official video for 'Hey Mama'
With the lyric video having already amassed a mammoth 22 million streams via YouTube, David Guetta has now unveiled the official video to brand new single 'Hey Mama' ft. Nicki Minaj & long-term friend and collaborator Afrojack – the fourth to be released from latest studio album 'Listen'.
Having sold well over 1 million copies globally since it's release in November, 'Listen'has already showcased David experiment with a host of new and exciting sounds, with Hey Mama continuing that theme apace.
Devised by director Hanna Lux Davis, the video itself – set in a futuristic, desert wasteland awash with vibrant colours and abstract installations – places Guetta at the forefront of the track's booming, summertime energy. Youthful and bohemian, it evokes the spirit of Mad Max, depicting a wild, tribal party that never stops – complete with dancers, stunt-bikers and incredible costumes. Sure to strike a chord with David's millions of fans across the world, it's the perfect accompaniment to Hey Mama's classic hip-hop edge and swagger.
With the single at the A-list on BBC Radio 1 after holding the #1 spot on the official US Billboard Electronic Chart for an incredible five weeks – as well as being certified Gold in Canada, going Top 10 in Australia, boasting almost half a million sales worldwide and a further 30 million streams – the excitement surrounding Hey Mamais a testament to David's position as the world's biggest and most influential electronic artist.
Having just performed the track alongside Nicki Minaj at the Billboard Music Awards, David has also recently been announced to play BBC Radio 1's Big Weekend and the 'I Heart' pool party in Las Vegas on May 30th. In Ibiza, David is also scheduled to kick off his infamous 'F**K Me I'm Famous' residency at Pacha on May 28th and his second Ibiza residency at Ushuaia on June 29th.