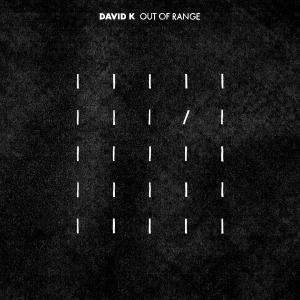 David K – Out Of Range
After more than a decade of notoriety on labels such as Cocoon, B-Pitch and Visionquest, French producer David K's debut album, 'Out of Range,' brings an off-the-radar mixture of romantic melodies on drugs, rocking beats à la parisienne, and sounds to turn you on, released on Tiefschwarz's ever reliable imprint, Souvenir.
"This album has been 10 years in the making. I suppose you could say that this album is a bit like a bedside-table book which transcends all of my influences, my musical history, and my idea of modern music." David K
David K represents something that's all too rare in electronic music today: an artist who makes music first and club music second. For him, emotion is paramount, melody is important, the pop format has its perks and original material is always better than a sample. Late at night and early in the morning, he can be found tapping away on his keyboards and throwing together arrangements on the fly (a pianist by training, he can't bear to make music slouched over a mouse). His only goal is to make something that will keep himself dancing.
BACKGROUND:
Always working conscientiously with the dance-floor in mind, David K's sound has always dipped into the outer reaches of myriad genres; rock, funk and unashamedly straight-up pop, a confluence which draws on his honest inspirations. The range of influence can be heard right through the album.
Beyond drawing upon mere historical influence, he has also brought on board close friends including guest appearances which only help add to the album's rich makeup: dOP frontman Jaw appears on "How Beautiful You Are," frequent collaborator Opium (of La Boetie and Nouvelle Vague) sings on "Intro," whilst old friend and Italian producer, Francesco Farfa, shares writing credits on recent single, "Come Up From the Darkness," David's own voice comes through on on "Show Me The Deal." Like all of his records, the entire package is glazed in the quirky eccentricity, nonchalant percussion and irresistible hunk of sleazy and funk-fueled boogie that we've come to expect of his productions over the years.
David K has passion in his blood. Living his entire life in Paris until his recent relocation to Berlin, he was drawn to the art of DJing in the late 80s learning the ropes on a makeshift set of gears, complete with a radio and tape deck. By week he a teacher and graphic designer, but by night, like some invisible cosmic force, the life of the full-time artist kept drawing him in.
Always involved in creating, composing, and mixing, his production career has made him a key figure in Paris' underground club culture. Early releases on key labels such as Sismic in 2002, Robsoul and Dan Ghenacia's Freak n' Chic stable were followed by big hitters on the likes of Cocoon, Visionquest, B-Pitch and Supplement Facts.
In a world of increasingly short attention spans, 142-character, self-styled status updates, ubiquitous smartphones and Big Brother-esque governmental spying, David K shows that sometimes it's good to just take yourself 'Out of Range' for a while.
CONNECT:
www.soundcloud.com/david-k-official
www.facebook.com/DavidK.djproducer
www.soundcloud.com/souvenir-music