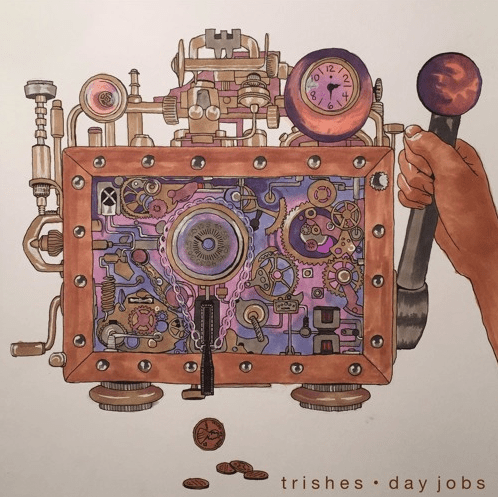 TRISHES - Day Jobs
Trinidadian artist TRISHES releases her latest single, "Day Jobs". "Day Jobs" was produced by Grammy Nominated producer, First Born, who co-produced for artists like Nicki Minaj, Ariana Grande, Flo Rida, Keisha Cole and more. Throughout "Day Jobs", TRISHES employs her wide range and precise knack for harmonies. Her voice is the skeleton that carries her undeniably original songwriting, fleshed out by hip-hop beats and pop hooks. "Day Jobs" walks the tightrope between TRISHES original artistry and mass appeal.
The content of TRISHES' songwriting for "Day Jobs" speaks to the issues of living within minimum wage. The artwork for "Day Jobs" also speaks to these issues and is inspired by the Minimum Wage Machine, a political piece created by artist Blake Fall Conroy.
More, TRISHES explains, "This is my love song to the working class. It's as equally about my friends waiting tables all day and in the studio all night as it is about the parents picking up extra shifts to make sure they can send their kids to college. It's about the people whose feet are planted firmly in reality but whose minds are always dreaming and those who are constantly trying to better themselves when it would be infinitely easier to be complacent with the status quo. I find so much beauty in human struggle and I wanted to convey that in this single and in my upcoming album."
A self-proclaimed songwriter at heart, TRISHES has been writing and performing songs since she was a child growing up in Trinidad. After moving to the U.S., TRISHES honed her craft at the prestigious Berklee College of Music, where she graduated with a degree in songwriting and music business. Since then, she has been touring the U.S. and abroad playing showcases at SXSW, NAMM, and Canadian Music Week as well as opening for acts like Neon Hitch and K.Flay.
TRISHES' live performance is known for vocal looping, percussion, and effects to create a dynamic one-woman show. TRISHES first full length album will be released later this year.