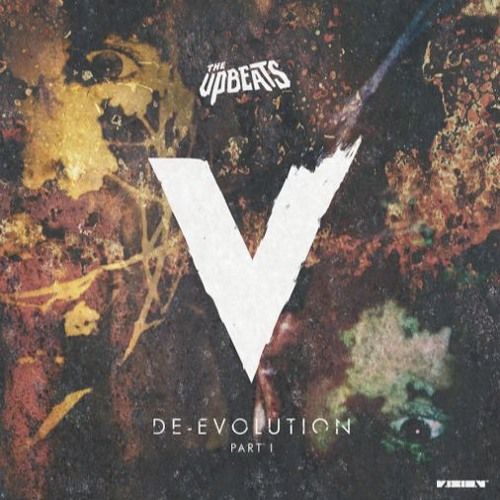 The Upbeats - De-Evolution Part I
Snake and Wolf aka The Upbeats have teased new material for some time, but eschewing the traditional album route after 4 original long-players, their 'De-Evolution' project is a 3 part series released via Noisia's Vision Recordings label in installments from 22 April until the end of 2016. Each release will contain 5 new original tracks, with Part 1 comprising 'Dungeon', 'Elevator', 'Doom', 'Dr Kink', and 'Pharaoh' (a collaboration with Ivy Lab).
'De-Evolution' marks The Upbeats return to Vision following their collaboration with Noisia for last summer's 'Dead Limit' EP (including the title track that won them a DnB Arena Award for best track of 2015). Their unique and organic take on 170bpm+ bass music has seen them make their home in the highest echelons of international dance music. Known for their organic and natural sounding drums, The Upbeats have become legends in the DnB community. To date, they've also collaborated with Shapeshifter, Bad Company, Bass Nectar and Mefjus to name only a few. In September 2014, their collaborative EP with Shapeshifter, 'Bloodstream', reached No.1 in the New Zealand iTunes Charts two days after release.
During their career, The Upbeats have released on RAM Records, Virus, Blackout and Vision Recordings and remixed heavyweights including Ed Rush & Optical, Black Sun Empire, Noisia and Bad Company. 2014 saw them remix Submotion Orchestra's single, 'Trust Lust', for Counter Records/Ninja Tune.
Clocking up over a hundred shows a year, The Upbeats have become mainstays at major festivals worldwide including EDC (Vegas), Pukkelpop (Belgium), Urban Art Forms (Vienna), Supersonic (India), Exit Festival (Serbia), Outlook Festival (Croatia) and are a staple at the famous Noisia Invites shows and tours.
The duo's recent European tour included Fabric, Melkweg, Mainframe, and others, while their 11-date New Zealand and Australia tour runs through until 21 May. Further festival shows will be announced soon.
www.facebook.com/theupbeats
www.twitter.com/theupbeats
www.soundcloud.com/theupbeats
www.instagram/theupbeatsofficial
NEW ZEALAND & AUSTRALIA TOUR DATES
29/4/16 Wellington NZ Bodega
1/5/2016 Brisbane AUS Jubuilee Hotel
6/5/2016 Adelaide AUS HQ Complex
7/5/2016 Auckland NZ Studio
13/5/16 Melbourne AUS Roxanne's
14/5/16 Perth AUS Villa
20/5/16 Sydney AUS Chines Leaundry
21/5/16 Canberra AUS The Basement