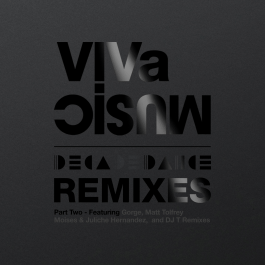 Various Artists - Decadedance Remixes – Part Two
VIVa MUSiC return with Part Two of their Decadedance Remixes series featuring Gorge, Moises & Juliche Hernandez, Matt Tolfrey and DJ T.
VIVa puts together another talented roster of producers to remix tracks from their ten-year celebration 'Decadedance'. 8bit Records co-owner, Gorge has spent years perfecting his craft playing at some of the world's best clubs including Watergate, Rex and Zoo Project whilst Moises & Juliche Hernandez have gained notoriety helming their own Downhill Music imprint. Matt Tolfrey is highly regarded for running his longstanding label Leftroom Recordings and DJ T's multifaceted career has made him an integral part of the electronic music community through his productions, journalism and club ownership.
Gorge's remix of 'Come On Baby' displays crisply mixed percussion and a pulsating low-end which underpin a series of hypnotic synth hooks that grow with subtle melodic hints before Moises & Juliche Hernandez' take on 'Peep Game' entices listeners with its complex percussive rhythms, rise and fall bass line and expertly manipulated samples.
Matt Tolfrey utilises percolating rhythms, sharp cymbals and sustained bass tones on top of the occasional snare roll in his Ghetto Dub Remix of 'Rider' before DJ T reworks 'Which Way To Go' with a rumbling sub, enchanting mid-range synth melodies and mesmerising pads along with transitional vocal licks to close out the release smoothly.
'Decadedance Remixes – Part Two' drops on VIVa MUSiC on 15th December 2017.
www.vivamusicltd.com
www.facebook.com/VIVaMUSiCLabel
www.twitter.com/VIVaMUSiCltd
www.soundcloud.com/vivamusic
Decadedance Remixes – Part Two
1. Phil Weeks – Come On Baby (Gorge Remix)
2. Harvard Bass – Peep Game (Moises & Juliche Hernandez Remix)
3. Andrea Oliva – Rider (Matt Tolfrey Ghetto Dub)
4. Junior Sanchez feat. SoShy – Which Way To Go (DJ T Remix)