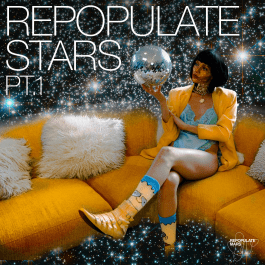 Various Artists - Repopulate Stars PT.1
Repopulate Mars delivers the first instalment of the Repopulate Stars series this November, featuring contributions from DeMarzo, Pirupa, Eli Brown and more.
Since its launch in 2016, Repopulate Mars has garnered a reputation for delivering high quality house music with global appeal, releasing heavyweight names like MK and Sonny Fodera whilst acting as a springboard for rising talent including Eli Brown, Latmun and Detlef. 'Repopulate Stars Pt.1' is a testament to this fact, with the label assembling a host of exciting artists for an essential six track release.
London based artist DeMarzo opens with 'Dance Naked' where intelligently placed cow bells and shuffling hi-hats lay the foundations for evolving synthesiser rhythms and a captivating vocal hook before Italian producer Raffa FL's 'Loco' provides Latin percussion and high octane bass with expertly utilised spoken samples. Do Not Sleep favourite Mirko Di Florio's 'Say What?' is a perfect blend of 808 drum patterns, grooving low-end and intoxicating vocals.
NONSTOP boss Pirupa adds 'Last Minute' to the mix with its intense melodies, rolling percussion and vocoded licks whilst the mesmerising risers in Bristol based Eli Brown's 'Make Me Feel' lend themselves perfectly to the dance floor. Andre Salmon, Sammy W & Alex E team up for 'Trobuxx' which has exciting synth transitions underpinned by a playful rise and fall bassline to close out the release.
'Repopulate Stars Pt.1' drops on Repopulate Mars on 24th November 2017.
https://www.facebook.com/repopulatemars/
https://twitter.com/RepopulateMars
https://soundcloud.com/repopulatemars
Tracklist:
1. Demarzo – Dance Naked
2. Raffa FL – Locco
3. Mirko Di Florio – Say What?
4. Pirupa – Last Minute
5. Eli Brown – Make Me Feel
​6. Andre Salmon, Sammy W & Alex E – Tobuxx