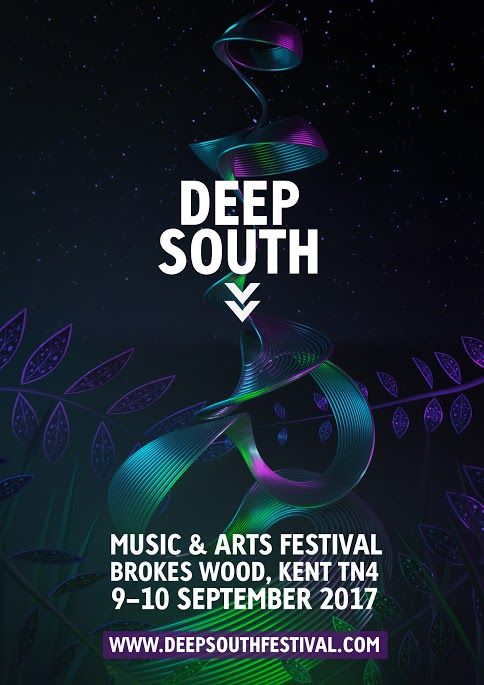 Deep South Music & Arts Festival
Ground control to Major Tom, pack your party bags and put your helmet on! We're commencing countdown to Deep South 2017, which takes place in a private ancient woodlands in Tunbridge Wells.
This year's Space Oddity theme follows one of South London's greatest musical heroes, David Bowie. Taking inspiration from Ziggy Stardust to Aladdin Sane, Heroes to Heathens, come with your painted faces and Let's Dance.
---
Line Up:
Dark Sky, Andrew Ashong (live), Throwing Snow, Medlar, FYI Chris, Carmody (live), Afriquoi (DJ), Alyusha (live) & much more. Deep South showcases the best in live music and DJ sets from South London's tight knit musical community and beyond. In addition to seeing a return of the labels, parties and record stores involved in last years Mansion Party, the festival welcomes some exciting new partners including Brighton's Disco Deviant who bring The Reflex, Rayko and Pablo Contraband for a takeover of the Lake Stage! Stay tuned for further line-up announcements.
---
Arts and Performance:
This year welcomes our new 'Club of Hearts' stage, hosting an immersive and interactive line up of performance and cabaret ft. Evelyn Carnate, Brazen Bijoux, Athena Beauvoir, Fifi Croissant, Velvet Jones & Pi the Mime. Club of Hearts will also feature a takeover Felix Le Freak & Friends takeover plus much more.
---
Food and Drink:
Berliner Pilsner and Double Dutch Tonics will be on hand serving cold, quality drinks whilst South London's very own pop-up geniuses 'Smoke and Ember' will be turning up the heat with a sizzling selection of street food.
As per last years event the festival will feature high-grade audio from Solo Sound (including Void Acoustics and Nexo PS rigs).
Deep South is more than just a party. More than just a festival. It's an intimate gathering (max 450) of party people and passionate music heads, a celebration for the extended South London musical community.
---
Tickets:
Full Weekend Camping Tickets available at Eventbrite – £70 / £90 / £115
Day Tickets – £40