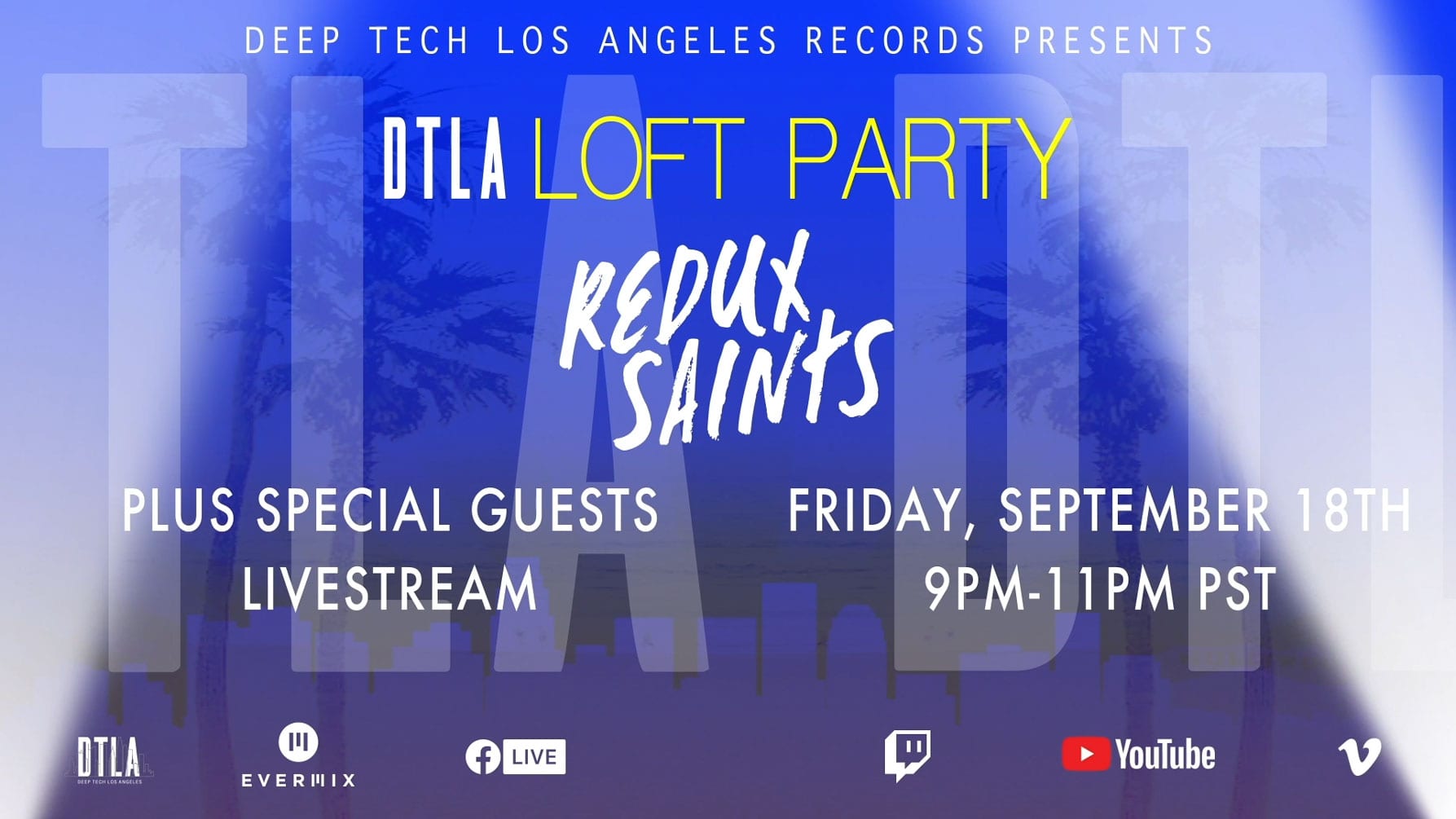 Deep Tech Loft Party Livestream Returns Friday 18 September
Redux Saints continues to grow the global reputation of his DTLA (Deep Tech Los Angeles) label on September 18th as he steps up for another vital 2-hour livestream from headquarters in Downtown Los Angeles.
Episode oo4 of the Deep Tech Loft Party will feature a tongue-in-cheek VIP area starring some 'very special guests', more satirical interludes, as well as plenty more of the essential tech house cuts, underground house grooves and world exclusives. They'e proven so popular that even Hollywood A-lister Charlie Sheen joined tin he madness!
Listen out for Redux Saints dropping 5 brand new tracks from CHESSER and Mr Oz, Notorious Lynch, Placebo eFx, ACAY, and Toriah, all of which are slated for the 25th September release of the Deep Tech Lockdown Sessions Vol.2 compilation.
As well as an on-point musical selection, DTLA has stood its stream apart with satirical infomercials that poke fun at an industry that can sometimes take itself too seriously. An ointment to cure genre-bashing, 'Hater-Aid' found its way into the last livestream, while this month showcases the first two episodes in the Redux Dub Fu series where Redux Saints overdubs scenes from Kung Fu movies to recreate relatable and laughable moments of modern club culture.
It's been a huge year for Redux Saints. He's been crowned an honorary 'On Our Radar' artist by Beatport and clocked an impressive 8 consecutive Beatport Top 100 House and Tech House Track releases thanks to his unmistakable club sound.
Lofty ceilings and seriously thick concrete walls make DTLA Records HQ every bit a perfect club setting for this online get together. It all kicks off at 9pm PT (midnight NYC / 5am London / 6am Cape Town) and promises once more to make Friday night feel like a proper party night as clubs remains shut round the world.
Join the Deep Tech Loft Party via Facebook, YouTube, Vimeo, or Twitch:
Stream
Twitch: https://www.twitch.tv/deeptechla
Facebook: https://www.facebook.com/deeptechla
YouTube: https://www.youtube.com/channel/UCzHq44curqIsxUFWSvP9fQg
Vimeo: https://vimeo.com/425306025
Event Info
Deep Tech Loft Party
Friday 18th September 2020
Opening Times: 9pm – 11pm Los Angeles
Deep Tech Loft Party Facebook Event
Opening Times For International Party People
Sat 19th September 2020
12am – 2am – New York (+3 hrs)
5am – 7am – London (+ 8 hrs)
6am – 8am – Cape Town (+9 hrs)
2pm – 4pm Sydney (+17 hrs)