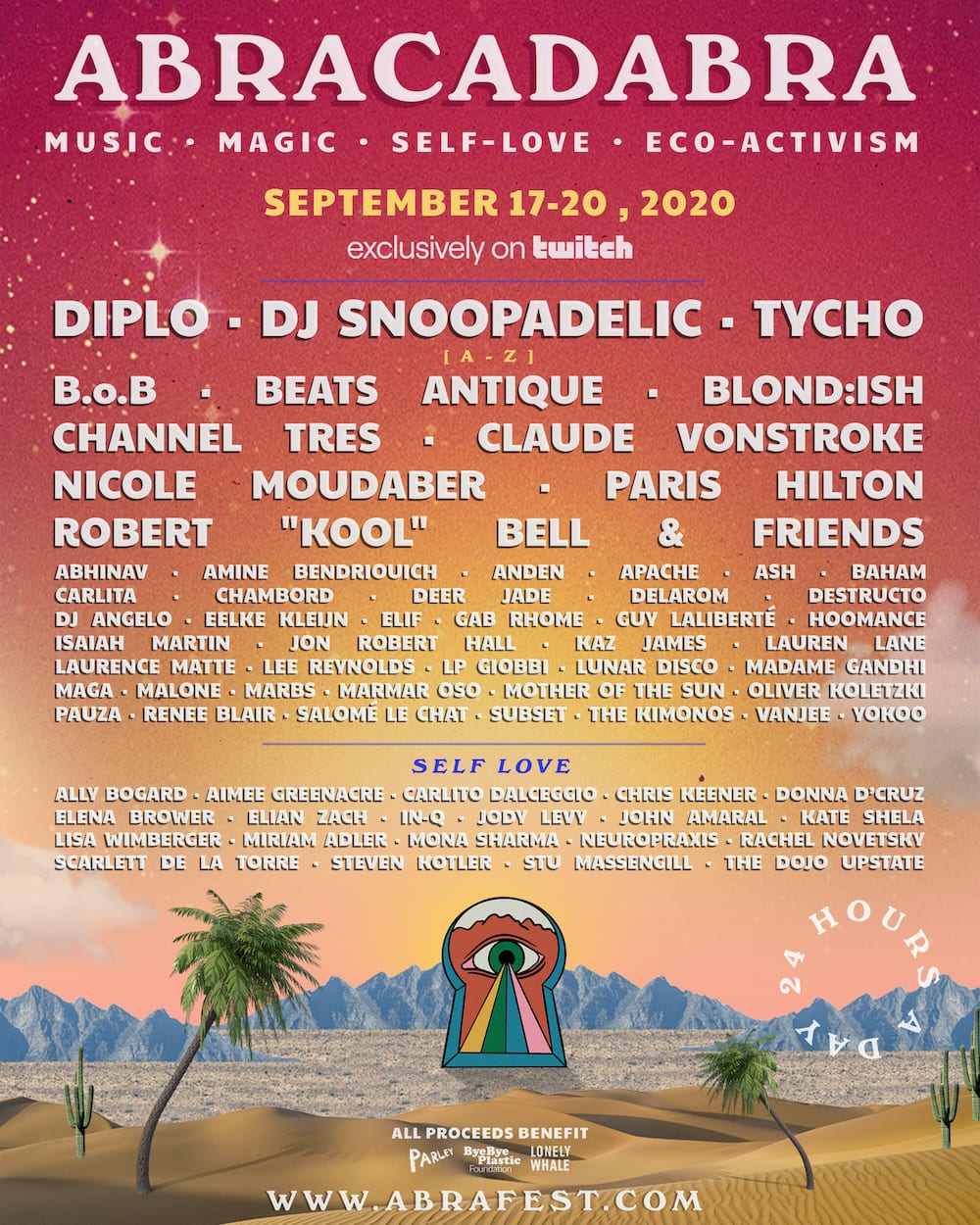 Abracadabra's Virtual Festival 2.0 Cracks The Code On How To Survive Music Industry During Covid 19
Abracadabra's Virtual Festival 2.0 Cracks The Code On How To Survive Music Industry During Covid 19
 Live Streaming 4 Day Event Featuring DJ Snoopadelic (Snoop Dogg), Diplo, Tycho, BLOND:ISH, Sept 17-20th, Exclusively on Twitch, Watch Trailer,
Raising Funds For Planet Earth, In Partnership With Parley for the Oceans, Lonely Whale, and Bye Bye Plastic
Abracadabra Festival, the new 4-day livestream music festival and environmental fundraiser presented by ABRACADABRA and Twitch, has announced its full lineup. For 24 hours each day, the festival will teleport viewers around the globe to experience live virtual performances from over 75 artists & guests including DJ Snoopadelic (Snoop Dogg), Tycho, Diplo, Chanel Tres, and Kool & The Gang, discussions and workshops with environmental thought-leaders, wellness activities, interactive magic shows, and more. The festival is free to attend and 100% of the proceeds from voluntary viewer donations will benefit environmental organizations including Lonely Whale, Parley for the Oceans, and Abracadabra co-founder BLOND:ISH's non-profit, Bye Bye Plastic, which is dedicated to eliminating single use plastics from the music industry by 2025. While wildfires are blazing and record-breaking heat is becoming the annual norm, this fundraiser event will be hosted live from the historic Los Angeles Theatre, drawing awareness around global warming from one of the states hit hardest in recent years.
ABRACADABRA, female-founded and led by international touring artist & DJ, Vivie-Ann Bakos aka BLOND:ISH and Liana Hillison, has been producing unique single-use plastic free events in Tulum, Mykonos, and at Tomorrowland since 2017. This past March, as music venues and festivals shut down due to Covid-19, BLOND:ISH and her team quickly adapted by launching AbracadabraTV on Twitch, the world's largest live-streaming service. Twitch quickly took notice and has officially partnered with AbracadabraTV, which now live streams multiple weekly shows featuring music, magic, wellness, and social impact programming for a rapidly growing community of creators and fans looking for new ways to connect during this new era of social distancing. "As an international touring artist affected by Covid-19, it feels like we're cracking the code in terms of continuing to build a connection with our community and bring them new transformative experiences from afar. Virtual events have greater reach and even more merit than physical ones in some ways, and will give an edge to the human connection we feel when physical events eventually return." says BLOND:ISH.
While ABRACADABRA plans to resume hosting physical events in 2021, it will continue adapting and innovating in the virtual event space for the good of its community and the environment.
ABRACADABRA LINKS
Facebook | Website | SoundCloud | Youtube | Instagram | Twitch