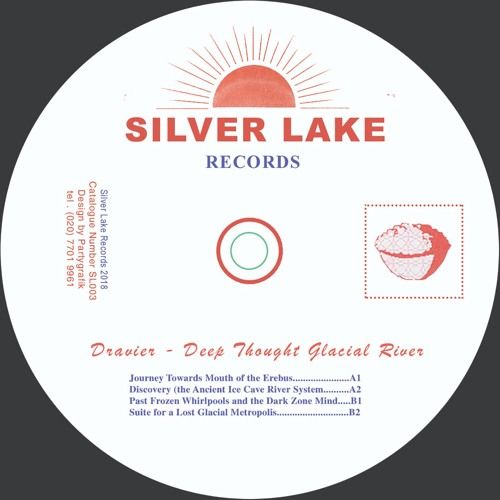 Dravier - Deep Thought Glacial River
It's been a minute but the next Silver Lake record is finally here. Amazing psychedelic drone and ambient from Seattle based Jungle Gym records co-head, Dravier. Pre-order now available on the X-Kalay bandcamp site…
As co-head of Seattle based record label Jungle Gym, Caleb Dravier aka Dravier, has provided a steady source of musical inspiration over the past 3 years through both his label output and a string of individual artist releases. Along with fellow label head, Rene Najera, he has established Jungle Gym as a respected platform for emerging electronic artists whilst maintaining an ethos and identity so synonymous with Seattle based music.
Harking back to the rise of seminal label Sub Pop in late 80's Seattle; a new style of music emerged characterised by DIY attitudes to production and performance underpinned by noise, drone and raw lo fi influences. Jungle Gym are the perfect exponents of these ideals within 21st century electronic music, and it's been a real pleasure to work together on this record.
The intriguingly titled "Deep Thought Glacial River" refers to a recurring dream Caleb experienced prior to writing the tracks: "… the dream was about an expedition that leads into a glacier, inside there's a whole river cave system that eventually leads to an ancient ice metropolis deep inside of the glacier". Within the frame of Caleb's dream the near 44 minute piece serves as a concept album to tell this story.
Drawing on broad musical influences from post-noise Casio based recordings, progressive rock and classical Indian music; Dravier creates a tapestry of sounds, utilizing vignette-like song structure to stitch together otherwise incongruous, separate recordings. The almost psychedelic euphoria of opening track "Journey Towards Mouth of the Erebus" being a brilliant case in point.
A2, "Discovery (the Ancient Ice Cave River System) and B1, "Past Frozen Whirlpools and the Dark Zone Mind" take the listener deep into the glacial labyrinth; the drones and swells reflecting the awe and grandeur of this frozen sub-aquatic maze. The trepidation of the onwards journey is captured perfectly in the increasing sense of introspection and expectation. B2, "Suite for a Lost Glacial Metropolis", sees the intrepid traveler emerge from the subterranean river basin and enter the majestic lost metropolis. This final piece courses with optimism and amazement; a gentle kick drum underpins heavenly, celestial synths before dreamlike looped guitars and barely audible percussive rhythms confirm that, finally, we have arrived.
Released late March/early April 2018.