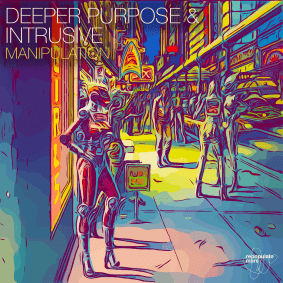 Deeper Purpose & Intrusive debut on Repopulate Mars
London based producers Deeper Purpose & Intrusive unite once again on their debut release on Repopulate Mars, 'Manipulation'.
Noexcuse producer Deeper Purpose and District 9 and Dazed affiliate Intrusive have both proven to be formidable artists in recent years, garnering support from the likes of Groove Armada, Richy Ahmed, Michael Bibi and Lee Foss. Having collaborated before on Resonance Records and La Pera, the pair team up once again for their debut on Repopulate Mars, joining an impressive roster of artists such as Eli Brown, Mason Maynard and Martin Ikin.
With both tracks featuring their own vocals, 'Manipulation' opens with a groove driven bassline, adding in oscillating synths with robotic vocals to provide a spacey feel, which tantalisingly build up to a huge breakdown, destined to ignite the dance floor. 'The Underground' once again takes a tech groove but achieves a much funkier feel with an old school rap that simultaneously nods to the past and future, with bleeping keys and raw kicks giving the track that modern feel.
Deeper Purpose & Intrusive 'Manipulation' drops on Repopulate Mars on the 14th of June 2019.
https://www.facebook.com/repopulatemars/
Tracklist:
1. Manipulation
2. The Underground