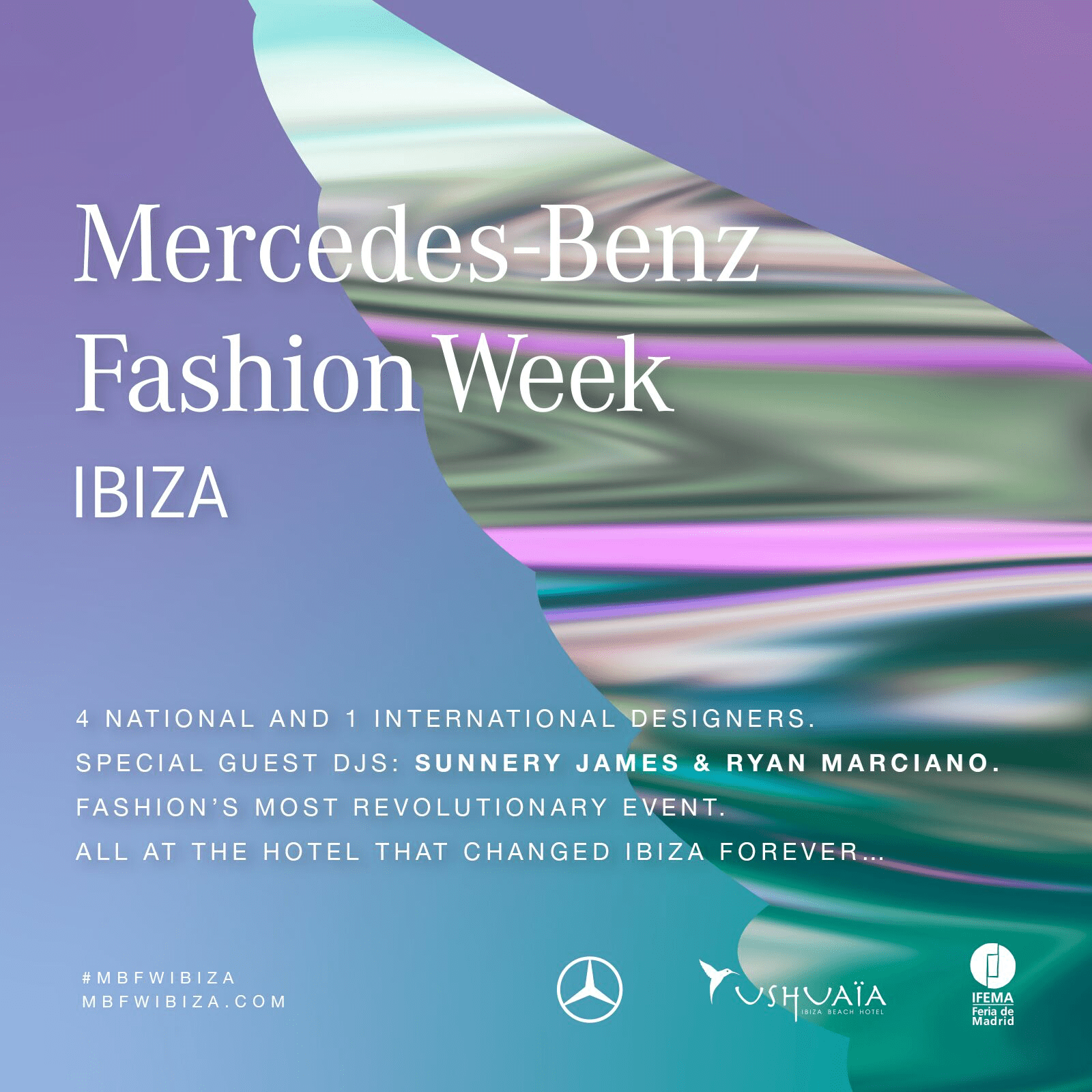 Designers announced for the 3rd edition of Mercedes-Benz Fashion Week Ibiza at Ushuaïa Ibiza
Further details of the Mercedes-Benz Fashion Week Ibiza (MBFWIbiza) have been revealed, where the new cruise collections of five Spanish designers and a guest international designer will be presented at Ushuaïa Ibiza Beach Hotel – The Club on Thursday 30 May.
Now in its third year, the catwalk will take place along a new runway located above the iconic pool of Ushuaïa Ibiza Beach Hotel – The Club. The new location at the hotel offers a larger capacity and a spectacular set, where music and fashion will come together in one of the most glamorous events of the year. As a result, the event will be open to the Ibizan public for the first time, who will be able to see at first hand the creations of major fashion brands.
Guests will be able to enjoy the latest pre-season trends against this impressive backdrop, which has staged internationally-renowned events headlined by top-level artists since the opening of Ushuaïa Ibiza Beach Hotel in 2011.
Spanish designers Juanjo Oliva and Robertodiz make their Mercedes-Benz Fashion Week Ibiza debut, alongside Alvarno, Andres Sarda and The 2 nd Skin Co., who return to the Ushuaïa catwalk for this third edition. Joining them, Dutchman David Laport adds international clout to this year's event as guest designer. A graduate from The Royal Academy of Arts in The Hague, David Laport launched his own label in 2014 during Amsterdam Fashion Week and has designed red carpet pieces for Solange Knowles, Sia and Jessie J.
The relaxed spirit of summer days, Mediterranean sunsets, Ibiza's glamourous nightlife and the island's nature are common sources of inspiration across this year's cruise collections of the six designers taking part at MBFWI.
Opening the event, lingerie and swimwear brand Andres Sarda will showcase a collection evolved from prints and navy to reflect a refined and elegant night time proposal with black, feathers and Swarovski crystals, closing with the bikini that has been designed exclusively for Ushuaïa Ibiza Beach Hotel.  At sunset, The 2 nd Skin Co. will bring strong colour contrasts, floral patterns and structured silhouettes to the stage.
The mid-point of the event is dedicated to the brands making their MBFWI debut withRobertodiz showing a collection that combines urban style with a light sophistication whileJuanjo Oliva will focus on sustainability, timelessness and gender fluidity.
International designer David Laport has been inspired by 'superphotosynthesis' and nature to create a collection that plays with the old and the new. Alvarno will close the day's parades with her modern heroine – a luxury nomad who lets herself be carried away by her passion for music, her aesthetic freedom and her eclectic essence.
This new catwalk, with its unique surroundings overlooking the Mediterranean Sea, will culminate with a performance by Dutch DJs Sunnery James & Ryan Marciano. Having toured the globe performing at some of the world's biggest stages and festivals, the DJ duo will be responsible for giving the final touch to the prestigious day, which will be attended by prominent Spanish and international celebrities.
With this third edition, MBFWIbiza – organised by Mercedes-Benz Spain, Ushuaïa Ibiza Beach Hotel and IFEMA (Congresses and Events Madrid), through its Fashion and Beauty Direction – is considered one of the essential international catwalks for Resort fashion and the second largest fashion platform held in Spain after Mercedes-Benz Fashion Week Madrid.
Charo Izquierdo, Director of this catwalk and Mercedes-Benz Fashion Week Madrid, adds: "This year's participation of five greats of the Spanish fashion scene and a renowned Dutch creator underlines the weight of the event for this industry and its international status, which will be reinforced with the presence of international media at this year's edition".
Daniel Gomez Korf, Director of Event Mercedes-Benz Fashion Week Ibiza and Brand Director of Palladium Hotel Group, explains: "This year the catwalk takes a quantitative jump, because it is celebrated around Ushuaïa's iconic pool and at the foot of a stage that has hosted so many events in the last eight years. The event will also have a unique production, which will combine the best of fashion with the essence of Ushuaïa Ibiza Beach Hotel."
MBFWIbiza has as honorary presidents Carmen Matutes, Deputy General Manager of Palladium Hotel Group and Roland Shell, President of Mercedes-Benz Spain.
Mercedes-Benz Fashion Week Ibiza is sponsored by L'Oréal Paris, responsible for the hair and make-up of the catwalk; Air Europa, the airline in charge of transporting models, designers and guests to Ibiza, as well as Heineken, Belvedere Vodka, Veuve Clicquot, Roku Gin, Royal Bliss, GHD and Palladium Hotel Group.
Rooms at Ushuaïa Ibiza Beach Hotel on 30 May are priced from £383 based on two people sharing and including breakfast.  To book, visit www.theushuaiaexperience.com
For more information on Mercedes Benz Fashion Week Ibiza, visit
www.theushuaiaexperience.com/mbfwibiza