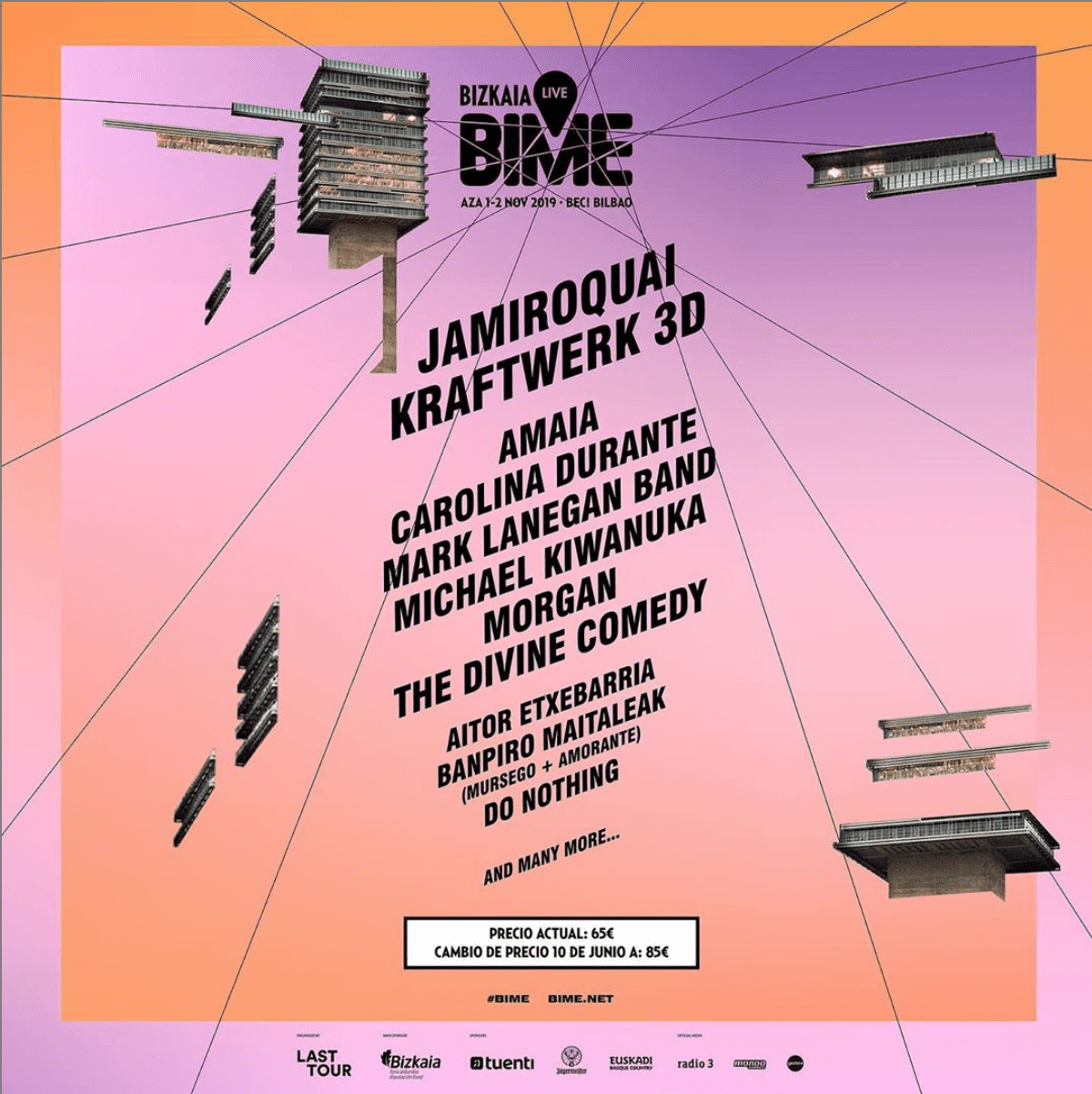 BIME LIVE expands 2019 lineup with Jamiroquai, Michael Kiwanuka and more
BIME LIVE, Southern Europe's biggest autumn festival, reveals the second wave of acts for 2019. Since the inaugural event in 2013, the Basque Country festival has become an essential date on the festival calendar, thanks to its forward-thinking and diverse programming. Taking place from 1-2 November at BEC! in Bilbao, this year brings performances from Kraftwerk, Amaia, Carolina Durante, Mark Lanegan Band and many more. New additions revealed today include a headline performance from Jamiroquai, along with Michael Kiwanuka, Morgan, The Divine Comedy and Do Nothing.
Jamiroquai join the BIME LIVE roster to get audiences at the fall festival par excellence vibing after a 14-year absence from Euskadi.  Fronted by the charismatic Jay Kay, the British band has sold over 27 million albums the world over, defining the sound of a decade and leaving a lasting imprint that can still be seen on musicians today.  Their current tour has critics and audiences raving, meaning that they'll hit Bilbao in good shape and in their stride.
Michael Kiwanuka broke onto the music scene in 2012 with Home Again, enamouring the public and critics alike and landing that year's prestigious BBC Sound Award.  Now several albums along and having collaborated with artists of such stature as Dan Auerbach, Kiwanuka has settled in as one of the key figures of soul music today. The Londoner is returning to BIME LIVE after his appearance at the 2015 edition to take us on a journey through his brilliant output so far.
Morgan formed in Madrid six years ago and went on to become one of the leading lights in the current Spanish scene. They can boast of "sold out" signs at every stop of the album-tour for Air, their latest work. Their songs are rooted in American rock, steeped in folk and soul, and held aloft by the hypnotic vocals of Carolina de Juan.  Morgan will take the stage at BIME Live to thrill festivalgoers with the mastery of an honest live show honed along kilometres and kilometres of highway.
The Divine Comedy is Neil Hannon's band, one of the most influential and charismatic composers in Pop in recent decades.  He's back with Office Politics, a new and fantastic album set for release next June 7thand which the band will be presenting live in November with a tour kicking off at BIME LIVE.
Nottingham foursome Do Nothing are one of the promising highlights reaching us from the UK, closing out the flurry of new additions to the festival lineup with the plethora of praise garnered by their recent single "Gangs".
With past editions playing host to the likes of Aphex Twin, Four Tet, Jon Hopkins, José González, Nina Kraviz, PJ Harvey, Slowdive, The Chemical Brothers and many more, BIME Live has rapidly established itself as an essential Autumn festival. There's lots more still to come for this year's edition so watch this space for further additions coming soon.
BIME PRO CAMPUS+ call still open
The call for the free music industry training program remains open until the 2nd of June.  This scholarship, which covers travel expenses, accommodation, and a meal allowance, will grant 32 selected students access to both the professional sessions and BIME LIVE.  All the information regarding requirements, evaluation criteria, and registration can be found on:  www.bime.net/pro.
From 30 October to 1 November the BEC! (Bilbao Exhibition Centre) will become a hub of creativity and networking for the international music industry, with the latest musical trends and innovations on display. BIME PRO will feature 3 days of insightful talks and panels from leading industry professionals, along with a series of sub-conferences: BIME PRO Fests, which focus on the festivals professional sector; BIME PRO Start Up! Competition, fourth call to young entrepreneurs; BIME PRO Campus training course; and the BIME PRO International Videoclip Challenge, which brings together new audiovisual content creation and management talent. What's more, BIME CITY is set to pack out the main venues in the Biscay capital with a selection of the best national and international emerging talent
BIME 2019
BIME LIVE
1-2 November 2019
BEC! Bilbao
JAMIROQUAI
KRAFTWERK 3D
AMAIA
CAROLINA DURANTE
MARK LANEGAN BAND
MICHAEL KIWANUKA
MORGAN
AITOR ETXEBARRIA
BANPIRO MAITALEAK (MURSEGO + AMORANTE)
DO NOTHING
2-Day pass: €65 + fees – Offer good until June 10th
On sale at: https://www.bime.net/live/es/entradas/
BIME PRO
30-31 October and 1 November 2019
BEC! Bilbao
BIME PRO 2-Day Pass: €65 + fees
BIME PRO 2-Day Pass + LIVE: €95 + fees Offer good until June 10th
On sale at: www.bime.net/pro/es/tickets/
CONNECT
BIME Live | w bime.net/live | fb @BIMEnet | tw @BIMEnet | ig @BIMEnet | yt @BIMEtv
Bime Pro | w bime.net/pro | fb @BIMEpro | tw @BIMEpro | ig @BIMEpro | yt @BIMEtv