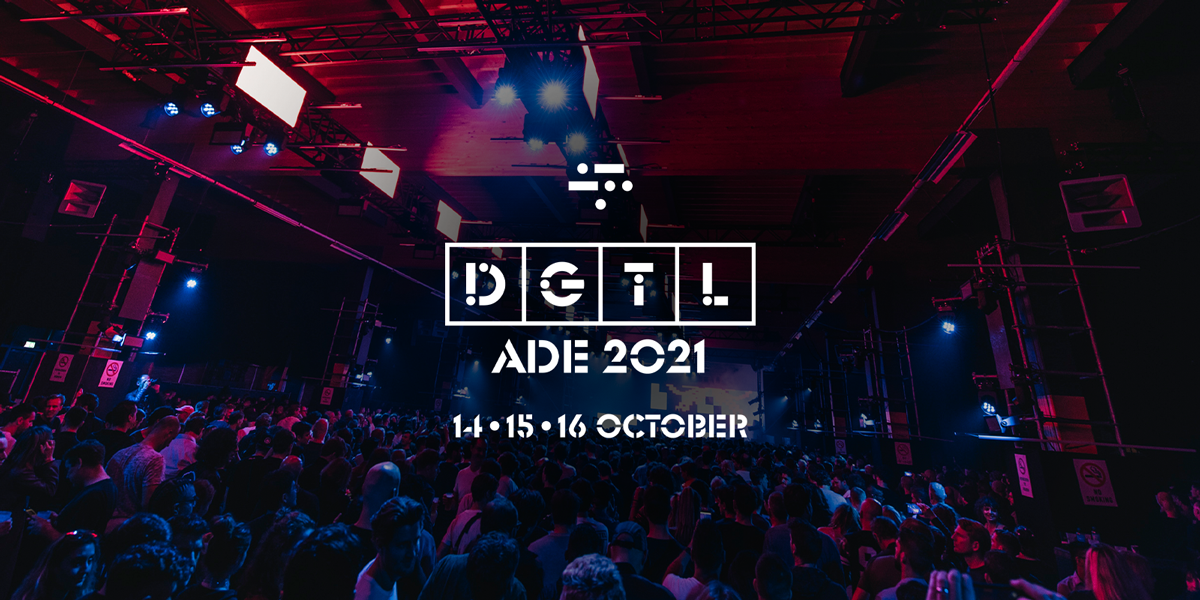 DGTL confirm massive 2021 ADE event – 14/15/16.10.21
FULL LINE-UP ANNOUNCED INCLUDING DAX J, DISCLOSURE, DIXON, HONEY DIJON, JON HOPKINS, KÖLSCH, PAULA TEMPLE, SVEN VÄTH, THE BLESSED MADONNA & MORE…
PRE-SALE MAY 24TH | ON-SALE MAY 25TH
www.ade.dgtl.nl
After months of fevered speculation, global festival juggernaut DGTL confirmed their massive ADE 2021 event will go ahead as planned on October 14th, 15th and 16th.
Over three days and across four events – including for the very first time a DGTL ADE daytime event – 20,000 music fans will flock to the festival's traditional home at the NDSM Docklands in the heart of Amsterdam, to once more come together under the bass and reaffirm their passion for electronic music. 
Starting off with a bang, the organisers today unveiled every single name on the line-up, a move that is sure to whet the whistle of ravers across Europe and beyond who are now figuring ADE into their calendars. The bill is as ever graced with a wealth of talent, not just from international headliners but also from local legends who have kept the Dutch music scene alive and kicking during this incredibly trying past year. 
Playing a special DJ set – and looking to build on their iconic performance from DGTL AMS 2019 – is UK duo Disclosure, who top the bill on Thursday night alongside the legendary Honey Dijon. The trio are joined by a raft of names set to kick things off in inimitable fashion: Cinthie, Theo Kottis, William Djoko, Luuk van Dijk, Kléo and Sanja all squaring up to bring a considerable dose of house and techno to both stages. 
Friday will be one for the books, as Kölsch rolls into town with fellow big hitter Sven Väth to take over DGTL with his IPSO label showcase event. With KiNK Live, Gerd Janson, Colyn, Jimi Jules, Jonathan Kaspar, Nicky Elisabeth and LEIA taking their place alongside, the event promises to be a true highlight of the ADE experience for any fan wanting their musical mind blown. 
On Saturday – and for the very first time in the brand's history – DGTL will run a ADE daytime event, with headliner acts across the board making this feel like a festival within a festival: Dixon, The Blessed Madonna, Jon Hopkins, Danilo Plessow (MCDE), Jayda G, David Vunk, Paramida, Philou Louzolo, Suze Ijó and Fafi Abel Nour. Saturday night sees DGTL attendees able to indulge their love of dark and dirty techno, as the hardest of all four line-ups drops to round off DGTL ADE in thoroughly spectacular style. Afra, AnD, Dax J, DJ Stingray 313, KI/KI, Kobosil, LVTL, Paula Temple and SPFDJ & VTSS should give any techno fan worth their salt one of the deepest experiences DGTL have ever offered on the bill. 
Fans can already register for early access to DGTL ADE 2021 tickets, with public ticket sales opening at 12:00 CEST on Tuesday May 21st. 
REGISTER:
https://ade.dgtl.nl/en/dgtl-ade-2021
ABOUT DGTL:
DGTL is a global electronic music festival with editions in Amsterdam, Santiago (Chile), São Paulo (Brazil), Barcelona & Madrid (Spain), Tel Aviv (Israel), Bangalore (India) and during the Amsterdam Dance Event. Besides the focus on music, the organisation brings a mix of unique art installations and revolutionary sustainability projects.
DGTL ADE 2021
14, 15, 16 October 2021, NDSM Loods, Amsterdam
FULL LINE-UP: https://ade.dgtl.nl/artists/line-up 
FACEBOOK EVENTS:
Thu, October 14 2021: https://www.facebook.com/events/855887398611809/ 
Fri, October 15 2021: https://www.facebook.com/events/2942960452615703/ 
Sat, October 16 2021, daytime event: https://www.facebook.com/events/2399916016819518/ 
Sat, October 16 2021, nighttime event: https://www.facebook.com/events/950858779062082/