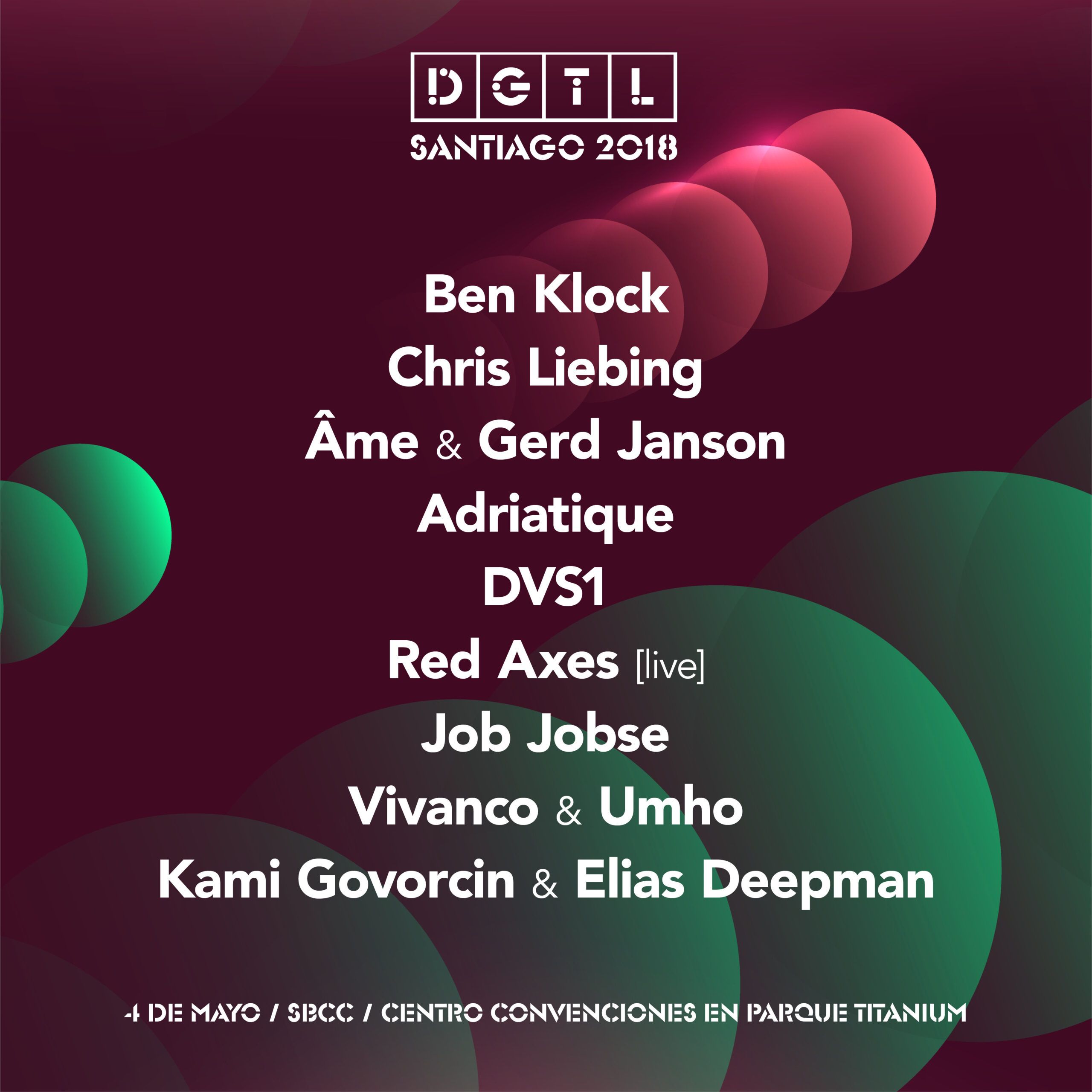 DGTL is expanding territories
After many successful editions in Amsterdam, Barcelona, São Paulo and Tel Aviv, DGTL adds Santiago to its international family of party-hosting spots. On the 4th of May, the homeland of many well-known heroes of the underground will be the scene of another one of DGTL's epic get-togethers. As could be expected they have found an extraordinary location for this night. This location matches their legacy of sourcing the most industrial and one-of-a-kind locations. It's no doubt the perfect site to replicate the true ambience of a DGTL show.
Santiago is an interesting choice, considering the electronic music scene is only just beginning to develop in the city. But the rawness of the up-and-coming underground phenomenon is exactly what it made the right choice for the festival organization. It's a shame to see that Chile is experiencing a drain of local talent which are often moving to Europe to kick-start their career. As a festival organization that lives by sustainability in everything they do, the opportunity to stimulate the local dance industry in Chile was a no-brainer for DGTL. Besides delivering an unforgettable evening to a bunch of new DGTL goers, the festival organizer hopes their presence will nourish the local dance industry and helping it to grow so that local talents have an incentive to stay.
"We started DGTL because we wanted to change the way people build up festivals." Jasper Goossen – founder DGTL.
Just a day before moving the DGTL circus to São Paulo, DGTL will bring a stellar line up to Chile. As always, they are striving for a perfect balance between well-known legends, local talent and stars of the future. For this night, they've invited leading techno heroes Ben Klock, Chris Liebing and DVS1 to come along. But DGTL doesn't stop there.
Crowd favourites, Âme & Gerd Janson, take over the DGTL stage with some back to back action. DGTL's Long-time friends Red Axes will bring along their ever electrical live act to Santiago, while Adriatique adds some melodic house to the lineup. Job Jobse has the honor to represent DGTL's hometown for the occasion. Local flavor is brought to you by Vivanco & Umho and Kami Govorcin & Elias Deepman.

On top of this fine line up, DGTL will bring their well-known and praised 'Revolution' plan – ensuring a sustainable experience for all. Like all their environment-conscious events, the night in Chile will be completely meat-free, there will be hard-cups instead of disposable cups and a smart power plan.

Looking at DGTL's ambition and expansionism it's safe to say that Santiago will not be the last city added to the family. Rumor has it another city will be announced before the end of this year.
"Making the festival world a greener place, one city at a time. We want to keep on globetrotting as much as we can!"
Jasper Goossen – founder DGTL.
GENERAL INFO
DGTL Santiago 2018
Date: May 4
Time: 20:00 – 05:00
Location: SBCC | Centro Convenciones en Parque Titanium
Tickets: Tickets online Friday March 30 via DGTL.
FULL LINE UP
Adriatique · Âme & Gerd Janson · Ben Klock · Chris Liebing · DVS1 · Job Jobse · Red Axes [live] · Kami Govorcin & Elias Deepman · Vivanco & Umho