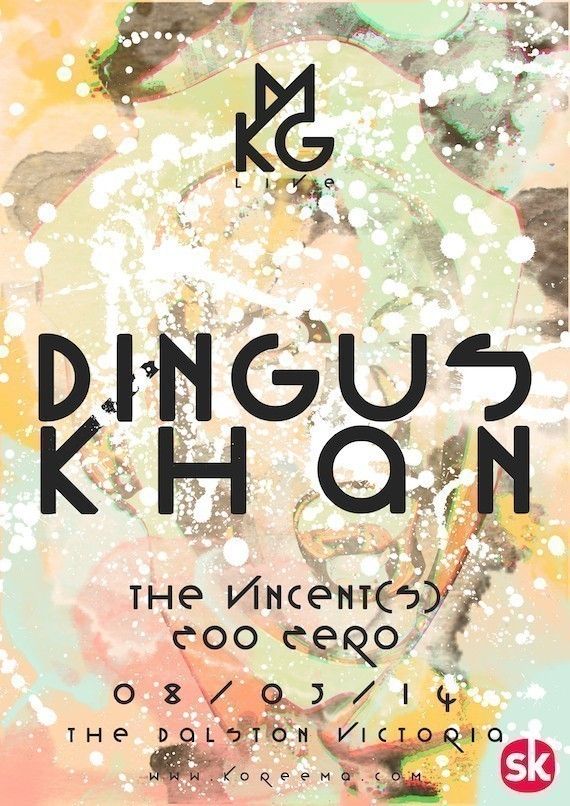 DINGUS KHAN, THE VINCENT(S) and ZOO ZERO
Dingus Khan performed at Reading and Leeds festival 2012. The Eight piece rockers featuring no less than three drummers. Their debut album 'Support Mistley Swans' came out through Fierce Panda on 22nd October 2012.
Since their formation in 2003 their witty and melodic avante-pop sound and manic live shows has won them a dedicated (and growing) fan base around the country.
There is a new exciting music being made, with subtle harmonies and fierce grinding dischords, a music so powerful that it would drive us mad if only our ears were tuned to the sound of it. https://soundcloud.com/strummerville/dingus-khan-how-do-you-like-me-now
'Dingus Khan are different, you only need to look at their name to know this' – Artrocker
'There was always activity absolutely everywhere all the time'- IndieMusicReviewer
'referred to as Blur-meets-Slipknot 8/10' – Hooting and Howling
The Vincent(s): raw, edgy, dark but distinctive and with a real swagger, but more than anything combining several styles and crossing over several genres to be creating something original. Having hooked up with Irish indie label FIFA Records there noise and psych are orders of the day, dark, edgy track and is stunning atmospheric affirmation of the groups visceral Death-Pop sound. https://soundcloud.com/the-vincent-s
'at the forefront of this musical revival' Louder Than War
'ever-tightening intensity and eerie sound' Artrocker
Zoo Zero: London based avant-rock group exploring their ore experimental influences. The group turned down management interest and distribution deals in order to retain full control of their music, and have teamed up with Scott Knapper (engineer to, among others, Scott Walker and Van Der Graaf Generator) to create an album "where noise and weirdness clashes with melody." https://soundcloud.com/crest-cont/fraktion
'are as visceral as they are cerebral 8/10' NME
'Make no mistake, these boys can play' Penny Black Music
'doesn't mess around' 17 Seconds
Website: www.koreema.com
Tickets: https://tickets.songkick.com/events/19780259
Soundcloud: https://soundcloud.com/koreema/sets/kmg-live-presents-dingus-khan
For more info contact and guest list requests: [email protected]
Facebook event: https://www.facebook.com/events/264344130410957/