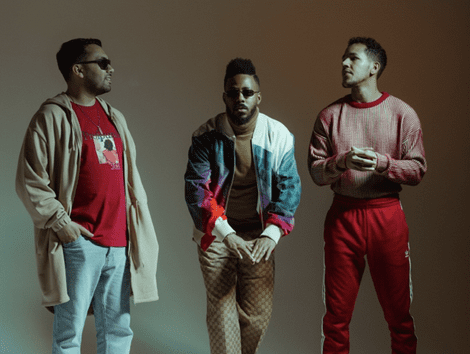 Disciples return with summer anthem 'All Mine'
Hot off the heels of their latest track 'No Ties', multi-platinum UK trio Disciples have returned with compelling new single 'All Mine', out today via Pete Tong's FFRR label.
Featuring the scintillating vocals of Dutch-born, London-based singer/songwriter Eyelar, 'All Mine' follows Disciples' winning formula of upbeat, vocal-laced dance music that single harnesses an undeniable summer vibe. Underpinned by an infectious chorus, it's a slick, shimmering track destined to make an impact on charts and dancefloors alike.
Speaking on the creation of the single, the group's very own Luke Mac explains:
"All Mine is one of those records that comes around spontaneously. You could do a million sessions with songwriters, but when you get in with someone you connect with, and who shares the same feelings towards a situation you're both going through… well, All Mine happens."
The release comes amid a typically busy summer schedule that has seen the triple act take their energetic performances to some of Europe's biggest festivals, including Hideout in Croatia and Belgium's Tomorrowland. The boys also marked their return to Ibiza with headline sets at the White Isle's most in-demand clubs – including Ushuaia, Pacha, Ibiza Rocks and Hi Ibiza – while also playing alongside dance titan Calvin Harris for select dates. Looking ahead, they will play SW4 in their native London and Norfolk's Sundown Festival before the end of the month.
 'All Mine' was preceded by the trio's groove-led single 'No Ties', which has amassed over 2.5 million streams since its June release. The lauded dancefloor tune was crowned the BBC Radio 1 'Hottest Record in the World' by Annie Mac, as well as Danny Howard's 'Friday Fire'. Furthermore, the trio completed a whopping exclusive live mix for Pete Tong and an impressive sample-themed mini mix for Annie Mac.
The previous year, singles 'Atheist' and '48HRS' both received similar levels of support from BBC Radio 1, with the latter reaching  the  coveted  #1  spot  on the station's Dance Chart after support from Annie Mac, Pete Tong, Danny Howard and Phil Taggart.
 Having written the song alongside the trio, Eyelar realised her natural talent for songwriting from an early age. Upon settling in the UK, her talent was quickly discovered by the songwriting community and she soon begun to work with a range of talented names in the industry, including the likes of Charli XCX, Bastille, Yxng Bane, Neiked and Brunswick.
A track destined to become a certified summer smash, 'All Mine' sees Disciples return to their inimitable best.
Tour Dates
17th Aug – Finns Beach Club – Bali, Indonesia
20th Aug – Pacha – Ibiza w/ Calvin Harris
24th Aug – SW4 Festival – UK
30th Aug – Ushuaia – Ibiza w/ Calvin Harris
31st Aug – Sundown Festival – Norfolk, UK
1st Sept – Sea Dance festival – Montenegro
6th Sept – Ibiza Rocks Hotel – Ibiza
13th Sept – Hi Ibiza – Ibiza w/ David Guetta
https://open.spotify.com/album/0z7KbZJJ7SfvI2RRG4O0vK?si=o8OYJ7oGRSa1S5JxIDgXDg