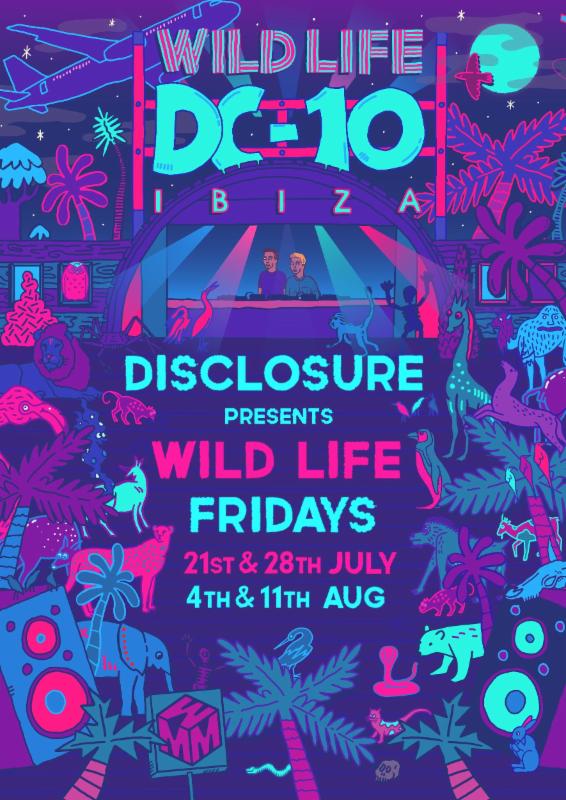 Disclosure Bring Wild Life to DC10, Ibiza
While on hiatus from production duties, this summer Disclosure return to Ibiza to bring WILD LIFE to DC-10 for four unique shows.
Taking place across four Fridays throughout July and August the Disclosure brothers Guy and Howard Lawrence will showcase their WILD LIFE party within the confines of DC-10's wild and wondrous walls. Each week they'll be joined by specially selected guests and friends for four of the most individual parties Ibiza will see throughout 2017.
Disclosure first cut their teeth on the white isle back in 2012, but their inauguration at the mythical DC-10 came about just last summer when they played three nights at the legendary Circo Loco parties. Now they're back for 2017 heading up their own run of shows for the first time.
With such a prolific and unerring work ethic over the last seven years, the brothers announced a few weeks back that they'd be taking a well earned rest before releasing new music, barring a couple of exciting upcoming projects. This exclusive Ibiza series marks one of these projects.
Speaking ahead of the residency announcement, Disclosure said: "A few weeks ago we announced that we'd be taking some time out to relax after 7 solid years of touring and releasing music. We also mentioned we'd have a couple of very special things to come throughout 2017 and this is one of them… A residency at one of our favourite and best clubs in the world, DC-10 Ibiza! We cannot wait to bring WILD LIFE here this summer for four very special shows across four Fridays in July and August. We'll be bringing a few of our friends and best DJ's in the world too of course!"
Time to take stock, recharge and reignite their love of the dancefloor.
Dates for WILD LIFE at DC-10, Ibiza:
FRIDAY 21st JULY 2017
FRIDAY 28th JULY 2017
FRIDAY 4th AUGUST 2017
FRIDAY 11th AUGUST 2017