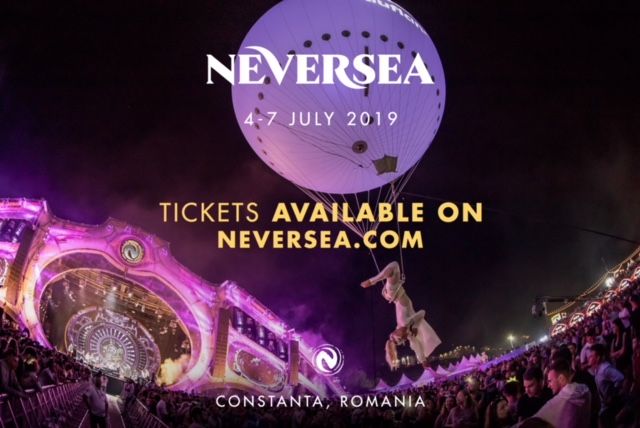 Discover NEVERSEA 2019, the biggest festival on the Black Sea shore
After another successful edition last summer, NEVERSEA returns toConstanta, for the third time in a row. The biggest beach festival in Romania will take place from July 4 to 7, 2019. The NEVERSEA story continues next year with the most breathtaking sunsets and most intense sunrises over the Black Sea. Nothing can compete with dancing on the beach to this view, while enjoying unique experiences and the best music out there.
All of this will be accompanied by the most beautiful and energetic crowd. Together with international acclaimed artists, festivalgoers will discover this year's musical diversity, ranging from commercial superstars to headliners of the underground and everything in between.
The first 4-day passes for NEVERSEA 2019 will be on sale NOW via NEVERSEA for a special price.
The unique atmosphere of the 2018 edition is captured in a 12 minute after movie, showing artists who climbed the 7 stages and festival fans having the best time. The after movie is available on the NEVERSEA youtube channel in 4k resolution.
NEVERSEA 2018
The 2018 edition was a grand success. During the four days of the festival, over 210,000 visitors, local and from abroad, came to the NEVERSEA beach. More than 150 international artists climbed the seven stages, some familiar faces and some in Romania for the very first time like The Script and Aloe Blacc. Other acts that were met with high anticipation were Armin van Buuren, Steve Aoki, Lost Frequencies, Axwell & Ingrosso, Steve Angeloand so many more. But also fans of the underground spectrum got their kicks at NEVERSEA 2018 with acts like Nina Kraviz, Âme (dj), Jamie Jones, Acid Pauli, Black Coffee and local heroes Raresh, Priku and Praslea. The NEVERSEA festival welcomed visitors from 95 countries around the globe. Among these countries, most visitors came from the UK, France, Israël, Germany and the United States of America. However, most visitors were local and came from Bucharest and Constanţa, followed by Cluj-Napoca, Ploieşti, Braşov and Timişoara, making the festival crowd a perfect blend, celebrating music in harmony.