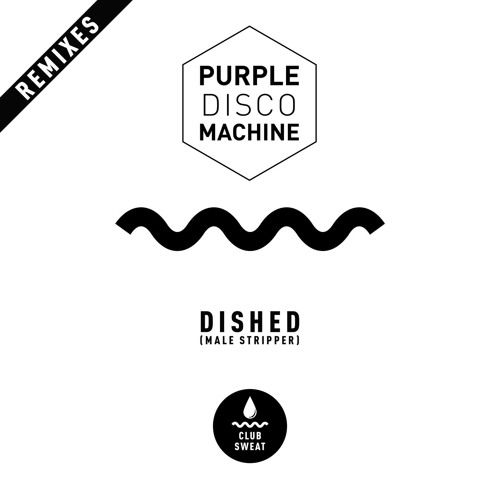 Purple Disco Machine - Dished (Male Stripper) Remixes
Dance music's legendary imprint, Positiva Records, set to release killer remix package of this summer's crossover club smash, 'Dished (Male Stripper)', by Germany's disco house master Purple Disco Machine.
'Dished (Male Stripper)' has proven to be THE standout dance release of the summer and is still continuing to rule the airwaves (multiple weeks on BBC Radio 1's playlist), streaming platforms (over 4 million Spotify streams) and climb the Shazam chart.
Now a comprehensive remix package has been complied to further enhance the single, delivering five fresh and unique flavours courtesy of some of house music's hottest names. The package sees the original transformed in to a stellar funk-driven house cut by the UK-based DJ/producer duo Illyus & Barrientos, a euphoric Balearic workout by Germany's Tuff City Kids, a synth-led Italo-disco-tinged masterclass by Italy's Babert and a relaxed hypnotic groover by Australia's Nicky Night Time to make this release not one to be missed.
Over the years, Purple Disco Machine has worked hard to become the world's most in demand disco house artist by releasing a plethora of well-received EPs/singles, remixing A-list artists such as Gorillaz, Jamiroquai, Two Door Cinema Club, New Order, Claptone, Chromeo, Tom Odell, Faithless, Shapeshifters, Hercules & Love Affair and Sigma Feat. Paloma Faith and performing at the world's best clubs and events.
Last year saw the disco house master release his debut LP, Soulmatic, which to date has racked up over 30 million combined streams and over 200,000 radio plays and he's currently working on his sophomore LP to capitalize on the success.
Positiva Records is currently celebrating its 25th Anniversary with two of the label's gold-certified singles recently making the Top 5 in the UK Official Charts in the same week – Jonas Blue's 'Rise' (over 440 million global streams) and Tiesto's Post Malone collaboration 'Jackie Chan' (258 million Spotify streams).
With Positiva's release of 'Dished (Male Stripper) Remixes', the heat continues to build, as Purple Disco Machine looks set to continue to dominate the airwaves and dancefloors.
Purple Disco Machine 'Dished (Male Stripper) Remixes' is available from 14th September.
TRACKLIST
Purple Disco Machine – Dished (Male Stripper) [Illyus & Barrientos Remix] Purple Disco Machine – Dished (Male Stripper) [Tuff City Kids Remix] Dished (Male Stripper) [Babert Italo Disco Remix] Dished (Male Stripper) [Nicky Night Time Remix]
FORTHCOMING TOUR DATES
Friday, 14 September – Coda, Toronto
Saturday, 15 September – Denver, Colorado, Grandoozy Festival
Sunday, 16 September – LA, CA Academy (Day Trip On The Patio)
Friday, 21 September – Ibiza, Glitterbox at Hi
Friday, 28 September – Lyon, France F&K
Saturday, 29 September – Grenoble, France Black Lilth
Thursday, 4 October – Dubai, UAE Zero Gravity
Saturday, 6 October – Ibiza, Pure Pacha
Monday, 8 October – Berlin, Watergate
Friday, 19 October – Masquerade, San Francisco, CA
Saturday, 20 October – Space, Miami
Tuesday, 23 October – Orange County, California – Focus
Wednesday, 24 October – Denver, Bar Standard
Thursday, 25 October – Mexico City, LooLoo Studio
Friday, 26 October – Guadalajara, Mexico – Blackroom by Strana
Saturday, 27 October 2018 – Puerto Vallerta, Mexico Blackroom by Strana
Sunday, 28 October – Cabo St. Lucas, Mexico – Breathless Hotel
FIND PURPLE DISCO MACHINE ONLINE:
https://twitter.com/PurpleDiscoM
https://www.facebook.com/purplediscomachine
https://soundcloud.com/purplediscomachine
FIND POSITIVA RECORDS ONLINE:
https://positivarecords.com
https://twitter.com/positivarecs
https://www.facebook.com/PositivaRecords
https://soundcloud.com/positivarecords