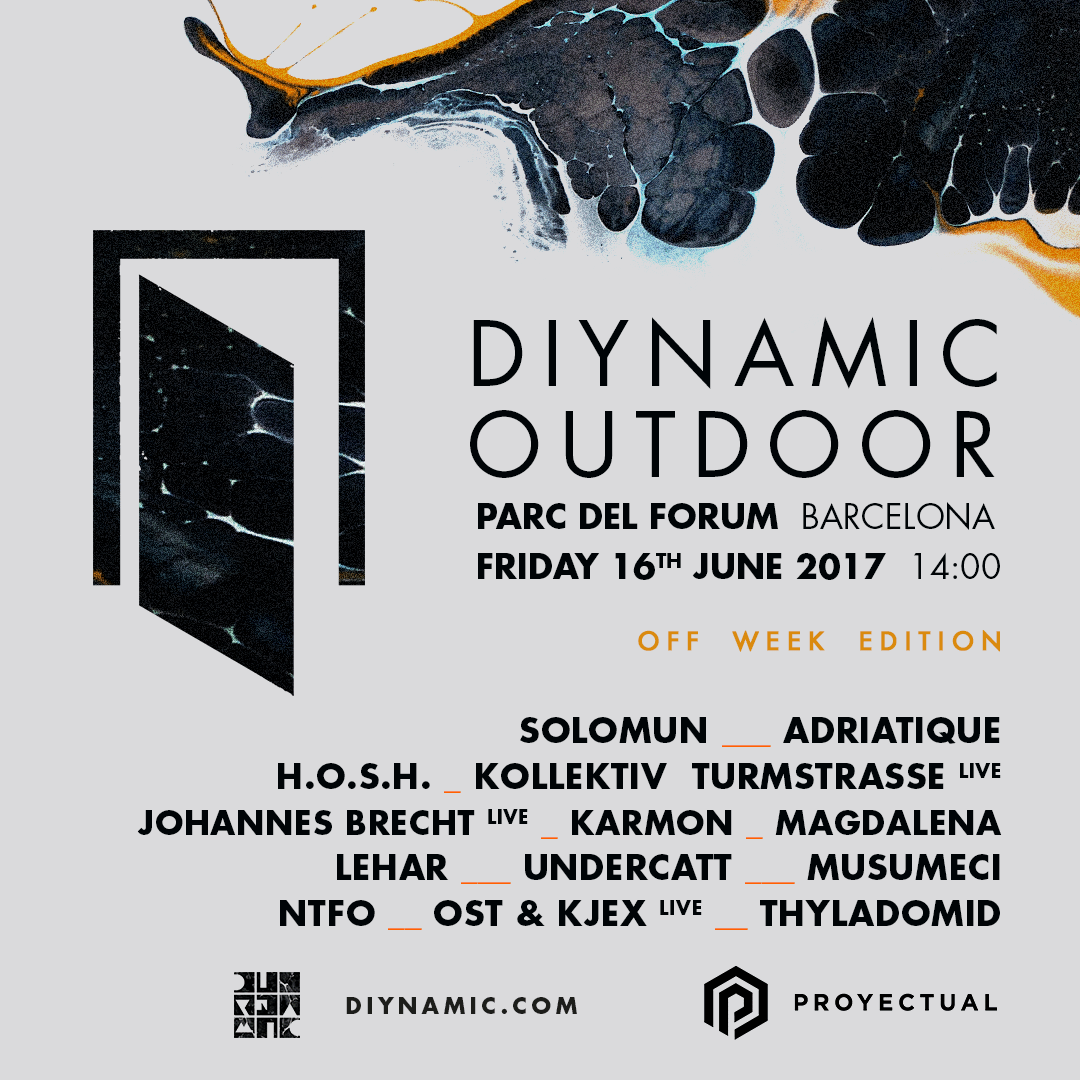 Diynamic Outdoor Barcelona announced…
On Friday, June 16th, the Diynamic Family is returning to Barcelona's Off-Week for another edition of Diynamic Outdoor. The annual excursion to sunny Catalonia enlists Solomun, Adriatique, Kollektiv Turmstrasse (live), H.O.S.H., Johannes Brecht (live), Karmon, Magdalena, Lehar, Undercatt, Musumeci, NTFO, Ost & Kjex (live) and Thyladomid.
Traditionally, the mid of June marks the pilgrimage of almost the entire electronic music scene to an especially sunny sanctuary on the coast of the Mediterranean Sea: Off Week in Barcelona. 2017 looks to be no different, a full week of celebrating electronic music is in order.
On Friday, June 16th the Diynamic Family is coming back to Parc del Forum, this time in a different segment of the area. Two stages will host the artists from 14:00 in the afternoon to 02:00 at night, giving room to 12 hours of Diynamic music on two stages simultaneously.
"Diynamic Outdoor" is the label's summer open air concept. After its start in Ibiza it is spreading to Barcelona, Munich, and more cities yet to come.
The first three ticket tiers are already sold out, so get yours here before they are gone:
Event on Facebook: www.facebook.com/events/1606298333012115/
Event on Resident Advisor: www.residentadvisor.net/event.aspx?919217
Diynamic Outdoor Barcelona – Off Week 2017 Edition
with Solomun, Adriatique, Kollektiv Turmstrasse (live), H.O.S.H., Johannes Brecht (live), Karmon, Magdalena, Lehar, Undercatt, Musumeci, NTFO, Ost & Kjex (live) and Thyladomid
Friday, June 16th, 2017 / Parc Del Forum, Carrer de la Pau 12, Barcelona (ES) / 14:00 – 02:00