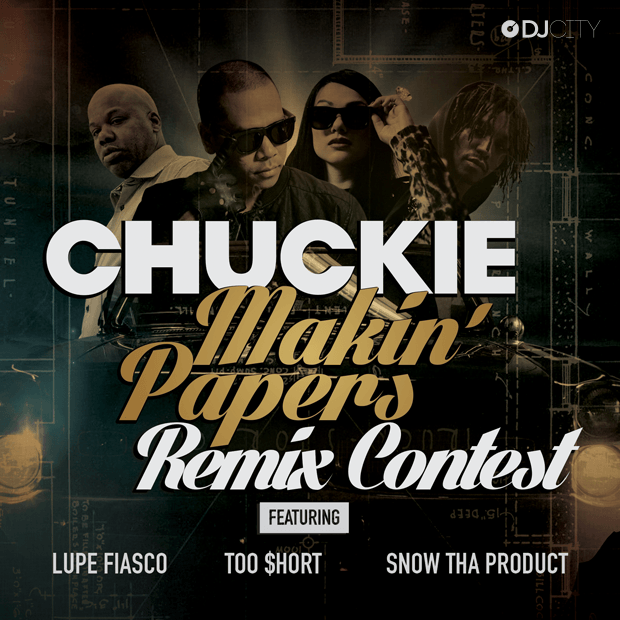 DJ Chuckie launches Makin' Papers Remix Contest
Two-time MOBO Award-winning DJ/producer Chuckie has partnered with DJcity.com to find an official remix for "Makin' Papers", his new single featuring Lupe Fiasco, Too $hort, and Snow Tha Product, released on Big Beat Records.
Having earned international fame for his groundbreaking fusion of hip-hop and electronic dance music, 'Makin' Papers' marked Chuckie's biggest and boldest crossover thus far. The genre-bending track received its world premiere via 50 Cent Presents G-Unit Sundays: The L.A. Leakers the influential SiriusXM radio show hosted by DJs sourMILK and Justin Credible, and broadcast on Shade 45, the uncensored hip-hop channel created by Eminem.
"It's always been about bringing different styles of music together for me. With 'Makin' Papers', we've managed to fuse the freshest and most exciting music scenes on the planet together in one track."
– Chuckie
To enter, participants must follow the directions below and submit their remix no later than September 17, 2013, uploaded on the Soundcloud Dropbox.
Listen: https://soundcloud.com/djchuckie
Buy: http://smarturl.it/MakinPapers
###
DIRECTIONS
Prize:
The winning remix will be:
Released on Chuckie and DJcity's websites and social media
Featured on Chuckie's weekly podcast, "Dirty Dutch Radio"
Played at one of Chuckie's upcoming live performances

How to enter:
Download the "Makin' Papers" stems here
Upload an original remix of Chuckie's "Makin' Papers" to our SoundCloud Dropbox (below)
Title your remix "Chuckie & DJcity Remix Contest"
Include the competition cover art (download here)
When promoting your remix on social media, include the official hashtag: #MakinPapersRemix
Judging:
DJcity will select the top ten remixes and Chuckie will select the winner
Entrants will be judged on originality and technical ability
The contest begins September 3, 2013 at 12:00pm PST. All entries must be uploaded and successfully submitted no later than September 17, 2013 at 11:59 PM PST.
Rules and Conditions:
Contest is open internationally. Each entry should be submitted only once. Participant hereby grants Chuckie irrevocable, fully-paid, perpetual world-wide license to reproduce, edit, adapt, copyright, publish, transfer, distribute, perform, display and use any or all of the entries, without compensation to you or any third party. Winners will be notified via SoundCloud's messaging system.