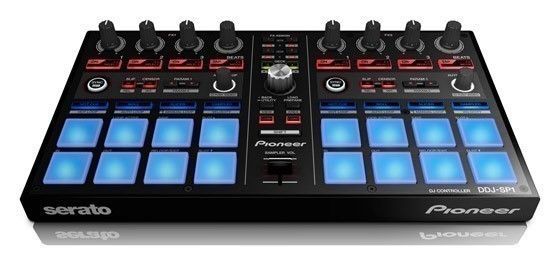 Introducing the Digital DJ-SP1 and the DJM-900SRT
Serato DJ users can push the boundaries of performance with the Digital DJ-SP1 (Model Name: DDJ-SP1): the first add-on controller designed for seamless access to the software's four decks and inspiring performance features.
DJs simply add the DDJ-SP1 to a set up that supports mixing and scratching with Serato DJ – for example a laptop, timecode turntables and DJM-900SRT mixer with built-in Serato sound card. Then it's time to shine, with hands-on control of pre-mapped buttons, dials and dynamic Performance Pads to add a physical element controlling Serato DJ's amazing features.
Key features
• Four deck control
• Trigger more than 30 high-quality sound FX Powered by iZotope
• Eight cue points on each deck
• Syncable six slot sample bank
• Sixteen rubber Performance Pads with seven modes
• Slip Mode
• Auto Loops, Manual Loops and Loop Roll
• Slicer to chop up tracks
• Professional build quality
• Fully MIDI assignable

See the Serato DJ set up in action

Introducing the DJM-900SRT: the newest high-performance mixer with an inbuilt sound card for plug-and-play connectivity with Serato DJ

Pioneer DJ is launching the DJM-900SRT four-channel mixer with an inbuilt Serato sound card for native control of the hugely popular Serato DJ software.

DJs can connect the DJM-900SRT to their laptop via USB cable and use the included control disc (CD/VINYL) to mix and scratch with Serato DJ's four decks, without the need for an external sound card.
Key features
• Built-in sound card for plug-and-play connectivity
• PHONO inputs on every channel
• Six studio quality sound colour FX
• 13 Beat FX
• X-Pad control
• PRO DJ LINK functionality to enhance performance possibilities
• Durable high performance cross fader
See the DJM-900SRT high-performance mixer in action