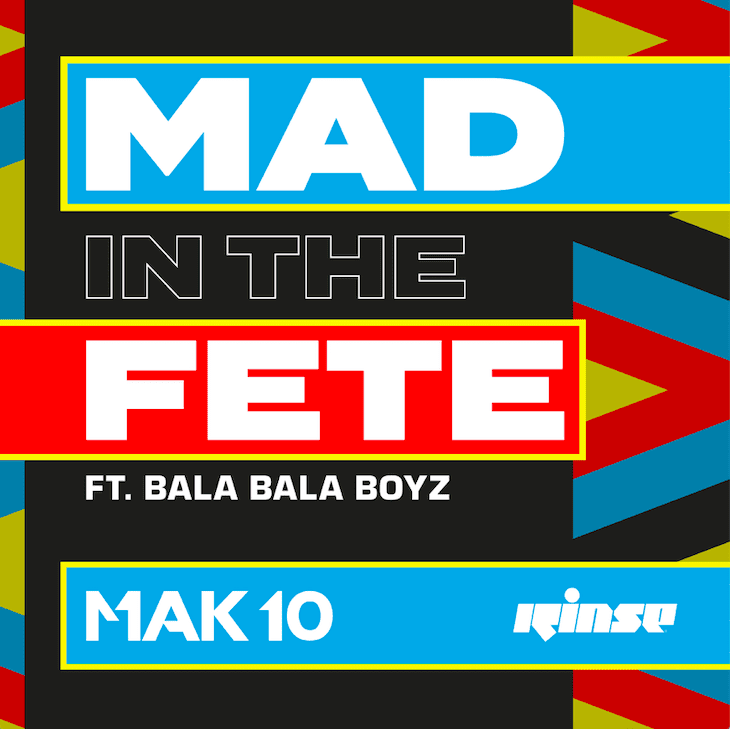 DJ MAK 10 and Bala Bala Boyz join forces on 'Mad In The Fete'
Multi-genre DJ and Producer MAK 10 has linked up with London's Congolese led MC Group Bala Bala Boyz to make the hit single 'Mad In The Fete' which, as the name suggests, is set to go crazy at any party or function.
MAK 10 is no stranger when it comes to the UK music scene with his career beginning with the infamous grime group, Nasty Crew, working alongside legendary artists such as Dizzee Rascal, Ghetts, Kano, D Double E, Footsie, etc. Making him one of the pioneers of the London genre Grime, Throughout the years DJ MAK 10 has been able to master his craft as a DJ and producer while evolving with the changes that come over time and being able to adapt to the shifts in music is not done overnight. From Grime to House to UK Funky, MAK 10 has shown his expertise in all areas of dance music and this latest single displays this.
From the sharp hitting snares and the 4 to the floor kick drum, 'Mad In The Fete' instantly grabs attention and is a bold introduction to the rest of the track. Followed by cutting synth leads and deep bass melodies, the track will get listeners bopping their heads in enthusiasm from the steady drumbeat and with a screwface on from the dark and exciting sounds. The 131BPM, which is typically used in UK Funky, sets a perfect pace for the MC group, Bala Bala Boyz, to bring their unique and distinctive rap style and flow to.
Bala Bala Boyz are a London's MC group of Congolese descent consisting of members – Chef Kalinga 9, King Bala 5, Orz Trinity 7 and Moj Zyo 1. Each member residing in a different corner of the city but all sharing the same Congolese background which sets the foundation of the collective. B.B.B are known for their use of fusing Lingala, a Bantu language used in Congo and parts of Angola, with London slang and sounds of the U.K. underground. In January 2020, DJ mag described the Bala Bala Boyz as trailblazers for authenticity, melding genuine elements of traditional, Congolese-led flows with the new, and deriving their own dialect in the process: Linglish.
'Mad In The Fete' is set to make a mark by fusing genres and styles to evaluate dance music and bring it to new areas. Also, the track will be released on one of London's biggest and well-established radio station/record label – Rinse FM. This being the home to most of the popular UK dance music and artists such as Katy B, Geeneus, P Money, Novelist, Roska, etc, making Rinse FM a perfect match for the upcoming single. With support from BBC Radio 6 Music DJ, Mary Anne Hobbs, DJ MAK 10 and Bala Bala Boyz have hit the floor running and continue to reach the right audience.