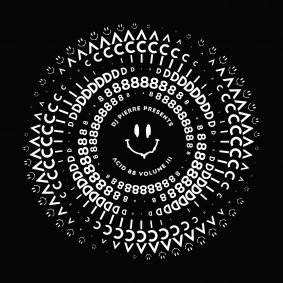 DJ Pierre presents – Acid 88 Volume III
Legendary acid pioneer DJ Pierre has selected 12 killer acid tracks for his Afro Acid label and will release them as a special 2 x 12" vinyl on Record Store Day, then digitally later in the year, with names like Mark Archer, A Guy Called Gerald, K'Alexi & Tony Loveless and many more all featured.
In 1987 the first acid record, 'Acid Tracks', was released by the Chicago group Phuture—DJ Pierre, DJ Spank-Spank and Herb J—who thought to twist the knobs on the Roland TB-303 in such a way that it created an entirely new (and at that time, totally bizarre) instrumental sound that resonates to this day.
Acid 88 celebrates the origins of acid house by featuring a selection of new acid tracks from legendary artists and fresh, rising talent. Together these tracks showcase the breadth and depth of acid—from house to techno, from jackin to deep. It is also a tribute to the life and legacy of DJ Spank—may he rest in power.
Things kick off with rave master and Altern8 man Mark Archer who goes for a wild and wonky workout on 'Jack The Box.' Other legends like A Guy Called Gerald goes for a deeper, more creepy acid vibe on 'Inter Funk', while Chicago great K' Alexi Shelby links with Tony Loveless for a super frantic techno pumper with 'Rat Trap' and Detroit native Ali Berger keeps things supple and subtle with his hypnotic 'Wave Subarctic.'
Berlin native Alinka steps away from labels like Crosstown Rebels and Leftroom to take us on a lively peak time adventure that has a bassline to die for before Jaquarius offers up an instant classic. Chicago mainstay Hiroko Yamamura keeps things deep and driving with 'Angles' whilst elsewhere Acidulant, Lauren Flax, Hunter Lombard and Beyun all keep the quality high as they explore classic jack, minimalism and peak time jams all run through with their own unique acid styles.
This is an essential over view of modern acid that packs as much punch now as the original 303 sounds did way back in the eighties.
1. Mark Archer – Jack the Box
2. Lauren Flax – The Acid Flex
3. Acidulant – Attack of the 303
4. A Guy Called Gerald – Inter Funk
5. Alinka – Everything in Time
6. Jaquarius – Gille et John
7. K' Alexi Shelby & Tony Lovelesss – Rat Trap
8. Type-303 – TR (Rhythm)
9. Hiroko Yamamura – Angles
10. Hunter Lombard – Unlocked
11. Ali Berger – Wave Subarctic
12. Beyun – Nite Trippin