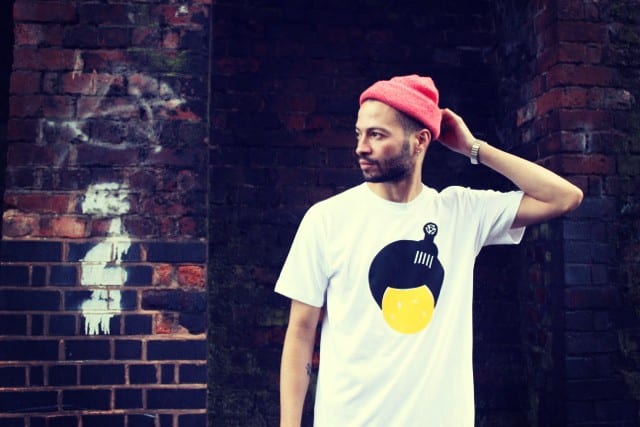 DJ Pierre teams up with NoWayBack to launch a new line of Exclusive T-Shirts!
Original Chicago acid house pioneer and leading DJ/Producer DJ Pierre has teamed up with the limited edition UK clothing  brand NoWayBack to launch a unique series of DJ Pierre tee shirts. http://www.nowaybackstore.co.uk/collections/dj-pierre
Video of Pierre in "ACID Hot Since 86" tee: https://www.youtube.com/watch?v=N_s-PECT1H4#t=111
Inspired by his definitive musical journey, the Afro Acid Traxx label head, DJ Pierre enthuses..
"I've always had ideas about enhancing the message behind the music by using what we wear daily. Words and  images are powerful. They can create a thought that can lead to reality. On any given night at one of my DJ sets you  will see me in a Tee shirt usually with either a blatant or subtle meaning, so it was only natural that I was thinking  of my own Tee shirt design ideas to share with my music family. I met the guys behind NoWayBack after I posted  a mug online with a Roland TB 303 on it. NoWayBack hit me up on facebook and they said they do Tees etc. I  mentioned I had plans of putting out my own line separate from the Afro Acid brand and one thing led to another.  I got a great vibe from them straightaway and they sent out a few Tees from their collection and I rocked them at almost every gig after. We then started going over design ideas and came up with some exciting pieces. Almost a  year later here we are. "ACID Hot Since 86" is our first baby and it speaks to when Acid House began. The start of  it all for me"
The first DJ Pierre collection by NoWayBack item features 4 designs including 'Acid – Hot Since 86',  'Muzik Is Life' smiley  tee, 'Muzik Is Life…Warehouse' and the Afro Acid tee shirt all available at: http://www.nowaybackstore.co.uk/collections/dj-pierre 
and via various outlets in the UK, including London's Phonica Records – the store to buy dance music/vinyl in London.
DJ Pierre continues to travel the world rocking dance floors and tees wherever he goes, from Amsterdam's ADE to Brazil, from the Bloc Weekender and you can catch him on the decks at:  March 7: Trapeze, London, UK
13-15: Phuture Live @ Bloc Weekender, Minehead, UK
21: Bangface Weekender, Southport, UK
28: Hare & Hounds, Birmingham, UK
29: Rex Club w/ Francois K – Paris, France
April 11: It'll Do – Dallas, Texas, (USA)
17-18: D-edge – Sao Paolo, Brazil 
24: The Club – Paisley, Scotland, UK 
25: Constellation – Liverpool UK
NoWayBack founders Helen & Chris are hugely excited by the partnership with DJ Pierre – an artist they respect and who is a
perfect compliment to their growing brand.
"We got in touch with Pierre as we love what he has done for dance music and thought he would be perfect to represent the brand as we were getting a lot of our design influences from the early acid house scene/genre. e.g. The Roland 303  and 808 drum machines. http://www.nowaybackstore.co.uk/collections/all/products/303-808
NoWayBack: Helen & Chris 
NoWayBack produce limited edition clothing inspired by dance music culture. They create hand-printed, distinctive designs on t-shirts, sweatshirts and accessories
Helen began her DJ career racing up and down the country playing records during the 90's with a residency at 'Wobble', a mainstay of the exploding UK club scene of the time. Under the name 'The Lovely Helen', she played weekly alongside the likes of Derrick Carter, Andrew Weatherall, DJ Harvey and Josh Wink amongst other headliners. 
Aside from her love of music, her background in fashion and music retail led her here – to the development of NoWayBack.
Chris is an artist and graphic designer by trade, with a passion for electronic music and dance music culture, which is a big influence on his work.