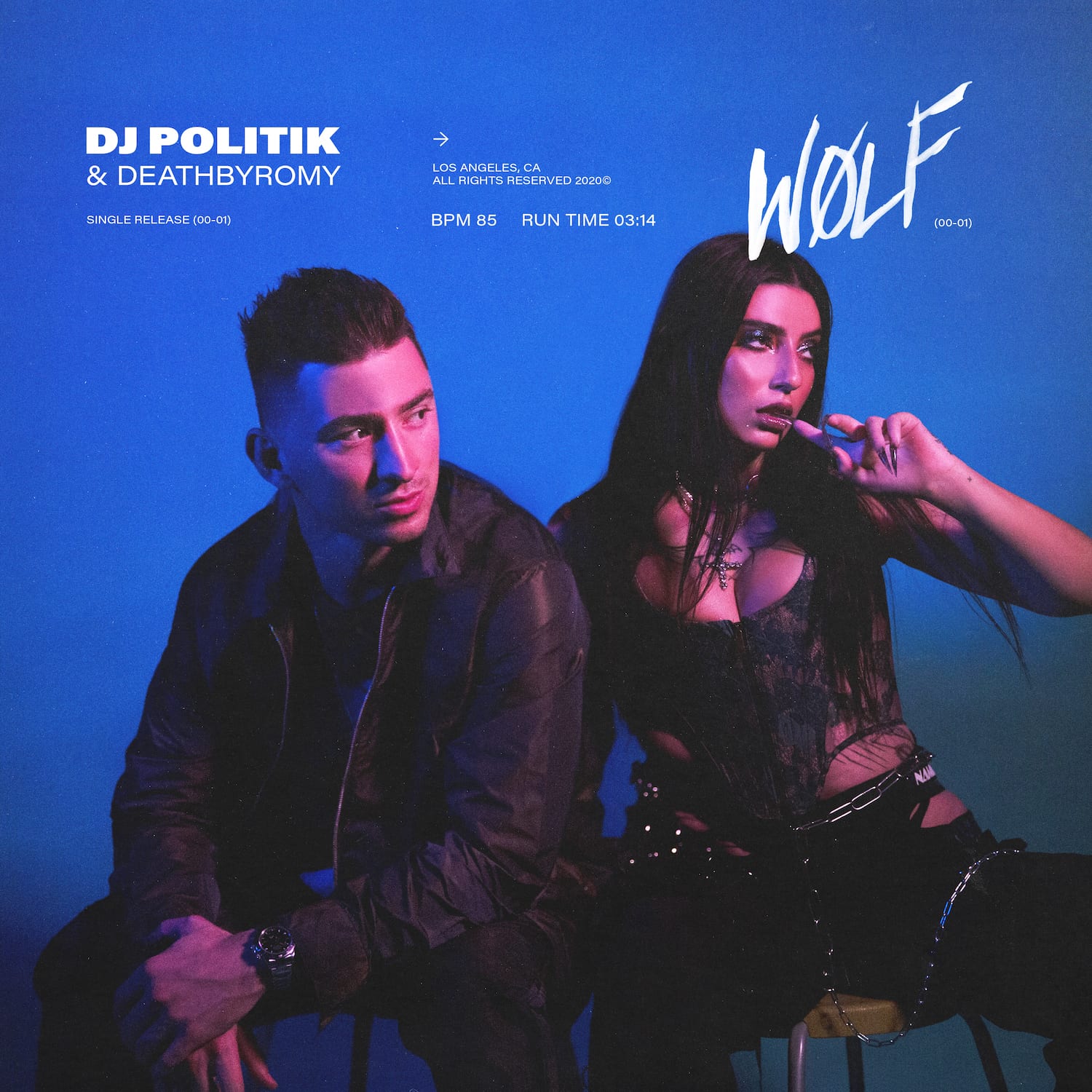 DJ Politik and DeathbyRomy join forces on new single 'WOLF'
One of the most celebrated club DJs who's made his move into the producer realm,  DJ Politik, has linked up with dark pop provocateur DeathbyRomy on new single 'WOLF', out October 30th.
Marking his first ever original release, 'WOLF' sees DJ Politik channel an enthralling modern alt- indie-dance sound all his own, combining DeathbyRomy's seductive vocals with ominous trap snares and cinematic synths.
"What I loved about producing 'Wolf' is that it taps into so many different dark, eerie emotions throughout the record," DJ Politik reflects. "Dropping it on Halloween just made so much sense, and the fact that we didn't even plan it this way adds a level of mysticism that fits the tone. Wolves have always symbolized power, freedom, and fearlessness, which is exactly how I feel when I listen to this record. I hope that it brings out some of the inner wolf in all of us."
DeathbyRomy adds: "Wolf embodies that euphoric feeling you experience in moments of life where you let go of your inhibitions and judgement and find yourself high off life and engulfed in the thrill of risk and adventure. It touches on the animalistic qualities we have as humans."
A mainstay on the US club circuit, DJ Politik holds major residencies in each of the country's hottest nightlife destinations, including Las Vegas, Miami, New York, Chicago, Atlantic City and his native Los Angeles. He has shared the stage with A-listers such as Drake, Travis Scott, and Bruno Mars; and shared the decks with internationally renowned selectors The Chainsmokers, Skrillex, and Diplo.
As a  young aspiring deejay, Politik cut his teeth in the L.A. nightlife scene by sneaking into exclusive Hollywood nightclubs while still in high school. Exposure to groundbreaking deejays such as DJ AM, Mark Ronson, and Z-Trip would continue to expand his palette and shed light on the technical side of the craft.  L.A.'s burgeoning electro scene and its raw, genre-bending parties such as Steve Aoki's "Dim Mak Tuesdays" and DJ AM's "Banana Split", would also play a pivotal role in the development of Politik's energetic style of playing records. The heavy, dense sounds of weekly guest deejays such as Daft Punk, Justice, and MSTRKFT, once again reshaped his perspective on sonic boundaries in his own deejay sets.
Pitting pop melodies and propulsive beats against hypnotic vocals and deeply personal lyrics, singer, songwriter and dark-pop provocateur DeathbyRomy has quickly cultivated a loyal following since dropping her debut album Monsters in 2018. More recently she has released a slew of singles across 2020.
Just the beginning of a bevy of releases planned for 2021, 'WOLF' sees DJ Politik make an explosive entrance into the world of producer/DJs.