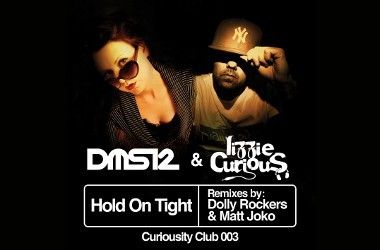 DM12 & Lizzie Curious – Hold On Tight
Hold On Tight is the smoking hot new single from Lizzie Curious & DMS12. Combining a dirty electro bassline with tight percussion and Lizzie's captivating, sultry vocals, Hold On Tight is a hedonistic slice of dirty house music.
The Dolly Rockers turn in a slamming tech-house remix with an addictive groove, huge breakdown and clever vocal effects, whilst Matt Joko's remix is big room house at it's finest – euphoric EDM with a piano riff adding to the uplifting vibe. Early support is in from StoneBridge, Federico Scavo, Jonathan Ulysses, Futuristic Polar Bears, Etienne Ozborne, Oliver Lang, Sam Skilz & many more.
Lizzie's label Curiousity Club – riding high on the recent success of a Beatport #1 with the single 'I'm Not Drowning' – showcases her ability to write and sing truly captivating vocals that connect with dance music lovers across the world. With some of the biggest names in house music and EDM supporting Lizzie's music (including Robbie Rivera, StoneBridge, Federico Scavo, Futuristic Polar Bears, Jonathan Ulysses, Jesse Voorn, Tim Cullen, David Tort, So Called Scumbags, Dolly Rockers, The Flash Brothers & many more), epic label parties in London and the monthly global radio show hosted by Lizzie Curious herself, the Curiousity Club's brand of roof-raising house music is fast becoming known world-wide for good tunes and good times!
http://www.beatport.com/release/curiousity-club-003/1111788
http://www.facebook.com/LizzieCuriousMusic
TOUR DATES:
* 12/07/14 – Rewind Friday @ Electric Social, London
* 20/07/13 – Curiousity Club w. Federico Scavo @ Grind, London
* 06/08/13 – Pukka Up Boat Party, IBIZA