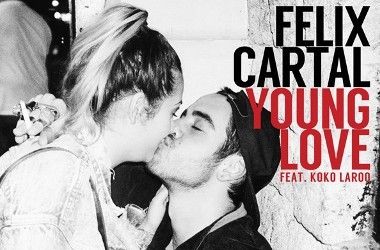 Felix Cartal feat. Koko LaRoo – Young Love
Vancouver's electro house golden boy Felix Cartal has announced the release of his highly anticipated Past, Present, Felix EP, out August 6 on Dim Mak Records. The 4-track EP showcases the new, musically matured Felix Cartal, whose sound boasts the perfect contrast of ethereal vocals, enchanting melodies, and punchy bass lines.
Leading up to the release of the EP, FELIX CARTAL has today, July 2 released "Young Love," the lead single from Past, Present, Felix. The quintessential representation of Felix Cartal's current sound, "Young Love" features the sassy vocal stylings of Los Angeles recording artist/songwriter Koko LaRoo and takes listeners on a wild, euphoric hunt for love on the dance floor.
Past, Present, Felix embodies a new sound for Felix Cartal that takes the young producer on an unprecedented sonic journey. Since releasing his last full-length album Different Faces in 2011 via Dim Mak, Felix Cartal has blossomed as a songwriter, and it is evident on Past, Present, Felix. The new EP highlights Felix's vocal-based, songwriting craft, while staying true to his electro-house roots.
The EP also features the instrumental dance floor burner "Katsu." Koko LaRoo later rejoins FELIX on the heartfelt "After Dark," a mature composition that will undoubtedly remind listeners of warm summer nights. The sentimentally driven "New Scene" featuring vocalist Ofelia closes out the release with a dreamlike melody driven by a sensitive tone with gorgeous vocal overlays. Never content to reproduce the same sound, Felix Cartal shows an intensity never before seen on Past, Present, Felix and underlines a new era for the Canadian prodigy.
Prior to the release of Past, Present, Felix, Felix Cartal will debut the official music video for "Young Love" on tastemaker site THUMP (Vice) July 23 followed by a remix package featuring reworked versions of the track from Burns, Sleepy Tom, The Reef, and Valentino Kahn.
Felix Cartal is also teaming with Beatport Play for a remix contest for his recently released single "The Fire" with Los Angeles-born, New York City-based producer/DJ and Dim Mak label mate Clockwork featuring Madame Buttons on vocals.
The winning entry will be released August 20 via Dim Mak. For more information, visit: http://smarturl.it/rliql1.
Look for more singles and remix packages from Past, Present, Felix to be released via Dim Mak this summer and fall.
Complete track listing for Felix Cartal's 'Past, Present, Felix' EP:
1. Young Love (feat. Koko LaRoo)
2. Katsu
3. After Dark (feat. Koko LaRoo)
4. New Scene (feat. Ofelia)
Felix Cartal is currently on a worldwide tour that takes him across a wide range of major festivals in Europe and North America, including high-profile performances at Tomorrowland in Belgium, Electric Zoo in NYC and more. Look for more information about Felix's upcoming "After Dark" headlining tour to be announced soon.
FELIX CARTAL's European tour dates:
July 19Rewind Festival Paris, France
July 20Altes Ziewerk Leipzig, Germany
July 21Apollo Helsinki, Finland
July 22Razzmatazz Barcelona, Spain
July 26Tomorrow Festival Boom, Belgium
July 27Emmaboda Fest. Emmaboda, Sweden
Aug 03Mamma Mia Ancona, Italy
Aug 04Solar Festival Roermond, Netherland
Aug 05Island Of Freedom Budapest, Hungary
Aug 06Cavo Paradiso Mykonos, Greece
Aug 09Fluc Vienna, Austria
Aug 10Love Electro Franzensfeste, Italy
Aug 11Sziget Festival Budapest, Hungary
About Felix Cartal:
Following a relentless touring schedule and tireless work ethic, Vancouver native Felix Cartal has quickly rose to become one of the premier producers in the electronic/dance realm. First noticed by Steve Aoki and MSTRKRFT for his big room anthems, his music quickly gained popularity and has been supported by world-renowned artists/producers, including Diplo, Laidback Luke, Hardwell, Congorock and many more. FELIX's music has been evolving since day one, and he now regularly collaborates with a dynamic array of producers and vocalists. The result is a more mature, unique sound that can be heard on hits from his 2012 album Different Faces, which was nominated in the Best Dance Recording category at the 2013 JUNO Awards. In the last year alone, FELIX has released many official remixes, including those for Zedd, The Bloody Beetroots, and Tiësto. As an in-demand live performer, he has played at the leading music festivals across the globe, including Electric Daisy Carnival, Ultra Music Festival, Electric Zoo, World Electronic Music Festival, and Tomorrowland, and has headlined countless clubs and venues worldwide. With a brimming touring schedule and the release of his upcoming Past, Present, Felix EP, there is no doubt the high energy, feel-good pop of Felix Cartal will reach new heights this year.