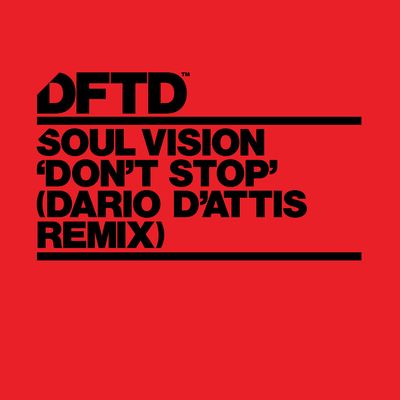 Soul Vision - Don't Stop (Dario D'Attis Remix)
A track that has been receiving a lot of love at Defected parties for a while now, this exceptional Dario D'Attis remix of Soul Vision is now getting a worldwide release.

Dario D'Attis has become a key artist for DFTD and Defected since the beginning of this year. Not only has he had original productions flying out on Strictly Rhythm, Toolroom and Hive, he has been enlisted for remixing on tracks like 'In And Out Of My Life' by Tonja Dantzler, which has been featured on two of Defected's major summer compilations. The Swiss DJ has also been attracting a lot of attention among the DFTD crowd with his flair for steadily building beats and sophisticated use of rhythmic hooks to create memorable deep house sets.

Dario has remixed 'Don't Stop' by Soul Vision aka Sandy Rivera and José Burgos, a track that has been circulating for nearly twenty years and was released in 2000 on Defected's sister label Fluential. Dario has truly reinvented the track, taking it from that classic feel into the realms of deep house. Dario's signature smooth, flowing groove works in perfect harmony with the vocal sample, with an irresistible bouncing hook underneath. Expect this track to continue its momentum on the dancefloor for a long time to come.