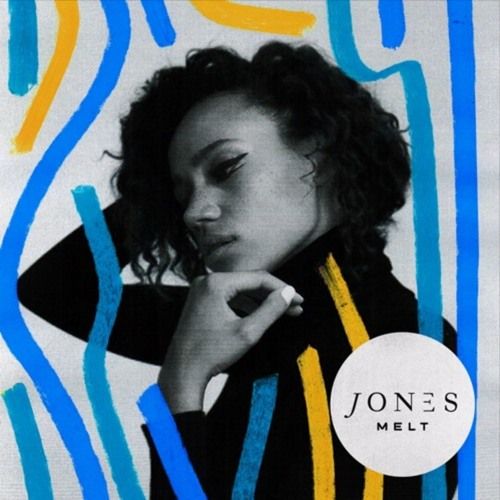 JONES - Melt (Jay Prince remix)
With the original version of 'Melt' becoming the most rapidly listened to yet (it's been streamed on Spotify over 1 million times in less than 4 weeks), 25-year-old chanteuse JONES has enlisted fellow Londoner; hip-hop artist & producer, Jay Prince for remix duty. The hot young talent frames her soulful vocal in an entirely different arrangement, throwing in some unexpected brass interludes before stripping it right back, ultimately taking the track to a new and uplifting dimension. Listen here.
The remix follows the release of 'Melt' (acoustic), which premiered last week via Billboard in the US alongside the announcement of her debut tour stateside as support to HONNE. Listen to the acoustic version here.

'Melt' features on JONES' forthcoming debut album'New Skin', which will be released 7th October on 37 Adventures. The album has come together thanks to JONES' work with some incredible studio talents; Lana Del Rey collaborator Justin Parker, Sam Smith co-writer Tourist, Two Inch Punch, XO, Oceaan and the enigmatic A.K. Paul and HONNE. Working with these disparate talents got JONES exploring new ground, but also hardened her vision of what her songs should really be: moments to lift people out of their lives, however difficult. "What I want to put across is that it's OK to be where you are, wherever you are, to learn from this. We all need the sad songs sometimes, but it's good to have optimism too, to free your mind of things that make you unhappy" says JONES about her melancholic but optimistic album.

The last 12 months have been a whirlwind for JONES who not only made her debut on Later…With Jools Holland but was also announced as one of Spotify's Spotlight Artists For 2016 and her previous single 'Hoops' has been streamed over 5 million times and was playlisted at BBC 1Xtra.
After standout shows at SXSW, The Great Escape and her own sold out London shows, JONES is pleased to announce an October headline tour that will include Oslo in London.

INTERNATIONAL LIVE DATES
30th July – Standon Calling Festival, UK
2nd August – Denver, US @ Larimer Lounge (w/ HONNE)
4th August – Kansas City, US @ Riot Room (w/ HONNE)
5th August – Minneapolis, US @ Triple Rock (w/ HONNE)
8th August – Chicago, US @ Lincoln Hall (w/ HONNE)
9th August – Columbus, US @ The Basement (w/ HONNE)
10th August – Toronto, Canada @ Mod Club (w/ HONNE)
11th August – Montreal, Canada @ Sala Rossa (w/ HONNE)
13th August – Philadelphia, US @ Union Transfer (w/ HONNE)
14th August – Washington, US @ 930 Club (w/ HONNE)
15th August – New York, US @ Webster Hall (w/ HONNE)
20th September – Indiestad Festival, Amsterdam
24th September – Reeperbahn Festival, Hamburg
12th Oct – Glasgow, UK @ St Luke's
13th Oct – Leeds, UK @ Headrow House
14th Oct – Birmingham, UK @ Hare + Hounds
15th Oct – Bristol, UK @ The Small Horse
18th Oct – London, UK @ Oslo
New Skin Tracklisting: 1. Rainbow 2. Indulge 3. Hoops 4. Melt 5. Out Of This World 6. Waterloo 7. Wild 8. Walk My Way 9. Tomorrow Is New 10. Bring Me Down 11. Lonely Cry 12. New Skin