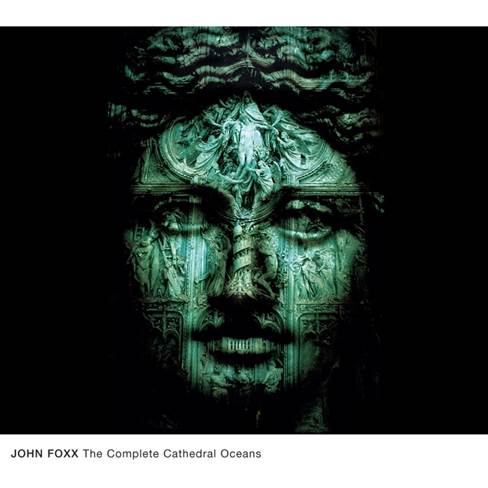 John Foxx - The Complete Cathedral Oceans
On September 30th Edsel records are pleased to be releasing The Complete Cathedral Oceans – all three editions of John Foxx's seminal ambient masterpiece.

This marks the first ever vinyl release for the beautiful, elegant trilogy of Cathedral Oceans (1997), Cathedral Oceans II (2003) and Cathedral Oceans III (2005). The music is spread over five 12"s and is accompanied by 12 X 12" art print and a book containing Foxx's stunning images and passages from his novel The Quiet Man, all of which is encased in a deluxe hardback book set. Every copy of this limited edition run of 750 is hand numbered.

First as the original frontman of Ultravox and subsequently as a feted solo artist, John Foxx is one of the most eminent exponents of electronic and ambient music. Aphex Twin, Gary Numan, Juan Atkins, The Orb, Junior Boys, Vincent Gallo, Simple Minds, Clint Mansell, Duran Duran, LoneLady and Gazelle Twin have all cited Foxx as a big influence. The avant-garde pianist Harold Budd attended a performance of Cathedral Oceans several years ago and was so moved by it that he collaborated with Foxx on two albums (Translucence and Drift Music.)

Cathedral Oceans is a project whose recording began in 1983, but the gestation period was even longer. "Cathedral Oceans started when I was kid, when I sang in a choir briefly," Foxx told FACT. "During that time I became very interested in the way that sound worked in big spaces, churches particularly. I learned a lot of things there but I didn't understand a lot of what I'd actually learned until later. And when I started recording I'd almost forgotten about all that until I started using echoes and reverberations, and then I realised that I could use some of that to simulate things that happened when I was singing in churches back then, and use that old knowledge of how a single voice in a massive space behaves. It really inspired the juxtaposition of old style church music with modern technology and synthesizers creating notional space, rather than real space."

In addition to Foxx's use of studio tech as "a cathedral in a suitcase", the sounds were originally accompanied by photographs of buildings, statues and foliage that John started taking as far back as his time touring with Ultravox. These images were then manipulated and overlaid as videos that slowly morph into each other, gradually unfolding with the music to create the effect of a "moving stained glass window that you can sit and look at for hours."

Alongside Shifting City – released on the same day – the first Cathedral Oceans marked Foxx's return to music after an absence of seven years. It was also his first solo album since 1985's In Mysterious Ways.
http://www.cathedraloceans.com
http://www.metamatic.com/
http://www.demonmusicgroup.co.uk/catalogue/labels/edsel
https://www.facebook.com/Edselrecords/
https://www.facebook.com/DemonMusicGroup