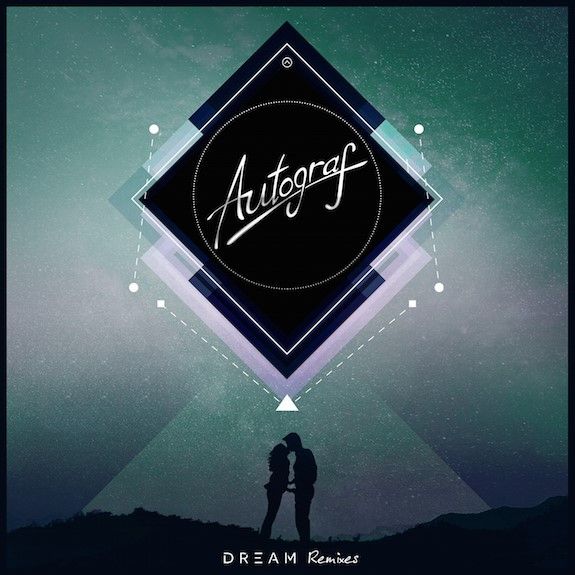 Autograf - Dream (Remixes)
Autograf are starting September off in style with the release of a comprehensive remix package of their first original single 'Dream'. This collection of cuts from artists across the musical spectrum is available to download and stream now.

Having invited seven up-and-coming producers to throw their hats into the remixing ring, Autograf have managed to put together an eclectic mix of different sounds, styles and variations of their huge break out single, 'Dream'.

First up is Boehm, an exciting new producer fresh out of Bucharest, whose wildly popular remixes of artists including James Vincent McMorrow and Martin Garrix, have racked up millions of plays on SoundCloud and in doing so built the young Romanian a loyal following. His tropical take on 'Dream' starts the package off with a saxophone-laced upbeat banger that exudes summery vibes at every turn.

Originally planned to be an unreleased radio-only edit, Autograf's very own "Deep dub" has been playlisted on Sirius XM's chillout channel all Summer. Taking the original on a stripped down and dubbed out journey showcasing Autograf's ability and versatility to rework even their own productions, public demand has landed this stunning remix on the package.

LA based producer Fawks takes the reins next and whips the track into a fast-paced frenzy. With thundering piano driven chord progressions and a jacked-up synth, the track is injected with a large shot of adrenaline that has come to define Fawks' signature style.

Taking things down a notch comes the turn of one of the hottest new producers to come out of Canada – Pat Lok. His soulful and instrumental take gives the track a new depth and dimension whilst still echoing aspects of the original. Fellow countryman Robotaki, whose latest remixes have made some serious waves across the blogosphere, adds his unique bass-fuelled touch to the mix. With over 100,000 plays already and a premiere on HypeTrak this is certainly one to look out for.

Dutch duo Deepend and Parisian club regular Gianni Kosta also weigh in on things with two deep house floor fillers that will undoubtedly be doing the rounds at clubs and festivals for many months to come. Last but by no means least, is Hairtage, the winner of Autograf's remix competition, whose entry will now get an official release on Ultra Records.

'Dream', which was released to great fanfare earlier this year, has been given a new lease of life with these seven incredible remixes that together give a snapshot of the musical talent on offer from Vancouver to Paris and from Bucharest to Amsterdam. Stay tuned for more exciting Autograf news coming to you shortly.