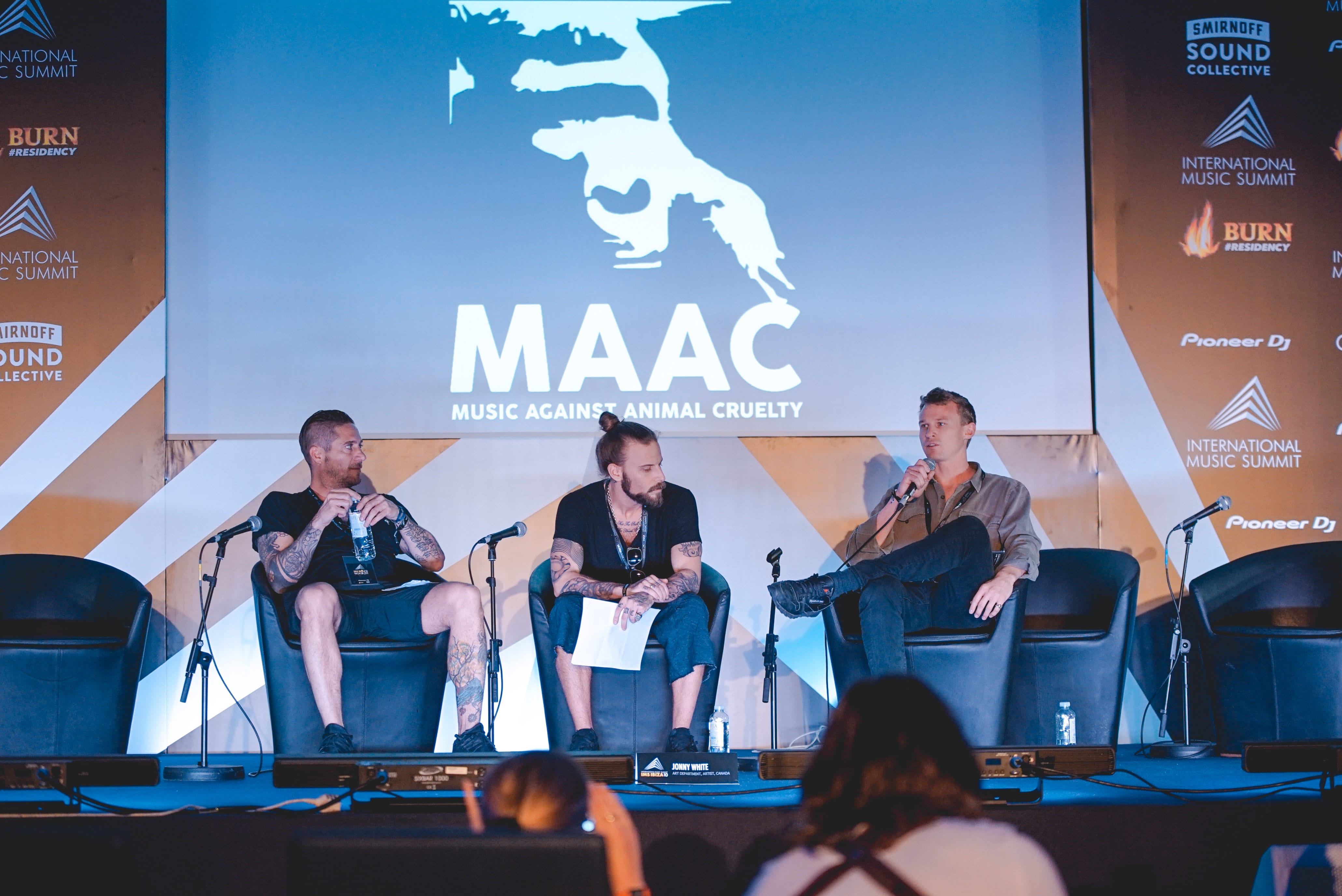 During the 3 days of IMS Ibiza over 300 Elephants will have been culled globally…
Music Against Animal Cruelty (MAAC) today use International Music Summit Ibiza to reveal startling statistics.
Latest update on how they will help protect endangered wildlife through the music industry.
"Every 20 minutes, the world adds another 3,500 human lives but loses one or more entire species of animal or plant life – at least 27,000 species per year"

MAAC (Music Against Animal Cruelty) is a non profit organization with one simple directive: to aid in wildlife conservation. MAAC is a vehicle conceived by Jonny White of Art Department fame and long time friend and founder of Pulse Radio, Wade Cawood in collaboration with Tears for Tigers founder Jack Baucher to act as a broker between musicians, music industry and music fans alike, and organizations who are working on initiatives to save various animals facing the dangers of a diminishing population and/or extinction.

MISSION STATEMENT
Wildlife conservation is an issue near and dear to our hearts. We have come to realize that there is an often overlooked opportunity for artists and fans who are passionate about this issue to make a difference. Our plan is to galvanize the support of the music industry—a worldwide collective of likeminded individuals who together can make a significant difference.
Ultimately MAAC's objectives will extend to curating large scale events with the intention of raising substantial funds, allowing us to curate our own initiatives. In the interim we will be working as a "fund" to which anyone can contribute. We in turn will select various "grassroots" initiatives as beneficiaries. Whether it be to save lesser known animals who desperately need our help like the Wild Dog, or to enable Rangers to educate land-owners and farmers as to how they can safely utilize their land to produce crops or livestock without harming local wildlife, our mission is to help.

Some startling statistics:
– Every 20 minutes, the world adds another 3,500 human lives but loses one or more entire species of animal or plant life – at least 27,000 species per year.

– Every 15 mins an elephant is poached for its ivory.

– At the present rates of extinction, as many as 20% of the world's 7-15 million species could be gone in the next 30 years. This rate of extinction has been unprecedented since the disappearance of dinosaurs 65 million years ago.

– The Black Rhino population is down 97.6% since 1960.

– Listed as one of the world's most endangered canids, and the most endangered predator in Africa, there are now only between 4,000-5,000 African wild dogs in the wild.

– The African lions' numbers are diminishing rapidly due to habitat destruction, persecution by livestock farmers outside of protected areas, and human greed. 10,000-15,000 free-roaming African lions remain, down from 50,000 a decade ago.

– Poachers are responsible for the death of a staggering 35,000 African Elephants in 2014 alone.
Social Experiment is a non-profit record label. 100% of net proceeds from sales of this record will go towards conserving wildlife in Africa.