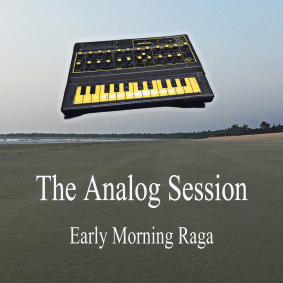 The Analog Session - Early Morning Raga
Alexander Robotnick's Hot Elephant Music welcomes The Analog Session for a new single that comes backed with a range of excellent remixes from Pawas, Tulioxi, Lore J, Diatonik and Hamza.
The Analog Session is Robotnick and Lapo Lombardi, and following a video project they have turned out an album and toured a live set that deals in analogue electronic music that looks forward as well as taking cues from the 70s, 80s, modern techno, synth pop and plenty in between. Their first hit, 'N5 From Outer Space' has had more than half a million streams and this latest offering is sure to be equally as popular as it tackles the subject of Indian Raga music.
The pair would never claim to compare their output with Indian classical masters who traditionally spend up to 10 years studying and practicing before playing in front of an audience, but instead draw on their long experience with modal improvisation and pay tribute to the unique style. The excellent original is a dreamy, deep bit of techno laced with a subtle acid line and the central element is a Wasp, the synthesizer designed in 1976 by Albert Wagner. It drifts like a UFO though the night sky and makes for a mind melting and hypotonic track as a result.
First to remix is Tulioxi, a pivotal figure on the Italo disco scene who has put out more than 30 works and collaborated with Robotnick before now as well as releasing on the label. His version is a gorgeously warm and gooey sunset house cut that is smooth and supple. Next, Pawas Gupta spent his early years DJing in India but is now Germany based and makes everything from classic tabla tracks to minimal techno. He flips the track into an elastic house groove washed over with soft pads and littered with delicate hits that drive it on.
Diatonik is another Indian producer at the forefront of his country's house scene. His brilliant remix is filled with gentle crescendos and slow burning peaks that make it a magically melodic house ride. Lore J has been active since the 90s, is a vinyl addict and can produce ambient and techno with equal skill. He mixes these two disciplines here for a story telling, astral track with driving drums and yawning night sky melodies. Last of all, Hamza Rahimtula hails from New Dehli and has an international sound and his own Wind Horse Records, which counts Dubfire as a fan and has lead him to work with giants of the international scene from Punjab icons to Tibetan singers. His intoxicating version is one to get you in a trance and keep you there in wonder at the transcendental pads.
This is an excellent package of innovative and widely influenced house and techno with global reach and universal appeal.
Tracklist:
1. Early Morning Raga (Original)
2. Early Morning Raga (Tulioxi rmx)
3. Early Morning Raga (Pawas Gupta rmx)
4. Early Morning Raga (Diatonik rmx)
5. Early Morning Raga (Lore J rmx)
6. Early Morning Raga (Hamza Rahimtula rmx)