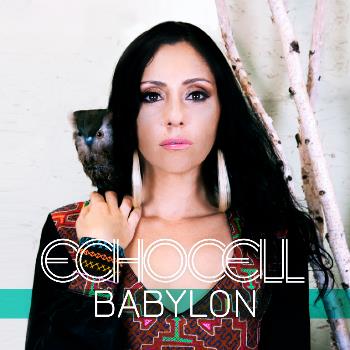 Echocell – Babylon (Kraddy Remix)
Producer/remixer KRADDY, best known from his work as a founding member of The Glitch Mob, has put his own spin on his remix of "Babylon", the latest single from buzzworthy Los Angeles duo Echocell. Available for a limited time only, the band are making the "Babylon (KRADDY Remix)" a free download on their official Soundcloud page. "I had a lot of fun working on this remix. I love the vocal performance and I'm very happy about how the remix came out. Its a great mix of my style and Echocell," says Kraddy.
"Babylon", featured on Echocell's recently released EP of the same name, is a labor of love between Istanbul-born/Los Angeles-based singer/songwriter/front woman Belinda Kazanci & Los Angeles-based songwriter/keyboardist/programmer Adam Beltran.

"Babylon" was co-written with Wally Gagel and Xandy Barry of Wax LTD, the production duo best known for their works with Muse, New Order, Orbit, and Sebadoh (among others). Wally and Xandy produced the track along with some of the others on the EP, bringing dark '80s synth-pop fragments and decadent cinematic arrangements to the mix.
Kazanci tapped into her Armenian roots on this new EP, featuring the traditional Armenian duduk instrument, while weaving in Turkish lyrics & melodies to reflect many years spent in Istanbul growing up around Turkish folk music.
Recorded between Los Angeles and New York, Echocell's EP feature a solid team of international players: Simon Katz (Jamiroquai, Gorillaz) on electric and acoustic guitars, Jesse Graham (Fatboy Slim) on bass, and Paul Simon's favorite duduk player, Souren Baronian. The puzzle is completed by Dave Darlington (Bjork, David Guetta, Pete Tong) and Wally Gagel at the mixing board.
The Babylon EP is available now worldwide through iTunes, AmazonMP3, and many other online retail outlets.
Echocell will perform at the Troubadour in West Hollywood, CA on January 9 (tickets available here: http://www.ticketfly.com/purchase/event/446685) and at Club Moscow in Hollywood, CA on January 29 (free entry with RSVP to [email protected]).