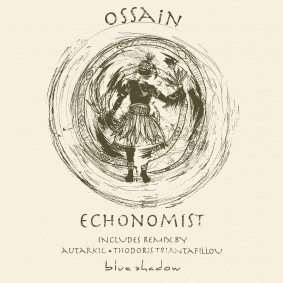 Echonomist – Ossain
Echonomist joins Chaim & Jenia Tarsol's Blue Shadow with two dazzling cuts entitled 'Ossain' including remixes from Disco Halal's Autarkic and Space Paradise boss Thodoris Triantafillou.
Echonomist's musical creativity derives from his first synthesiser, given to him to play traditional Greek music. Rather than adhere to this practice, he experimented with abstract noises which led to his first project "IνΦο" – a band who became a staple in the Greek electronic scene. Since then, he has expanded worldwide, embarking on a solo career as Echonomist which has seen him land on Watergate Records, microCastle and Upon You and receive support from the likes of Ame and Dixon, with the latter inviting Echonomist to play at his new 'Transmoderna' residency at Pacha Ibiza.
'Ossain' shows off Echonomist's percussive palette, with pad driven percussion and drum rolls guided by native cries. 'Mary Blue's' takes it to a euphoric level employing twinkling keys, floaty synths and a bouncing bass. Autarkic's rework of 'Ossain' is tantalising tense, adding in elongated funky baseline notes, a 909 pattern and stormy effects until Thodoris Triantafillou's remix finishes, utilising spacey effects and staccato chords to transport it to an otherworldly dimension.
Echonomist's 'Ossain' drops on Blue Shadow on 5th July 2019.
Tracklist:
1. Ossain
2. Mary's Blue
3. Ossain (Autarkic Remix)
4. Ossain (Thodoris Triantafillou Remix)