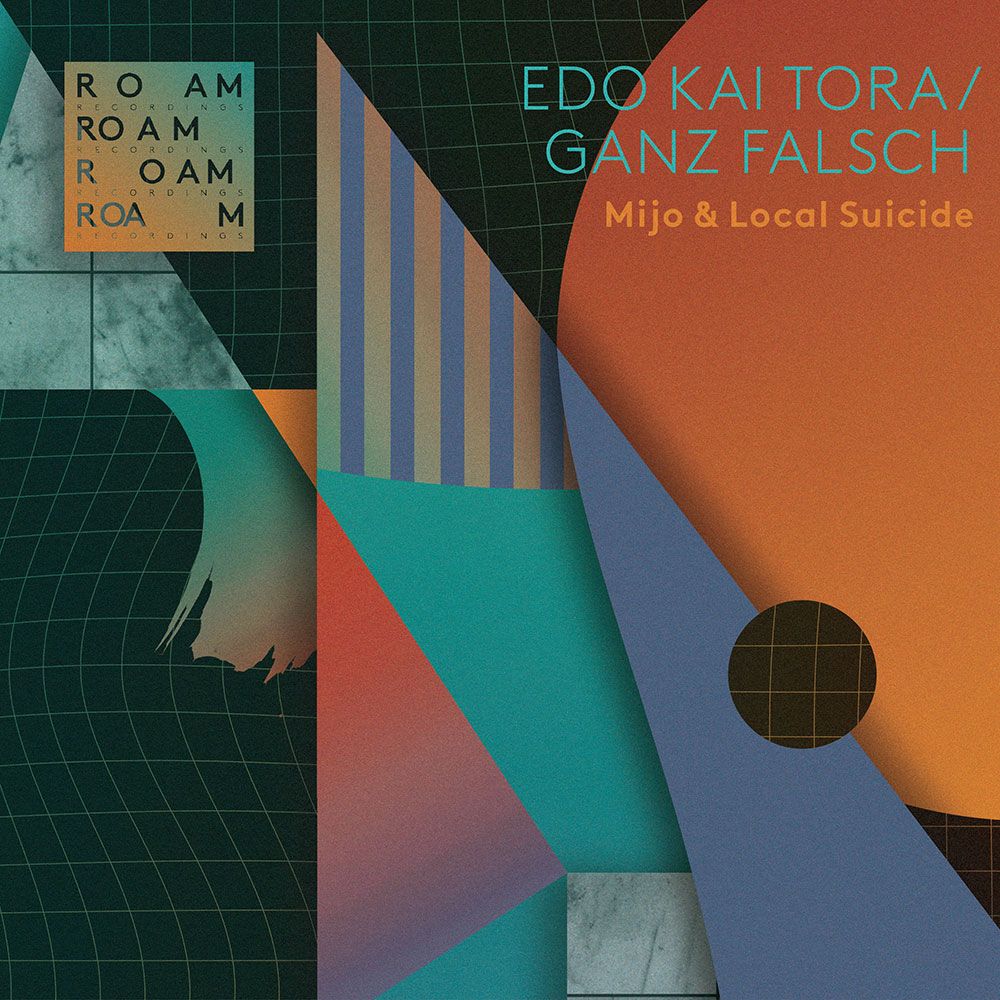 Mijo & Local Suicide - Edo Kai Tora / Ganz Falsch EP
Mexican Dj & producer Mijo and Berlin duo Local Suicide collide in a wonderfully fresh and inventive collaboration on their latest EP Edo Kai Tora / Ganz Falsch.
Local Suicide, comprised of couple Brax Moody (Munich) and Vamparela(Thessaloniki), weaves in their signature blend of Post-Disco, New Wave, Jacking Acid, and Slow Dark Techno while Mijo (Mexico City) injects his own stylings of the Latin Techno that he helped to define and create.
The result is a spacious, energetic, and stunning product from start to finish. As the latest installment from San Francisco-based label Roam Recordings, which specializes in Dark Disco, Post Techno, EBM, and Acid,
Edo Kai Tora / Ganz Falsch is an impressive sonic feat that will leave you dancing all night.
The EP opens with the original Edo Kai Tora, an infectious uptempo track with hypnotic, oscillating synths and an undeniable groove. Greek Vamparela of Local Suicide brings her voice to the track. The result is a sultry, spoken vocal that repeats the resounding phrase Edo Kai Tora, which in Greek translates into Here And Now. The words themselves couldn't be more fitting to the overall feel of the project, which has an extremely 'in the moment' sensibility to it. In Ganz Falsch, Mijo and Local Suicide revitalize the electronic boogie, keeping things light and fun with a warbling bass hook juxtaposed with a playful, spitting rhythmic vocal.
Supporting the EP, Berlin-based DJ/Producer Sascha Funke along with Moscow Duo Simple Symmetry lend their talents to create standout reinterpretations of both title tracks. Where Sascha Funke fleshes out the darker, cosmic undertones of Edo Kai Tora, Simple Symmetry mix in an extra kick of pop and funk sensibilities to the project by layering rhythmic, post-punk garage style guitars into Ganz Falsch, bringing to mind the underground indie rock scene of Southern California.
The project comes to a delightful close with two additional digital bonus tracks: a slightly elongated, ethereal interpretation of Edo Kai Tora' (re-envisioned by Sascha Funke) and an energetic dance version of Ganz Falsch.
As a whole, the EP is an electric, collaborative accomplishment of unique sonic character, versatile and exemplifying the best of each producers creative talents.
It has received support by respected Djs like Red Axes, Jennifer Cardini, andhim, My Favorite Robot, Arnaud Rebotini, Chloe and many more and positive reviews by the press (Dj Mag Italy, Faze Mag, xlr8r, Juno, Les Yeux Orange and more), while climbing up the charts over at Beatport and Juno.