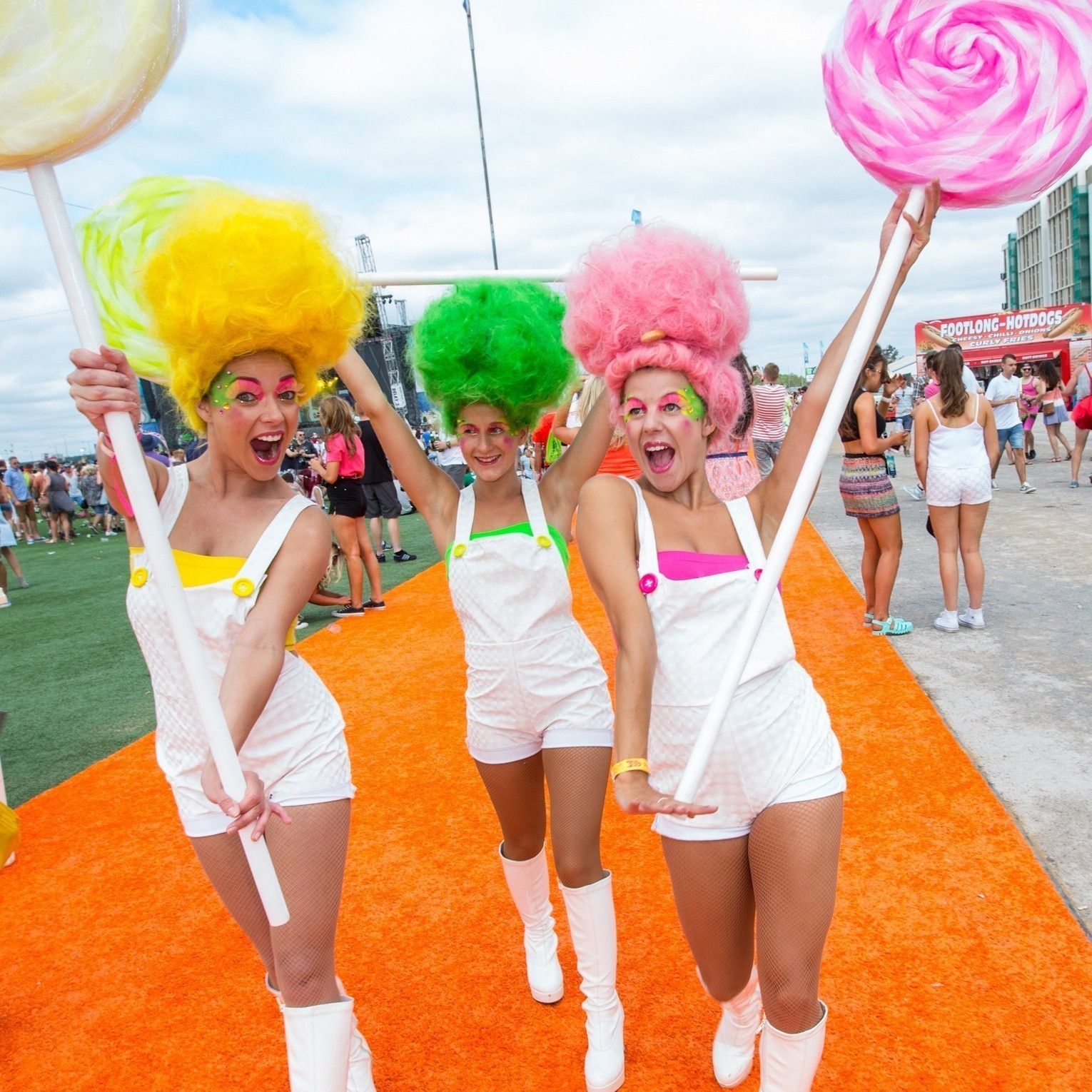 Electric Daisy Carnival UK – more acts announced
World-famous dance music festival Electric Daisy Carnival (EDC) returns to the UK for an epic two-day party which will see it transform the Milton Keynes Bowl on Saturday July 12 and Sunday July 13 beyond all recognition in the only way Electric Daisy Carnival knows how, promising to be even bolder and more explosive than 2013's sold-out inaugural event, and making the ground-breaking festival the most breathtaking show of 2014.
Having already announced a star-studded line-up, Electric Daisy Carnival UK is adding even more names to join the weekend's festivities. First up is very special guest Hardwell, back by popular demand, returning to the Kinetic Field stage after an incredible reception at EDC's UK event last summer. Voted the world's Number 1 DJ in DJ Magazine's Top 100 DJs in late 2013, this inimitable Dutch electro house odyssey will have the crowd jumping to his tune, as one of the most dominant forces in electronic dance music.
Drum'n'bass and rock fusionists Pendulum bring a heavyweight electric DJ set to Cosmic Meadow hosted by HARD, with hype man Verse on MC duties. A critically acclaimed stadium-worthy live and DJ act, Pendulum DJ sets successfully blur the lines between drum'n'bass, breakbeat, jungle and bass and guitar-led live electronica and rock genres. Staying on a drum'n'bass tip, UK duo Sigma beef up proceedings with a tendency towards jungle-infused sets. A highly sought-after production outfit, Sigma have worked with DJ Fresh, Rusko, Stylo G, Ellie Goulding, and Eric Prydz, and recently scored a huge number 1 with 'Nobody to Love'.
He topped the charts with infectious banger 'My Love' in March, and now hot young DJ/producer Route 94 takes on Cosmic Meadow with his stripped-back deep house and laid-back party style. A leading proponent of the new house sound, Route 94 maintains a distinctly UK edge, his tunes laced with complex grooving basslines. US house master and innovator Kerri Chandler brings a DJ style that seamlessly blends deep through soulful and new house, disco with new wave and floor-friendly techno, UK bass and vocal garage, plus a very special performance from Deorro who joins Laidback Luke in the Circuit Grounds on July 13.
An Ibiza favourite whose star continues to rise across the European festival circuit and beyond, Nick Curly is a tech house tour de force. This German DJ shows how it's done. Cadenza one-to-watch Andrea Oliva is another of Ibiza's favourites heading to CosmicMeadow. Dutch electro DJ duo Firebeatz have the remixer's Midas touch, while in-demand Hot Creations face and Outcross records head Miguel Campbell offers a masterclass in deep house. A-list electro-house production duo Bassjackers appear at Kinetic Field. And multi-talented BBC Radio 1 DJ/producer Danny Howard – whose show boasts 1.8million listeners – joins CircuitGrounds.
EDC UK also welcomes some of the trance scene's major players to CircuitGrounds, with Grammy Award-nominated progressive pacemaker Andy Moor and boundary-pushing evolutionist Lange going back to back, young talent and BBC Radio 1 In New DJs We Trust name Jordan Suckley up against uplifting Irish DJ and producer BryanKearney, and Above & Beyond's golden boy and progressive house tweaker Jaytech squaring up against Anjunadeep burgeoning talent Ilan Bluestone for a unique back to back set.
Adding another two arenas, with Tidy Arena and Goodgreef Xtra Hard, EDC UK makes a commitment to all things hard. On July 12 the Tidy Arena features hard dance pioneers Tidy Boys, BK featuring Cortina with a rare live trance set, hard house faces Andy Whitby and Alex Kidd. Rising hardcore DJ CallyCage appears with trance and hardcore selector Kym Ayers, presenting their very special Tidy Girls Like It HARD set. Rob Tissera is on board, as are progressive head Maddox and hard house banger Townend for their Untidy set. Max Mozart & Audox and Trap Two round up the Tidy Arena line-up. And on July 13 GoodgreefXtra Hard arrives, the international trance and hard dance institution bringing together hard-styler Technoboy and Q Dance radio's Kutski. Scot Project plays a classics set, catch hard stalwarts Organ Donors and Mark E.G, Cally & Juice play their last ever UK festival set, Technikal plays a hard trance classics set, see Argy, and PhilMackintosh b2b Shaun T, hosted throughout by MC Shocker.
Electric Daisy Carnival UK will transform outdoor entertainment venue MiltonKeynes Bowl into a brand new world. Milton Keynes Bowl has hosted concerts by some of the most famous musical acts of all time, including Queen, David Bowie, U2 and REM, Bon Jovi and Metallica, It provides the perfect setting for Electric Daisy Carnival UK and everything that comes along with it, including a line-up that boasts the brightest dance music stars, with stages including Kinetic Field, Circuit Grounds and Cosmic Meadow.
The new wave of heavyweight artists join an already stellar line-up for what is set to be one of the most spectacular festival weekends of the summer. On July 12, the most successful global star of 2013 Avicii takes to the decks of Kinetic Field, while house music hero Steve Angello and US electro house star Steve Aoki, plus Nicky Romero, chart-storming Martin Garrix and bombastic brothers Showtek appear. The focal point of the festival, the Kinetic Field stage will be bigger than ever, with out-of-this-world production. Circuit Grounds presents a list of trance high-rollers, with undisputed master Paul van Dyk, the unique Ferry Corsten, progressive head Ørjan Nilsen, captivating Brit Simon Patterson, the multi-talented Ben Gold, and a very special guest appearance from Paul Oakenfold. And Cosmic Meadow represents techno's leading artists, with Italian techno ambassador Marco Carola, electronic pioneer Dubfire, house hot property Hot Since 82, innovator Davide Squillace and the always-electric Timo Maas.
The UK's own Calvin Harris takes to the Kinetic Field on July 13, with Fatboy Slim, the unstoppable Dimitri Vegas & Like Mike, dancefloor-destroying duo NERVO, Dutch DJ of the moment R3hab and Carnage. The Circuit Grounds stage will be transformed, hosting leaders and up-and-comers in dance music, with electro hotheads Blasterjaxx, new-gen DJ Dannic, chart topper DVBBS. Dyro brings breakthrough sounds, wunderkind Julian Jordan appears, Laidback Luke provides unparalleled mayhem, Rebecca & Fiona go high-energy, and Sander van Doorn raises hands. And the Cosmic Meadow stage goes heavier, with genre-bending turntablist A-Trak, BBC Radio 1 bass connoisseur B.Traits, HARD Events head honcho Destructo, moombahton pioneer Dillon Francis, bassbin-shaking Gorgon City, mixing duo Jack Beats, moody house outfit My Nu Leng and garage-infused Shift K3Y.
While the Electric Daisy Carnival UK's line-up reads like a who's who of electronic music, the festival will also feature its signature spectacular creative elements, becoming a vibrant hub of creative energy and activity, taking fans from day into night. Expect an unrivalled visual experience, as Electric Daisy Carnival UK presents the biggest LED show, never seen before in the UK for one weekend only, and takes pyrotechnics to a whole new level. Expect fireworks, foods from around the world, dancers, performance artists, costumes, sound, light and creative energy. There will be carnival rides and dramatic décor and fans are encouraged to dress up and make this their most special day. The iconic Milton Keynes Bowl will feature theatrical elements, performers and dance troupes, and fully immersive arts installations for Headliners to enjoy. Immerse yourself in the multi-sensory wonders that make Electric Daisy Carnival events so completely unforgettable. Electric Daisy Carnival UK will be a multi-faceted, vibrant, pulsing hub of energy and activity.
Electric Daisy Carnival UK is brought to the UK by a power partnership between Insomniac and Cream. Electric Daisy Carnival parent company Insomniac has long been established as one of the world's finest party producers. Insomniac has built an international reputation for hosting some of the biggest shows on the planet, producing more than 250 music events for more than 3,000,000 concert goers across America including a ground-breaking 345,000 revellers to Electric Daisy Carnival Las Vegas last year, as well as producing dozens of other music festivals and club shows annually. One of the UK's longest-running, most respected frontline promoters of electronic music, Cream has built an unprecedented reputation for hosting some of the best events the UK has to offer, including Creamfields festival, which has amassed a global following and is considered a badge of honour for all who play there.
An experience to remember forever, Electric Daisy Carnival UK is the very best of days.
EVENT INFO
Electric Daisy Carnival UK
Show Date: Saturday 12th July and Sunday 13th July 2014
Venue: The National Bowl, Watling Street, Milton Keynes MK5 8AA
Doors: 12:00 / curfew 23:00
Age Restrictions: The event is strictly 18+ (Photo ID is required) *Subject to license and planning
Line-up:
Saturday July 12
Kinetic Field
Avicii
Steve Angello
Steve Aoki
Nicky Romero
Martin Garrix
Showtek
Bassjackers (JUST ADDED)
Cosmic Meadow
Marco Carola
Dubfire
Joris Voorn
Hot Since 82
Davide Squillace
Timo Maas
Nick Curly (JUST ADDED)
Miguel Campbell (JUST ADDED)
Route 94 (JUST ADDED)
Andrea Oliva (JUST ADDED)
Plus very special guest Kerri Chandler (JUST ADDED)
Circuit Grounds
Paul van Dyk
Ferry Corsten
Ørjan Nilsen
Simon Patterson
Andy Moor b2b Lange (JUST ADDED)
Ben Gold
Jordan Suckley b2b Bryan Kearney (JUST ADDED)
Jaytech b2b Ilan Bluestone (JUST ADDED)
Special Guest Paul Oakenfold
Tidy Arena
Tidy Boys (JUST ADDED)
BK feat. Cortina (live) (JUST ADDED)
Andy Whitby (JUST ADDED)
Alex Kidd (JUST ADDED)
Cally Cage & Kym Ayres (Tidy Girls Like It Hard set) (JUST ADDED)
Rob Tissera (JUST ADDED)
Maddox & Townend (Untidy set) (JUST ADDED)
Max Mozart & Audox (JUST ADDED)
Trap Two (JUST ADDED)
–
Sunday July 13
Kinetic Field
Calvin Harris
Fatboy Slim
Dimitri Vegas & Like Mike
NERVO
R3hab
Carnage
Plus very special guest Hardwell (JUST ADDED)

Cosmic Meadow hosted by HARD
Pendulum (DJ set) & Verse (JUST ADDED)
Gorgon City
Sigma (JUST ADDED)
Dillon Francis
A-Trak
Jack Beats
B.Traits feat. MC Juma
My Nu Leng
Shift K3Y
Destructo
Circuit Grounds
Laidback Luke
Sander van Doorn
DVBBS
Dyro
Blasterjaxx
Dannic
Deorro (JUST ADDED)
Firebeatz (JUST ADDED)
Danny Howard (JUST ADDED)
Rebecca & Fiona
Julian Jordan
Goodgreef Xtra Hard
Technoboy (JUST ADDED)
Kutski (JUST ADDED)
Scot Project (Classics set) (JUST ADDED)
Organ Donors (JUST ADDED)
Mark E.G (JUST ADDED)
Cally & Juice (last ever UK festival set) (JUST ADDED)
Technikal (JUST ADDED)
Argy (JUST ADDED)
Phil Mackintosh b2b Shaun T (JUST ADDED)
Hosted throughout by MC Shocker (JUST ADDED)
www.electricdaisycarnival.co.uk
www.facebook.com/ElectricDaisyCarnivalUK
twitter.com/edc_uk
instagram.com/edc_uk
#EDCUK
TICKETS
Tickets on sale now
Saturday Day Tickets £65 (+BF)
Sunday Day Tickets £65 (+BF)
Weekend Tickets £120 (+BF)
www.ticketmaster.co.uk/EDC2014 / 08442 770 700
www.seetickets.com
www.eventim.co.uk
www.gigantic.com
www.skiddle.com
www.stargreen.com
www.ticketline.co.uk
www.ticketweb.co.uk
www.theticketfactory.com
www.ticketarena.co.uk
www.livenation.co.uk/vip
www.view.co.uk
The Physical Network
VIP TICKETS
VIP packages start at £100 (+ ticket price and BF) and include Premium VIP Lounge, VIP Viewing Area, Club Experience packages, and more.
www.ticketmaster.co.uk/EDC2014
Coaches
Ticket and travel packages available from across the UK
www.biggreencoach.co.uk