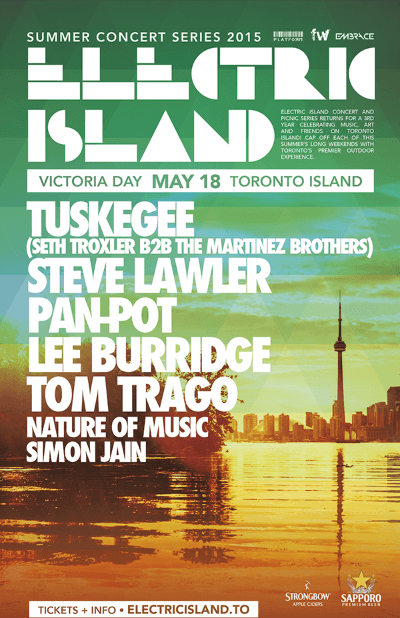 ELECTRIC ISLAND VICTORIA DAY EDITION
Toronto! You survived. Another cold dreadful winter in Canada has come to an end. As the winter turns to spring, and the snow melts away, Toronto's Island is heating up for its third consecutive year hosting the Electric Island Summer Concert and Picnic Series. Just when you think Platform, Footwork and Embrace have perfected their craft of executing Electric Island with uniquely curated lineups, they blow us away with the first instalment of the summer series.
On Monday May 18th Victoria Day Weekend, we come together once again on Toronto's Island to enjoy a full day of amazing music, from the worlds most prestigious names in underground house music. This year we cover all the bases with this outstanding line-up.
The dutch DJ/Producer and frequent name to Soul Clap's Bastard Jazz label Tom Trago brings us funky, disco beats under the island sun. Lee Burridge will be in his element on the shores of Lake Ontario, as his uniquely atmospheric, melodic sounds radiate the crowd.
Berlin duo Pan-Pot bring the massively powered, industrial techno sounds of swelling basslines, refined drops and growling static to give the island a jolt of energy. The original Viva Warrior Steve Lawler will keep the island alive with his energetic sets that can take control of any audience size.

Lastly, a very special mash-up between two of the most influential names in underground house music, grace us with their outland-ish, corky and mind blowing music. Detroit raised Seth Troxler and Bronx bread Martinez Brothers come from a strong and uniquely influential musical background, and when put together behind the decks… some pretty incredible things can happen. Just last year the trio launched a vinyl only label called Tuskegee Music, and have performed under this Moniker for some time now.

You can purchase your tickets now at: http://electricisland.to/
Electric Island is accessible via the Hanlan's Point ferry, which can be boarded at 9 Queens Quay West, near the Westen Harbour Castle hotel. The ferry runs generally every 30 minutes. Full schedule and more information can be found at http://tinyurl.com/nthdcks