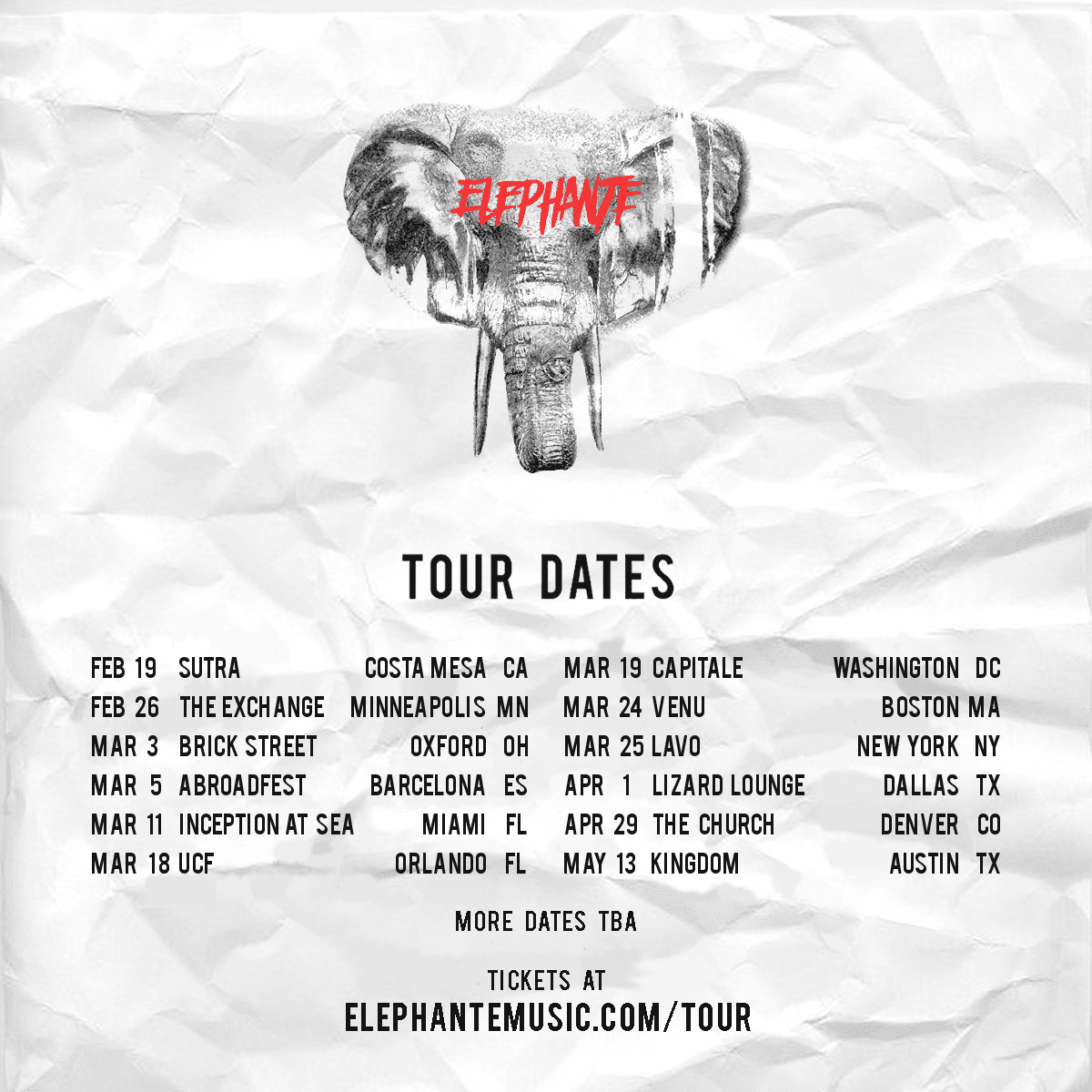 Elephante Spring Tour Announcement
Burgeoning producer Tim Wu – best known as Elephante – is set to prove he is just as at home behind the decks as in the studio as he prepares to embark on a much anticipated Spring Tour across North America!
Kicking things off in Costa Mesa, Elephante will be bringing his signature blend of progressive and electro house to Sutra, before heading to Minneapolis to play at The Exchange. Next up, the young star will be heading to Oxford, Ohio and proving that rules are made to be broken, European fans will be pleased to learn he'll even be hopping across the pond for a one off date at Abroadfest in Barcelona! Back in the US, Elephante will be touching down in Miami to take to the beautiful Bahamian waters alongside The Chainsmokers, Cash Cash, Tyga and 2000 partygoers for the ultimate Spring Break cruise. Returning to the Florida, Elephante will play his first of four gigs along the East Coast, starting in Orlando and moving up to Washington, Boston before making a welcome return to Lavo, New York. Moving down South, Elephante will be taking to the decks of the iconic Lizard Lounge in Dallas, The Church in Colorado before finishing off at Kingdom in Austin, Texas. With more dates to be announced, check out the full schedule and listen out for more announcements here.
Elephante has been rapidly earning himself a reputation as one of the most exciting and innovative DJ and producers in the dance music scene of late. Whether he is being called upon for remix duties by the likes of Lorde, Katy Perry and Nathan Sykes or churning out one of his own incredible original productions, his dedication to his craft and raw talent has taken the music world by storm. With his recent independently released single 'Age Of Innocence' achieving unprecedented success, having recently been added on rotation on Sirius XM BPM, Music Choice and 1Dance and climbing up the Billboard Dance Chart, its safe to say that Elephante has the midas touch. Moving outside of his progressive house comfort zone, last week Elephante threw fans a production curveball when he dropped the huge future bass belter 'Black Ivory'. Proving that there is absolutely no limit to his creative abilities, it's clear to see that Elephante has only just begun to show what he is capable of.
Elephante Spring Tour Dates
19 Feb Sutra Costa Mesa, CA
26 Feb The Exchange Minneapolis, MN
3 Mar Brick Street Oxford, OH
5 Mar Abroadfest Barcelona, ES
11 Mar Inception At Sea Miami, FL
18 Mar UCF Orlando, FL
19 Mar Capitale Washington, DC
24 Mar Venu Boston, MA
25 Mar Lavo New York, NY
1 Apr Lizard Lounge Dallas, TX
29 Apr The Church Denver, CO
13 May Kingdom Austin, TX
More TBA