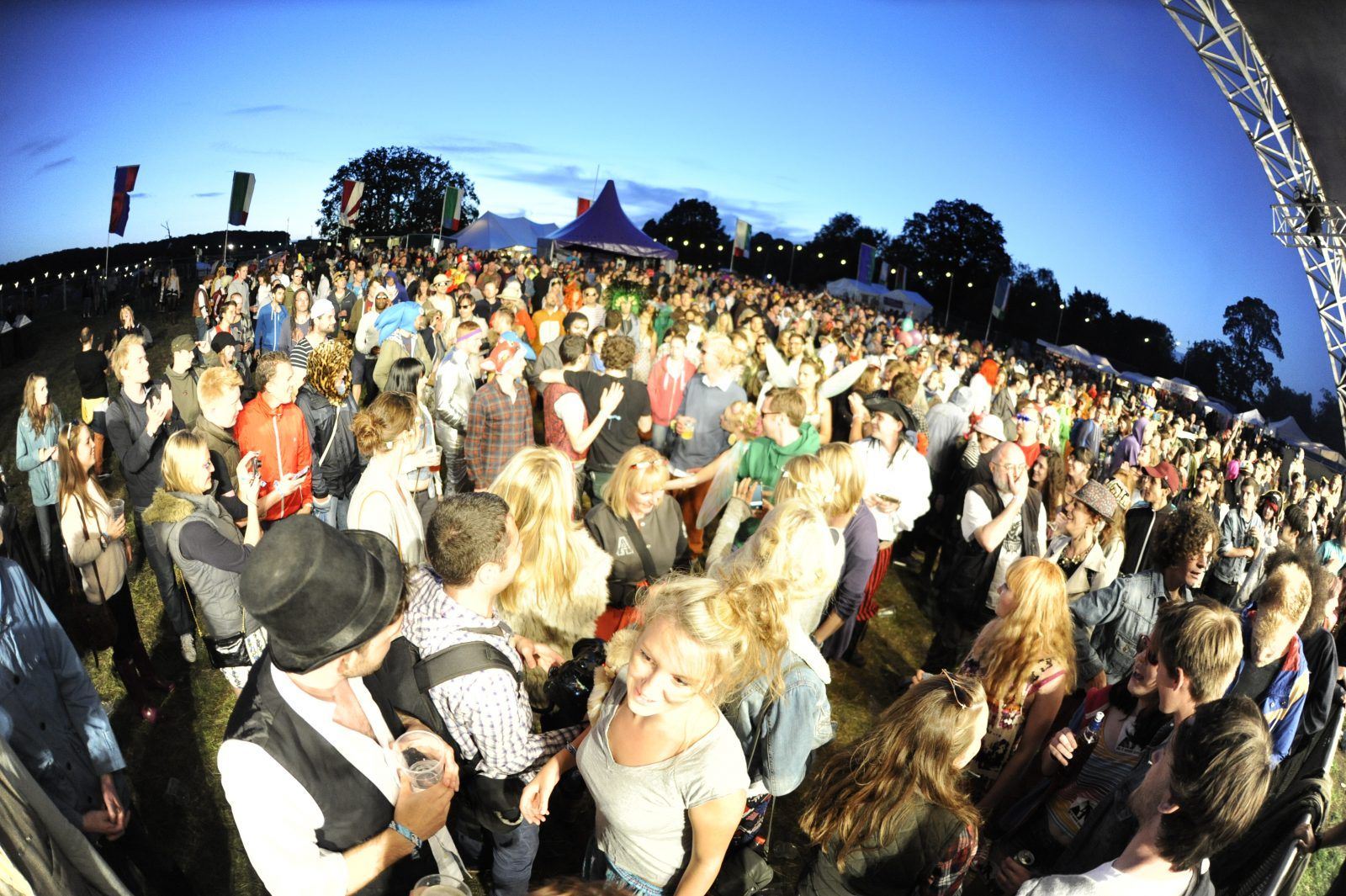 THE CUBAN BROTHERS, SINK THE PINK & MORE ADDED TO STANDON CALLING 2015
Standon Calling is pulling out all the stops for its 10th anniversary celebrations and today adds yet another wave of acts for 2015. Indie-rockers and Mercury Prize nominees The Horrors play the boutique festival along with the likes of DJ Yoda, Prides, Charlotte OC, Will & The People and the hilariously entertaining The Cuban Brothers. Standon Calling's notorious nightclub, The Cowshed, will host takeovers by Sink The Pink, Bondax & Friends and legendary DJs, Gilles Peterson & Patrick Forge's recreation of the iconic Sunday afternoon Dingwalls Sessions. Over on the Lordship Lawn, The Last Dance Saloon welcomes BBC Introducing, Americana label Loose Music and the mighty Bella Union over the weekend. Standon Calling is also incredibly excited to announce a plethora of 10th birthday shenanigans and this year's theme 'A Town of Two Faces', which will include the construction of the festival's very own Wild West Town with a twist. At high noon expect a gold mining town full of griters, traders and adventurers, but when sundown comes, everything changes and the weird and the wonderful come pouring out onto the streets. Limited tier 2 tickets priced at £127 are available with more information from standon-calling.com.
Standon Calling's 10th anniversary is shaping up to be its most memorable outing with a line-up that features an eclectic mix of musical prowess both old and new with Little Dragon, The Dandy Warhols, Basement Jaxx, Roots Manuva, Hercules & Love Affair, Ella Eyre, Kwabs, Slaves and more.
Today the festival invites even more names to the party including pioneering shoegazers The Horrors. With four acclaimed albums under their belts, the UK band are set to take festival-goers on a journey into blissful psychedelia with their unique sound when they take to the main stage this August.
In keeping with the birthday celebrations, Will & The People will no doubt have Standon Calling revellers in the party spirit with their raucous mix of reggae, ska and rock. The self-funded Brighton four-piece have become somewhat of a phenomena after selling out headline tours in Europe, playing four continents and releasing three albums. Renowned for their high energy live shows, The Cuban Brothers join in on the celebrations over the weekend for plenty of musical numbers, breakdancing and tongue in cheek hilarity.
This year Standon Calling's own famous nightclub, The Cowshed, will be taken over each night by a different host for three very different parties. Outrageous polysexual club crew Sink The Pink invite all to lose their inhibitions with their brand new dirty disco party Savage, Bondax bring the sounds of the summer with woozy R&B-tinged house and Gilles Peterson & Patrick Forge haul their massive record collections into The Cowshed to present the legendary jazz, funk and dance sounds of the original Dingwalls Sunday Sessions, established in 1987.
Perched on the lawn next to the festival's own swimming pool is The Last Dance Saloon, where BBC Introducing are set to champion new music with upcoming local acts, while independent record labels Loose Music and Bella Union will be showcasing their own talent across the weekend. Acts for The Last Dance Saloon to be announced very soon.
Other highlights from today's additions include one of Q Magazine's "ten DJs to see before you die" DJ Yoda, Swedish/Gambian songstress Seinabo Sey and Scottish synth poppers Prides, who closed last year's Commonwealth Games.
Alongside the music, Standon Calling has revealed a myriad of activities and entertainment on offer across the site in keeping with its new theme 'A Town of Two Faces'. Inspired by the Wild West with a twist, one can brave a visit to Dr. Leech's Wellness Center & Funeral Parlour to take A Beginners Class in Taxidermy and learn how to survive a standoff with a rattlesnake, get up close and personal with animals from the West at Wild Wyatt's Traveling Menagerie, or try their hand at Death Drawing with Art Macabre. Festival-goers can gather in The Town Square and get their dancing shoes on at The Dance Off's Hillbilly Hoedown or take centre stage with the ever-popular Rockaoke. At The Church Fate join Legs Akimbo who will be delivering the kind of service you won't want to miss. Plus, fresh from their smash-hit V&A show, boundary-pushing art collective The Treatment Rooms return to Standon to offer revellers the chance to mosaic their own tombstone and take The Ride of Your Life in the Voodoo Taxi Wagon. The wonderful Salon London will also return to The Last Dance Saloon to host a selection of inspiring and surprising interactive talks and classes on the subject of Dark Matters and Bright Ideas.
Standon Calling will celebrate its 10th birthday in 2015. What started as a birthday BBQ and DJs with a handful of friends has become the perfect summer escape for festival-goers, offering renowned and upcoming acts, immersive theatre, a host of weird and wonderful workshops and talks, the annual dog show, a fancy dress parade and of course its own heated outdoor swimming pool.
Tier 2 weekend tickets for Standon Calling 2015 are on sale from £127 from www.standon-calling.com. Discounts available for group bookings.

LINE-UP SO FAR
Little Dragon / The Dandy Warhols (UK Exclusive) / Basement Jaxx
The Horrors / Roots Manuva / Hercules & Love Affair / Ella Eyre / Kwabs
The Antlers / Saint Raymond / Lucy Spraggan / DJ Yoda / The Cuban Brothers / Hypnotic Brass Ensemble / Prides / Slaves / Charlotte OC / Will & The People / Seinabo Sey / All We Are / Revere / We Have Band / Rag'n'Bone Man / Real Lies
We Are Shining / Gabby Young & Other Animals / Jagaara / Remi Miles / Black Honey / Crows / Syd Kemp / Black Delta Movement / Kiko Bun / The Thirst / Maddox / Waste / Patawawa
The Cowshed: Sink The Pink presents Savage / Bondax & Friends /
Gilles Peterson & Patrick Forge: present the Sunday Dingwalls Sessions
The Last Dance Saloon: BBC Introducing / Loose Music / Bella Union
ACTIVITIES & ENTERTAINMENT
The Mayor's Homecoming Jamboree Featuring: The Grand Old Ukes Of Yorkshire / The Ol' Brass Band / Rockaoke / Line Dancin' Classes / The Town Soapbox / Bluegrass & Rockabilly Bands Aplenty
Dr Leech's Wellness Center & Funeral Services: The Treatment Rooms Present: Tombstone Transformations, The Ride of Your Life in the Voodoo Taxi Wagon & Vanishing Graffiti Workshops / Art Macabre Death Drawing / A Beginners Guide to Taxidermy / Wild Wyatt's Survival Camps: How Not To Die In The West / Potions & Poisons Masterclass
The Church Fate: Legs Akimbo Presents The Church / Gospel Choir / Aunt Annie's Bone Orchard Bake Sale & Bingo / A Conversation with Ghosts / Baptisms of Fire / Shotgun Weddings
The Last Dance Saloon: Salon London Presents: Dark Matters and Bright Ideas / The Telegraph Office: Wild Words of The West, The Radio Shack & The Newspaper Printing Press / The Cut-Throat Barbers: Talk-of-the-Town Hairstyling, Marvellous Makeovers & The Cut-Throat Cabaret Show / Wild Wyatt's Travelling Menagerie: Wildlife from the Wild West
Standon Favourites:Trapeze Lessons / Swimming Pool / The Annual Dog Show / A Parade of Dark & Light / Immersive Theatre / Happy Hoppers Games Arena
TICKET INFO

Tickets:
£127 for weekend Tier 2 Weekend Tickets
Available from www.standon-calling.com

LOCATION INFO
Standon Calling is set in the spacious grounds of a 16th century manor house
Standon Lordship
Standon
Hertfordshire
SG11 1PR
Approx.
30 miles north of London
45 mins by train from London Liverpool Street