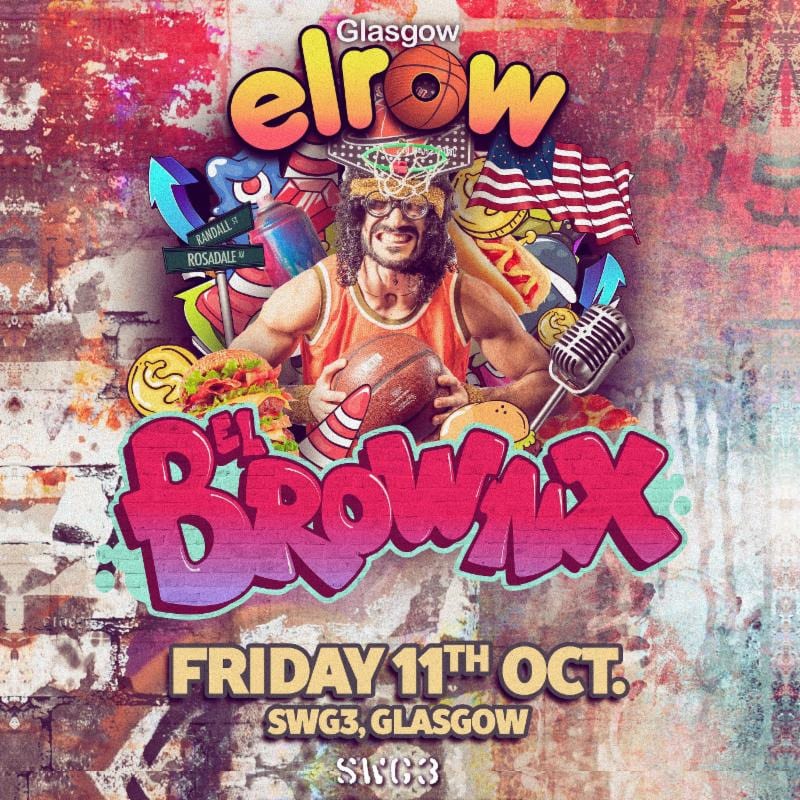 Elrow Return To SWG3 In Glasgow
IMMEDIATE RELEASE: elrow return to Glasgow's iconic SWG3 Club on 11th October
ELROW RETURN TO SWG3 IN GLASGOW
SHOW THEME REVEALED AS:
EL BROWNX (Scotland debut)
October 11th 2019 | SWG3, Glasgow
+++
Fresh from hosting the first ever elrow Town Festival in Edinburgh, elrow unveil their return to Scotland with a huge show at Glasgow's iconic SWG3 Club on 11th October 2019 for a fully immersive showtime spectacular.
The theme will be El Brownx – a first for Scotland. El Brownx is a kaleidoscopic celebration of US culture in which the immersive clubbing experience will recreate the hustle and bustle of downtown New York.
Bronx law is crystal clear: you have a wild time or you're doing time. There's only one Bronx but elrow have taken over a bit of its real estate and set it up in SWG3: graffiti everywhere, yellow cab, hot-dog stands, the Lady Liberty and even a boxing ring from the city of Mike Tyson and Sugar Ray Robinson. Sneakers hanging from the telephone wires, booming bass-lines, rap battles bringing some of that East-Coast rap back from the 90s, subway car breakdancers and the one and only Bronx GlobeTrotters will feature at this crazy event. elrow will of course be adding their own unique flair with an arsenal of confetti cannons, mountains of inflatables, troops of dancers, performers and stilt walkers for a party like no other.
Located in a unique industrial area on the outskirts of Glasgow's West End, SWG3 is a vital part of the city's creative culture. Taking place across two rooms of music, elrow El Brownx will cram the venue with their zany production, lively performers, bizarre props and excessive quantities of confetti – line-up with some VERY special guests and elrow residents is coming soon.
Tickets for the last SWG3 show sold out in minutes and this one is set to be no different – For priority access to tickets for elrow Glasgow – El Brownx on October 11th 2019, please register here:  bit.ly/glasgowrow
Priority tickets go on sale Monday 5th August at 12pm with any remaining tickets available 24 hours later.
+++
ABOUT ELROW:
elrow was conceived in 2010 by Cruz and Juan Arnau Lasierra, the sixth generation of entrepreneurs of the Arnau Family, who also founded the Monegros Festival and the legendary Club Florida 135 in Fraga, Aragón. In 2017, elrow entered into an investment and partnership agreement with Superstruct Entertainment, a live entertainment platform backed by Providence Equity Partners. elrow is the umbrella brand of a series of fully immersive, themed shows, which have become a global point of reference in the field of circus-inspired parties thanks to its perfect mix of the best electronic music with unimaginable scenarios, frenzied performances and outlandish characters. From its headquarters in Viladecans, Barcelona, elrow has grown exponentially and established residencies in Ibiza, Madrid, London, New York, Barcelona, Dubai and Amsterdam. elrow has consistently broken attendance records and, in 2018, saw its most successful year to-date, with over 2 million people attending 134 shows hosted across 65 cities in 33 international territories – over half of which were sold out.
elrow x ABSOLUT:
"Immersive entertainment experts, elrow once again join forces in an exciting collaboration with premium drinks company ABSOLUT Vodka. Finding synergy in their shared values of creative expression, conviviality and a striving passion to engage with people in new and ever more exciting ways, the special partnership will bring a brand new concept to entertainment across numerous shows across the globe throughout 2019. Original characters, bespoke production and unique stages are just some of the things hitting the events this year."
+++
www.youtube.com/user/ElRowChannel
www.instagram.com/elrowofficial
For further press enquiries please contact:
Owen Bloodworth //  [email protected]
// + 44 (0) 7968979204